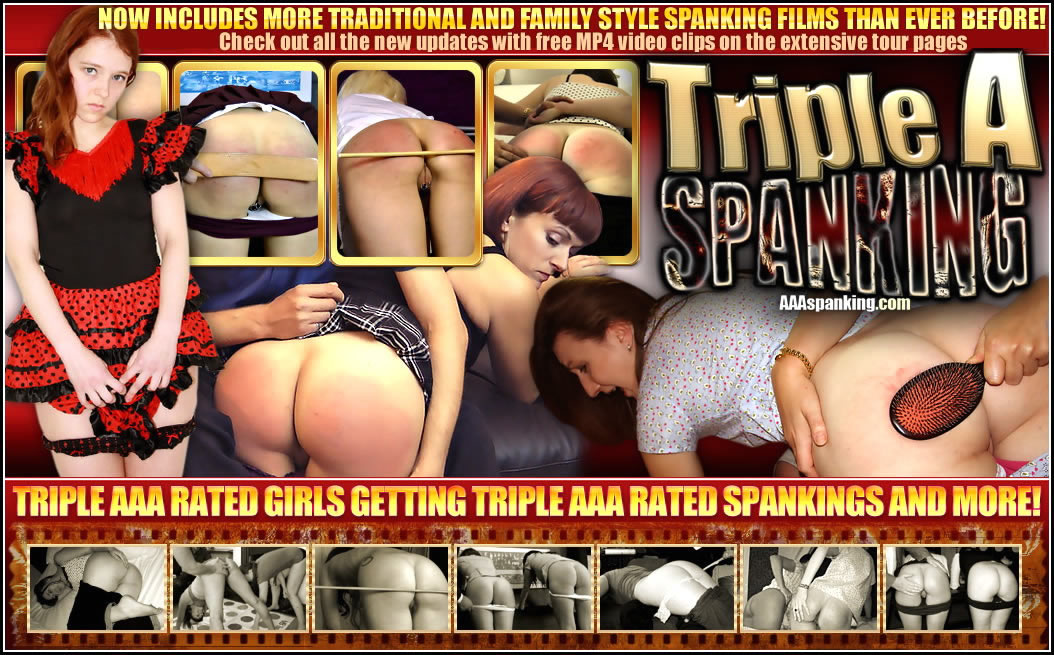 Christy Cutie is lazy and doesn't help around the house. It also doesn't help that she is looking for work and Sarah is having to provide for them both. So she is super pissed at finding Christy in bed when she comes home from a hard day's work! Sarah snaps and scolds Christy about the mess in the house and how she was supoposed to clean up. Sarah takes her over her lap on the bed and gives Christy a spanking but this lazy girl thinks it is all a big joke. Sarah decides the only way to properly punish Christy is to spank her on her bare bottom and humiliate her for being such a lazy slut. Christy's attitude changes when she is taken to the kicthen and confronted with the dirty dishes and counter top whilst getting a stinging leather strap and spatula then being humiliated with several intimate exposures of her reddening bottom. Finally Christy knows not to cross Sarah when she asks her to do the chores as she sniffles in shame, her red bottom fully bare and exposed as Sarah watches her do the washing up and cleaning!
John bought some new PJs for both Sarah and Casey leaving them on the bed as a nice surprise. He thought this gesture would be a small way to say "thank you" while they were all away on tour. However, the girls fought over who should get which outfit and started to grapple and fight. Sarah even dragged Casey over her lap & started to spank her before John heard all the noise and confronted them. He was really disappointed in both of them and their continuing arguing meant he felt he had no choice but to spank them both right there. They knew the rules! Sarah was first over his lap as she was the loudest and sassiest. He spanked her in front of Casey, pulling down her PJ pants, spanking hard on her bare bottom. Sarah felt embarrassed that she was being treated like a little girl. Casey was next after he sent Sarah off in shame, and John did the same to her. He ensured her film, pert bare bottom was reddened in shame before leaving Casey to contemplate just what had happened in that crazy quarter of an hour!
Lexi returns home far later than she had arranged and had also turned off her phone. This made John suspicious but he had waited for her and was concerned that she had been out to a small spanking party hosted by a man he had forbidden her to play with. He gave her room and knew she liked to play and had no issue with that, but he did with the man that he named "The Weasel". So when she did stumble in late, her explanations were full of holes and John picked through them until he discovered the evidence on her bottom that she had been at the party and the tell tale sloppy marks of the Weasel's woeful play. Incensed that she had lied to him, John takes his wife over his lap for a further painful hand spanking, then gets a small stinging leather strap to seal in those marks before using the "Liar Paddle" on her quivering, sore behind! This is an edgy humiliation and shaming video that includes lots of expletives, severe scoldings & punishment resulting in a very sore red bottom for a tearful Lexi the Liar!
Rosie takes a short cut home through the park after a Girl Guide church practice on a glorious Saturday afternoon. It is so warm and sunny that she finds a secluded area of the park where she dares herself to be very, very naughty! She starts to touch herself through her crisp, white cotton panties. Her legs spread wide as she continues to delicately finger her wet pussy. She thought it was a secret spot but the Park Keeper recognizes her when he is in the area and tells her off, scolding Rosie about her rude behavior! He knows her parents and decides that a spanking might make her realize this sort of lewd behavior deserves at least a bare bottom spanking. She feels embarrassed and knows that if he tells her parents she would surely get another spanking at home! The Park Keeper was going to let her go but her sassy mouth gets her into trouble! He pulls off his belt and bends her over the bench where she had been masturbating just 10 minutes earlier. Now he is really going to teach her a lesson in manners! Rosie yelps and takes stroke after stroke of his leather belt until only he was satisfied that she has properly shown remorse for what she has done! See cute Rosie Ann make her return to Triple A... one of our most popular girls at her very naughtiest best!
Adriana thinks that she has been left alone in her after school detention to write her lines, so she sneaks out the vintage spanking magazines that she had stolen earlier from her Form Teacher's desk. This is so she could satisfy her own curiosity! She is so engrossed in the kinky literature that she fails to hear Mr Osborne returning early. He is far from pleased when he sees her enjoying this highly inappropriate reading material for a schoolgirl of her age! Sir questions her about how she obtained such explixit vintage magazines and decides a fitting punishment is to give her a spanking and caning just like the stories and pictures she was enjoying just before. Adriana is sassy to start with but soon feels embarrassed after the spanking begins and her panties are pulled down making her feel vulnerable and scared! Now it IS a punishment and worse is to come as Mr Osborne makes her look at the pictures of the canings whilst he did the same things to her bare, exposed bottom again and again! This is a very painful reminder that theft and reading such iliicit material is forbidden to all the girls in school and a tearful Adriana has the dubious honor of being able to report to her classmates that a "Punishment Detention" is far from enjoyable!
Leandra is back for yet another detention punishment. This time for her failure in Mental Arithmetic. Mr Osborne concocts a humiliating and embarrassing discipline session to help the pretty schoolgirl focus on numbers and the spankings she is about to take. The poor girl is naturally concerned and takes a panties down hand spanking followed by a long sustained number of swats with a leather slipper and strap. This is far from over as she finally receives some very hard stinging whacks with the dreaded bathbrush that all the girls hate so much! The finale is not to be missed as Leandra takes a relentless barage of brush strokes making this a very painful, sore, red bottomed detention that she won't forget!
Joelle is being a brat and avoiding the chores outside. Her daddy has been calling for her to help them all. When he enters her room he sees her sprawled out on the bed naked! After making her cover up, he lectures her on being more ladylike and how she should be more helpful. He even tries to get her a fresh pair of pajamas but she acts like a spoilt brat and throws them onto the floor. Daddy is annoyed and so thinks if she wants to lounge around naked then she can get spanked naked over his lap. She protests but he spanks Joelle's exposed bare bottom and then uses the 2 hairbrushes he spies on the bedside table. Poor Joelle is struggling and yelping in pain as his hand and the hairbrushes, that she hates so much, redden her bare bottom! When she appears to be more contrite he asks her to cover up and put on her PJs but again once they are on she mocks him so she is spanked furiously one more time until he knows she has learnt her lesson. He gives her 5 minutes to compose herself afterwards before she is told to go help the rest of them outdoors.
Happy Halloween! We have a special super sexy, spooky spanking treat for you this year with beautiful, leggy redhead, Bianca Rose spanked by the number one Female Top, Sarah Gregory. Bianca is about to take out Sarah's nephew "Trick or Treating" but one look at her racy tiny costume annoys Sarah. She asks Bianca why she is dressed like a slut and how inappropriate it is to accompany her young nephew going out like that in the dark! Bianca's attitude is contemptuous and Sarah soon discovers the real reason she is dressed like that; it is to impress one of the neighbors who is into car racing. Bianca is so shameless, not even caring when she is told that the wife of the guy she is after is a good friend of Sarah's! She's heard enough and takes the beautiful leggy redhead over her lap to spank her but is further shocked at this brazen hussy's lack of panties! She was going out like that? In that short, slutty costume? The spankings are hard and long with Sarah reminding Bianca what a dirty little slut she is and how she will tell Bianca's boyfriend of her behavior if she dares try anything like this again. This is a super hot, scolding and OTK F/F spanking that only Sarah can give to a smoking hawt, leggy redhead with a perfect, pert spankable bottom!
Kajira and Johnny are at a private fetish event in a hotel and she asks if she can go out with some girlfriends and party that evening! Johnny feels it's a reasonable request and is only too happy for her as he has plenty of people he wants to play with later. However, Kajira turns up the next day worse for wear. He had been unable to contact her and was concerned that something awful had happened. He is justifiably angry when he sees how much she has been drinking! In their relationship, this is a major penalty. Penalties mean punishments! Johnny points out how many other penalties she is accruing when he questions the previous night's telltale marks on her bare bottom. He didn't expect her to do this! So Kajira half expects what is to come but she didn't expect to receive the Reformatory Strap followed by a caning, however... and that is on top of her spanking! This is a hard no nonsense scolding, spanking and a heavy leather strapping on Kajira's beautiful, pert bare bottom. All this before her very reddened tight buns are caned without mercy! This is a real hard discipline video between two big players in "The Scene".
Whitney Morgan is a professional fetish model and like many girls, she attends the Annual Fetishcon Event in Florida. They seek work with many producers as well as networking which to some means partying and getting drunk. Whitney turns up to her shoot 20 minutes late and the worse for wear, smelling of booze. John isn't impressed as it's the final day and she had also promised him that she wouldn't be marked but he sees that she has been spanked recently. He isn't impressed so tells her the shoot is off, he has more girls due in 40 minutes. Whitney tries to claim a cancellation fee which just annoys him further so he takes her across his lap and starts to spank the brat. He isn't interested in filming anymore and tells Whitney he is going to teach her a lesson and get his money's worth as he will pay her lousy cancellation fee... with interest! She is spanked, then given the leather paddle and leather strap across her bare bottom after she is stripped naked! How humiliating, this is a wake up call for Whitney as her ever so spankable bottom is reddened beautifully. This is a hot debut film with a difference for Whitney and a warm, red bottomed welcome to Triple A Spanking!
Belle is such a badly behaved young lady that most of the teaching staff are fed up trying to discipline her. She has been summoned to the office of Headmistress Svenson for an extra detention punishment. After a stern scolding Miss Svenson places Belle over her lap giving her a cold hard spanking. This is to teach her that this time she will realize the full consequences of her continual poor behavior. This spanking by hand and then the stinging leather slipper on Belle's bare bottom is just the start of a strict hard caning that Belle finds difficult to take! Bent over the desk, her bare bottom stuck out and vulnerable, Belle immediately regrets getting into trouble as she hears the swish of the heavy cane. This is a severe punishment of a schoolgirl that has defied authority. Her poor bare bottom, already marked and red from a previous teacher's spanking, now takes a series of hard cane strokes that has her gasping in pure disbelief. This is a severe schoolgirl punishment discipline of Belle Calder receiving one of her hardest ever canings caught on film!
Ella doesn't seem to be learning her lesson at school, with increased detentions and punishments from the teaching staff not being as effective as they once were. Her father had recently sent her to the school's Girl Guides for extra curricular activities which he hoped would give her more direction. Daddy was loathe to punish her at home and hoped this would help her to behave. However, Ella gets sent home again for numerous uniform infractions and fighting with the other girls. He has no choice but to spank her, but this time he is using an old leather strap and a hard painful hairbrush which he knows she will hate! Ella's jiggling bare bottom is spanked until it turns a shameful red then she is giving a strapping and hairbrush spanking she won't forget. The look on her face near the end of her punishment says it all, she did not like this one little bit! Maybe this time she will learn that her poor behavior has serious consequences! This is a rare chance to see beautiful British model, Ella Hughes, given a real spanking punishment far from her comfort zone.
This is a stunning debut with a real tearful spanking & leather strapping for Syrena. She is ordered to change into her punishment outfit. It is a white camisole, tight gym knickers with a white gusset and white socks. She knows being dressed like this, waiting for him, is embarrassing and humiliating. Syrena is nervous as she is lectured, knowing that soon she will be on all fours, her bottom presented for a hand spanking while the two heavy leather straps are placed in front of her... a reminder of what is coming next! With her knickers pulled down, the leather strappings begin, at times the strokes are relentless, following through hard making her cry out in real pain as both the heavy double sided and the reformatory strap do their job in severely reddening her bare exposed bottom. This is a no nonsesne hard, real severe punishment that brings tears which are captured in detail. Don't miss Syrena's first full film debut at Triple A Spanking! Will appeal to her fans and lovers of traditional, hard schoolgirl discipline.
This is a longer play video in two distinct parts. It's an all girl spanking film with the exceptional online debut of Harley Havik as a top. Harley is now a switch learning what it's like to take charge and spank those in need of discipline. We often say that switches make the best "tops" so we have not one but two girls who take turns to punish the other. However, this is no cheesy "I spank you, you spank me" scenario... this is a very believable film over a short period of time which sees a reversal of fortunes! In part one, Harley is mad at her roommate, Angel, for drinking her expensive wines that she was hoping to use when her boyfriend was due later. Harley wasted no time taling Angel over her lap and spanking her housemate hard on the bare bottom including a hairbrush spanking which had Angel yelping. In part two, the following day, Angel is arranging her clothes as the pair are due to go out in the evening. She comes across her favorite tee-shirt which has wine stains all over it from when Harley last wore it. She is furious, and remembering the spanking she received previously, takes Harley over her lap for a revenge spanking punishment. Harley cries and pleads and is so tearful when the same hairbrush is used hard across her beautiful bare bottom! All in all, this is an excellent "topping" debut for both girls and of course we get to see them both spanked by the other too!
Warning: This is a severe discipline punishment film with some very effective scolding, spanking, hard leather strapping and severe caning! Hotel manager, Miss Anna, is summoned to visiting CEO Johnny Lake's room for a showdown that she will not forget in a hurry. He is so disappointed and upset at the way the hotel has been run that he is ready to fire her but he gives her a final warning. Of course, this is in tandem with a very harsh discipline session to enforce the severity of the situation. All the employees know how Mr. Lake operates and this becomes a very real tearful punishment for the hapless hotel executive. Anna was feeling ashamed that he was spanking her bare bottom, but with the heavy reformatory strap and some very hard strokes of the cane, her painful reminder was complete. If you like hard discipline films then this is one that you should not miss!
Schoolgirl Aysel is spending time in England on an exchange and is soon learning how girls are disciplined there. She was un unruly young girl who had been making her parents lives a nightmare with her constant poor behavior. They had also given her new English Guardian full written permission to punish her any way he saw fit as they would do sometimes. In England, girls are spanked at home regularly. Poor Aysel was learning that girls got punished at school too but she still tried to lie and wriggle out of assignments if she could. This latest misdemeanor is typical of her constant lying which only gets her into more trouble. She lies about being punished again at school and lies about not having homework. In England, parents and guardians get SMS texts about suspect pupils to ensure they tell the truth. Sadly for Aysel, this means yet another spanking across her new guardian's lap. This time it's on her bare bottom as she feels embarrassed that he should spank her on her exposed, vulnerable cheeks. He tells her "Liars get bare bottom spankings", and if the lies continue, "liars can expect far worse punishments to come!"
Amelia is on vacation with Sarah visiting the Lone Star state, staying at Tubaman's place (Sarah's Daddy, Paul Rogers). She hadn't reckoned on him being such a stickler for discipline as she had got herself and Sarah into trouble allowing his daughter to get drunk when she wasn't of legal drinking age. Amelia is summoned for a meeting with Sarah's Daddy the morning after. She had heard the hard spanking noises from the previous night & had cause to be worried. She was right! She is scolded and told that she will get the same treatment for leading his daughter astray: his house, his rules! Amelia's protests are ignored and she is spanked over his lap on her tight denim shorts before she is asked to remove them which embarrasses her further as he continues with the spanking. Amelia's continuining protests means she's not even remotely learning her lesson and so Paul removes his belt slowly and deliberately as a final part of this discipline session. He is going to give her an "old fashioned Texan belting" across her bare bottom. Amelia takes relentless strokes of the heavy leather belt until she is close to tears, her bottom showing signs of heavy punishment and finally... showing genuine remorse!

Tour Pages at a glance 01 02 03 04 05 06 07 08 09 10 11 12 13 14 15 16 >

All content produced & owned by SG Group trading as "AAA Spanking - Triple A Spanking" is copyright protected
Content sharing and password trading is contrary to our rights protected by the DMCA 1998
We make every effort to prosecute & stop those infringing our protected copyrighted content worldwide
Free Spanking Blog | We Sell DVDs | CCBill Customer Support | Other Support Queries | Webmasters | Our Clips Store | POV | Specialist Downloads | Links
18 U.S.C. 2257 Record Keeping Requirements Compliance Statement
© 2018 SG Group t/a Triple A Spanking - AAAspanking.com