NOTICE: WE DO NOT RECOMMEND YOU VIEW THIS SITE ON ANY APPLE IPAD DEVICE
ALL OTHER MAC DEVICES & OTHER TABLETS SHOULD BE FINE - CONTACT US AT
CUSTOMER SUPPORT
FOR MORE DETAILS IF UNSURE
John had made an agreement with one of the housekeeping staff he had befriended on his latest business trip. He had gifted her an extra $100 to clean his room quickly after an all night party as he had some guests that were supposed to be there. However, when he comes back from breakfast, the room is still unmade and he hurredly cancels the meeting before finding Veronica taking off for the weekend. He takes her back to the room, shows her the mess and then tells her how cheating him works. John knew that she got punished and spanked in the past from their conversations so he quickly takes her over his knee, reminding her how those who behave wrongly get a spanking! She is shocked, even laughs it off at first, but it is no joke as she feels his hand smacking her bottom over her tight jeans. However, spankings over jeans are not real punishments as far as he is concerned, and he tells her to take them down then spanks her over her cute panties. Now the spanking starts to hurt and Veronica isn't finding this amusing anymore, but it brings back memories of when she was spanked at home. She does what she is told when her panties are pulled down. Now Veronica knows it is serious... a bare bottom spanking is very humiliating and embarrassing. She is spanked over the sofa, her beautiful red bottom glowing with shame as John teaches this housekeeper that she really should just keep her word. Trust in this business is everything!
Another stunning debut performace from what we are sure will be a real fan favorite. Please welcome Misty Lovelace. In this very tearful opening film, she stars alongside Miss Elizabeth, her no nonsense mother who knows exactly how to punish very naughty brats! Misty was not used to punishments at school, so when she had been spanked and strapped on several occassions for her poor behavior, she was sent home after the latest disgrace when she peed over her teacher in a bid to stop the punishment! Mother was mortified when she heard the news but as Misty nervously waits in her pajamas, she instantly regrets what she had done when she sees mommy walking into her room with a hairbrush, strap... and a diaper! Since she behaved liked a baby, she'd be treated as one after the impending spanking. How humiliating! Misty worries about that crinkling diaper next to her, how it would feel over her sore burning bottom. First though, she endures another hard hand spanking across her bare, very sore, recently punished bottom. The hairbrush and strap were next, causing excruciating pain, on an already tender bottom. There was no let up as Misty is then told to open her legs wide as mother powders and diapers her, all whilst she could barely watch the events unfold. She is sobbing and crying, as she receives a final bedtime scolding! Misty will not be using that lame excuse again in the future to get out of a spanking at school!
There's another new debut appearance at Triple A, this time with beautiful Kitty Catherine alongside the equally alluring Rachel Adams, a firm favorite at our site. These girls will cry and blub through their spankings and this is probably the most tear induced spanking and strapping punishment we have ever filmed! The story is simple; the girls are at a Fetish convention in an event hotel and have both annoyed a producer next door who is trying to make a spanking film. Their loud, rude behavior is used against them as he decides to teach the girls a lesson in manners with an impromptu spanking for these young madams. It's not long before they are getting their bare bottoms soundly tanned, and as their bottoms turn a shameful, sore red... the tears really start to flow. The leather strappings make the girls cry and sob loudly which is immensely satisfying to hear for the angry producer. This film features special additional angles of both girls so you don't miss the rear and facial angles, including some special slow motion shots that brings out the best of this full spanking punishment.
Skylar is only 19 years old and knows that she should not be drinking alcohol whilst out with her friends... and certainly not doing this at home. Her British father embraces the law and is rather pleased that his daughter is not allowed to partake of the Devil's Liquor until she is at least 21 years of age! So he informs her that she will receive a spanking from him, punishments at home are done the old fashioned way. Skylar dreads the embarrassment of having her bottom ritually disciplined in this most painful way... it is humiliating! But of course... that is the point! He spanks Skylar over her tight shorts as that pert bottom jiggles whilst he reigns down smack after smack. Her shorts are removed as she is scolded and spanked further until her bottom is fully bared, exposed... ready for a long hard hand and hairbrush spanking that is very painful. This is how she is taught a lesson, the old fashioned way with a resulting glowing red, sore bottom. Please welcome Skylar Rose to Triple A Spanking, making her stunning debut which is the first of many outstanding films we have recently made with her!
Another week and 2 more stunning debutantes to our site as Helen Stephens plays the ever so spoiled little brat of an increasingly frustrated and fed up mother, Eris Martinet - Mommy tries to please her spoiled precious daughter... but as is often the case, Helen's attention span is nothing to be proud of. Those horse riding lessons that she so desperately wanted previously, begging for months to have them, are now just another activity she is bored of... and she shows her displeasure by throwing a tantrum in front of Mommy. Helen continues to brat and pout and Mommy has had enough of this ridiculous behavior. She decides to teach her wayward out of control brat a lesson in manners and decorum. Helen is spanked over her jodhpurs but worse is to come as Mommy requires that her daughter gets an old fashioned spanking punishment on the bare bottom. The distraught daughter realizes too late that her poor behavior has painful consequences. Her quivering, exposed bottom is spanked over Mommy's lap and then given the riding crop with the full force of a caning! How embarrassing for Helen, who finally learns that she can't always have her own way!
Please welcome Delirious Hunter, another new girl- as promised, this month we are showcasing new talent guaranteed each and every week at Triple A Spanking. This was filmed some time ago, but sometimes, the best things come to those who wait! Delirious is a rebellious daughter, she gets punished at school a lot, she is due another spanking later and got a whupping from her mommy the previous night. She is that type of girl... never learns at all! It's the morning and she is pretending to be sick... daddy will be late for work and his patience is being tested as she tries to wriggle out of going to school (he knows there is a test and detention for her later that day). In this house, naughty girls who fake ilnnesses are checked with a thermometer first... but as daddy asks her, "where do we place that thermometer?". Del replies, "like a baby..." that's right, an embarrassing rectal temperature taking, very humiliating but also very accurate! She hates this but hopes that by being under the covers she is warmer and can try to fake an illness, but her temperature is normal, of course. So she is placed over her angry father's lap and he proceeds to give her a strong hand spanking on her bare bottom. She cries and yelps but more is to come as she is given a hairbrush spanking, still over his knee... then played on all fours right there on the bed! By the end of her punishment, Del is told to go and get ready, this is one very sorry misbehaving daughter who just never seems to learn her lesson!
What a debut performance from Aria Lennox as the brattiest, foul mouthed daughter of Miss Elizabeth. Mommy calls her in for her continuing abysmal behavior but Aria refuses to accept any responsibility. Her attitude is appalling, peppered with foul expletives which only angers and disgusts her mother further. No time is wasted as Aria is spanked over mommy's lap, first over her jeans, then across her panties and bare bottom. But the foul language continues and the dreaded bathbrush is used with great force which has Aria in near tears, gritting her teeth as the hard wood really grabs her attention. However, mommy had promised a further punishment after her bath brushing... and that is going to be her first ever mouth soaping. Aria has no clue how mean this will be, but she soon experiences that a proper sudsy, soaping multiple times with continued scoldings and humiliation is a very effective method of correction. Aria finally learns her lesson but not after it leaves a nasty lingering taste in her mouth and a very sore, thobbing red bottom!
Please welcome Opal Skies to Triple A Spanking in her first cosplay spanking film. It's Halloween and she has been out trick or treating in a provocative French maid's uniform. The neighbors have been complaining about her slutty attire and her stepfather has received numerous texts and calls about her inappropriate behavior. He's waiting for her when she finally gets home to discover that she had been punished at school as well. Asking to see see the evidence, it's not hard to notice that she is not wearing any panties under such a short dress! No wonder the neighbors were complaining! He is beside himself with anger and tells her she is getting a further spanking and the Family Strap. Opal is embarrassed but it is too late for worrying about that as her bare, exposed bottom is spanked over his lap, whilst being scolded and promised the leather strap. The Family Strap is nasty and stinging, Opal hates it and her stepdad doesn't hold back as he ensures this young madam will apologize to her mother with a very sore red bottom before going to her room to reflect on her outrageous behavior that evening!
This is a tale of two sisters who are used to getting spanked at home and also at school for their poor behavior. However, these close sisters are the best of friends and usually take their punishments because they look out for each other. This time, Isobel is sulking and really upset with Sarah as she got spanked at school when Sarah saved her own skin in a prank that went wrong. Isobel took a spanking but then told on her sibling too and she is promised a spanking at school the following day. This is where we start the film, Sarah wants to spank her own sister for telling tales and Isobel did so because her sister was mean to her. What we see is some great banter between the girls, Sarah is such a brat who really enjoys giving her younger sister wedgies, gagging her mouth with her panties when she cries out and turning her sister's bottom as red as their school uniforms! These two ladies have great online chemsitry and it shows in our latest, hot sororal spanking video.
Previously, Pandora Blake had been disciplined at school by her Headmaster for the blatent plagiarism of another's work in an examination paper. For this she had received a spanking and strapping. In this film, she is waiting at home in her bedroom, nervously, as she knows her father will be very upset and that there are yet more consequences. A punishment at school means a punishment at home. Her father is disappointed at her behavior and takes her over his lap for a further spanking before promising her something special that she will not like. After her bare bottom is a glowing shameful red, he reveals the second part of her home discipline is with his belt! He lays her on the bed and reminds Pandora that she will do better, as the heavy leather belt rains down repeatedly on her quivering, sore bottom. This is one sorry daughter who has had two nasty punishments in one day courtesy of her foolish plagiarism.
Rachel had been punished at school again and her mother was deeply upset when she found out. It had been some time since Rachel had been punished at home, as the old rule of "spanked at school, spanked at home" had been relaxed. Well, not anymore! Rachel knew what was coming, being told to get into her PJs for an early bedtime punishment, and she was very nervous. Mom told her this time she'd get spanked on the bare bottom, not like at school, and that she would also get Mommy's favorite stinging hairbrush across her bare behind! Mom's hand hurt like hell on her already sore bottom and the tears started to flow. Rachel was upset that she had embarrassed the family with her behavior but no amount of apologizing would stop mommy from reaching for the hairbrush. The swats from this reverberated around the room, mixed with Rachel's loud sobbing. This was a severe home discipline spanking, the likes that Rachel had not received from mommy before! Her tears overflowed and her nose was a snotty, shameful mess as Mom finally decided that her sobbing daughter had learnt a valuable lesson that evening! Mother knew it was time to comfort her daughter with soothing words of encouragement and hugs before tucking her into bed! For those that enjoy watching maternal discipline and real tears, this film is a must see!
We met Violet October earlier this year in Las Vegas and there was an outstanding caning punishment that had been promised to her from before. Violet is a special lady to us and was filming for our sites that afternoon and must have been a little nervous about the upcoming caning. She knew that it was going to be one of her hardest she would have received at that time. This film starts as Violet is asked to remove her panties and take up position over the bed with her bare bottom fully exposed and ready for the first part of her punishment. In all, she took a "Baker's Dozen" (one extra was given for swearing from the initial twelve). The camera angles miss nothing; her facial reactions, her body writhing in pain and of course... the rear view, close up "cane impact" angle. The second part of this caning had her initially take six more hard strokes laid out on the bed... and an agreed final four which would be the hardest of all. In total... Violet took twenty three mean strokes and this film will appeal to those who appreciate real hard caning punishments caught on camera.
Welcome to another in the "Stepmother knows best" series with an awesome pairing of super bratty Lily Swan giving as good as she gets from her step mom, played by Miss Bernadette. We love this type of dynamic: A new stepmother exporing her relationship with a hostile daughter, the mixed and confusing emotions, the confrontation, negotiation and in many cases the punishments that ensue. So it is with Lily, who resents her new step mom, making it difficult for them to be under the same roof together. Bernadette has tried to be nice but it is seen as a sign of weakness by Lily. She had suspected that Lily was behaving like a slut, much to her father's distress... and confirms this when she discovers Lily is about to go out not wearing any panties underneath her short skirt. Lily is, feisty, obnoxious and rude when confronted. This step daughter fights all the way as her new mother finally gains the upper hand - using that hard hand! However, Lily isn't just getting a hand spanking across her bare bottom, which is now looking red and quite sore, oh no... this brat is about to discover one of her step mother's family heirlooms - The Family Paddle! It is a hard, thick leather paddle, passed down from generation to generation in Bernadette's family. Now Lily is about to discover just how effective this implement is. Lily's thighs and bare bottom are whacked hard and without mercy and the red bruising easily shows up on her legs. Thus endeth the lesson for Lily: Do not to wear such provocative clothing, be better behaved, and definitely go find some panties!
Please welcome beautiful Anastasia Rose to our website as she is introduced to the delights of a sensual and sexually explicit spanking at the hands of Sarah Gregory. This latest video is part of our "Spanking Positions" series allowing you to see three ways to place a stunning young lady into, in order to spank her. We start with a traditional OTK spanking, both over panties and lingerie and without... then we proceed to an "up on all fours" position: bared, exposed and spread. Finally, in a wide open diaper position, nothing is left to the imagination as Anastasia's cheeks are spanked a rosy pink as her privates are splayed and she purrs like a kitten with delight at the sensations she receives from this impact play. This is a really hot all girl spanking video guaranteed to raise your temperature.
Christy had been allowed to accompany her father on a business trip to Las Vegas, a decision he would later regret! He had been contacted by Hotel Casino Security because she had been detained for causing so much mayhem at one of the tables after losing badly. His daughter was swearing and abusing staff and he was asked to intervene rather than the Police as he was such a good client. Her father was furious that she had put him in an awkward and embarrassing situation as he angrily marched her back to their suite which is is where we join them as he scolds and informs her that she will be spanked for this awful behavior. Christy is not too happy and during her spanking (over jeans, panties and on the bare bottom) she swears again. He is furious and tells her to fetch his leather belt. The bare bottom strapping she receives is swift, mean and hurts like heck but defiant Christy is far from finished swears again. This is the final straw as she is promised a mouthsoaping before bedtime that will leave her feeling embarrassed and humbled. It is a fitting finale to Christy's punishment and you will witness Christy's revulsion as those nasty soapy suds reach every part of her mouth, teeth and tongue... with a very thorough cleaning that she will not forget in a hurry.
We have long been admirers of "Upskirt Aunt", the wickedly teasing and sexually provocative creation of Ariel Anderssen (Amelia Jane Rutherford). She knowingly torments her nephew with glimpses of what a real beautiful woman looks like rather than the "sluts" that he will encounter whilst at college. Miss Elizabeth has had enough of watching how her son has been corrupted and influenced... and she takes her haughty English sister in law over her lap for a good old fashioned spanking. However, the evidence of how she teases her nephew is obvious when Elizabeth pulls up the short skirt to reveal sheer pantyhose and no panties, a sexy sight indeed which doesn't hide very much... something her nephew should not be viewing! After a thorough spanking over her pantyhose, they are then pulled down showing off their shameful red glow as the hand spanking and scolding continues. Upskirt Aunt is not used to being treated like this and in a further twist, she is told to fetch the wooden hairbrush before being made to ask Elizabeth to spank her with it. How humiliating! This is a hard no nonsense hairbrush punishment that fans of Miss Elizabeth will appreciate. We hope you enjoy this amusing but very real hard discipline featuring two of our most popular spanking stars.
Raven has heard great things about the high success rate of Personal Trainer, Lily Swan... and wants to be able to get much fitter, much more quickly, of course. She has heard rumors about the regimen but learns first hand (literally) how such methods are employed to ensure Lily's clients are really motivated. Spankings and a Punishment regimen are used! Raven is a little shocked but agrees to undergo what happens if she fails to do as she promises in the upcoming months of fitness, lifestyle changes and a healthier diet! Lying to Lily is pointless, she will know, and lying to her would be lying to oneself in whatever goal was trying to be achieved! So Raven takes a hand spanking over her tight leggings and then with her panties pulled down, bottom fully exposed as she is spanked on all fours. She starts to feel the burn and sting of Lily's hard hand, but there is more... Lily also uses other implements when needed, so until their next meet in seven days, she gives Raven seven hard swats with a wooden paddle stick to remind and motivate her new client!
Pandora Blake makes a most welcome return to Triple A Spanking in what is a long two part spanking drama: The first part is at school and will be followed with the consequences of this punishment at home at a later date. In this episode, Blake is summoned to the Headmaster's Office as it has come to his attention that she has plagiarised content in an important examination. She is a bright pupil but this laziness in taking content and passing it off as her own work is not in character at all. Headmaster has a solution that he feels will make her see the error of her ways. An old fashioned, over the knee spanking is administered, but there is more as the seriousness of her plagiarism means that this will be a bare bottom spanking too! Blake protests, it is embarrassing but worse is to follow as Headmaster feels she is not learning her lesson so gives the complaining schoolgirl at least a dozen, sound mean strokes with the school's leather paddle for the worst offenders.

Tour Pages at a glance 01 02 03 04 05 06 07 08 09 10 11 12 13 14 15 16 17 >
Want to become a model with us? CLICK HERE FOR FULL INFORMATION
Other sites in the SG Network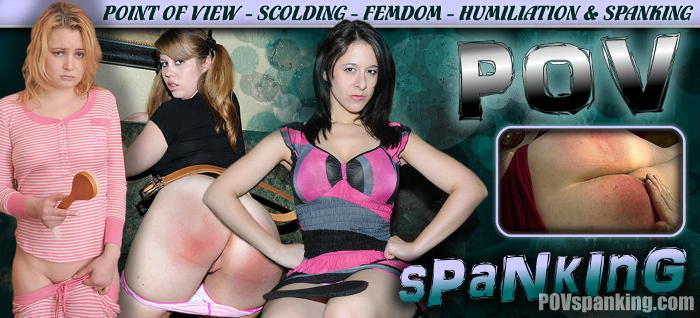 All content produced & owned by SG Group trading as "AAA Spanking - Triple A Spanking" is copyright protected
Content sharing and password trading is contrary to our rights protected by the DMCA 1998
We make every effort to prosecute & stop those infringing our protected copyrighted content worldwide
Free Spanking Blog | We Sell DVDs | CCBill Customer Support | Other Support Queries | Webmasters | Our Clips Store | POV | Specialist Downloads | Links
IMPORTANT! IF YOU ARE USING OUR SUPPORT CONTACT FORM PLEASE ENSURE YOUR EMAIL ADDRESS IS CORRECT
We answer support issues in well under a few hours. Write back after 24 hours if you do not get a reply. Please ensure YOUR mail account will not block our domain name
Add it to your safe list if unsure. Sending attachments, files, pdf docs etc. will result in most mail being regarded as spam and will be rejected and not answered.
Beware: AOL and comcast accounts nearly always block our email address
18 U.S.C. 2257 Record Keeping Requirements Compliance Statement
© 2018 SG Group t/a Triple A Spanking - AAAspanking.com