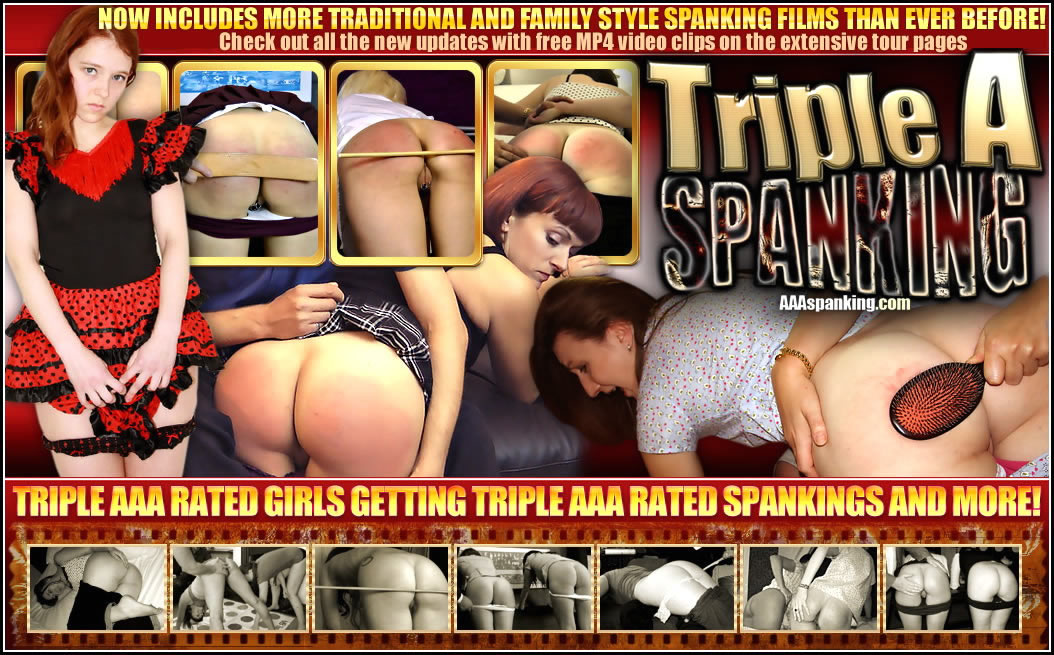 This is a stunning debut with a real tearful spanking & leather strapping for Syrena. She is ordered to change into her punishment outfit. It is a white camisole, tight gym knickers with a white gusset and white socks. She knows being dressed like this, waiting for him, is embarrassing and humiliating. Syrena is nervous as she is lectured, knowing that soon she will be on all fours, her bottom presented for a hand spanking while the two heavy leather straps are placed in front of her... a reminder of what is coming next! With her knickers pulled down, the leather strappings begin, at times the strokes are relentless, following through hard making her cry out in real pain as both the heavy double sided and the reformatory strap do their job in severely reddening her bare exposed bottom. This is a no nonsesne hard, real severe punishment that brings tears which are captured in detail. Don't miss Syrena's first full film debut at Triple A Spanking! Will appeal to her fans and lovers of traditional, hard schoolgirl discipline.
This is a longer play video in two distinct parts. It's an all girl spanking film with the exceptional online debut of Harley Havik as a top. Harley is now a switch learning what it's like to take charge and spank those in need of discipline. We often say that switches make the best "tops" so we have not one but two girls who take turns to punish the other. However, this is no cheesy "I spank you, you spank me" scenario... this is a very believable film over a short period of time which sees a reversal of fortunes! In part one, Harley is mad at her roommate, Angel, for drinking her expensive wines that she was hoping to use when her boyfriend was due later. Harley wasted no time taling Angel over her lap and spanking her housemate hard on the bare bottom including a hairbrush spanking which had Angel yelping. In part two, the following day, Angel is arranging her clothes as the pair are due to go out in the evening. She comes across her favorite tee-shirt which has wine stains all over it from when Harley last wore it. She is furious, and remembering the spanking she received previously, takes Harley over her lap for a revenge spanking punishment. Harley cries and pleads and is so tearful when the same hairbrush is used hard across her beautiful bare bottom! All in all, this is an excellent "topping" debut for both girls and of course we get to see them both spanked by the other too!
Warning: This is a severe discipline punishment film with some very effective scolding, spanking, hard leather strapping and severe caning! Hotel manager, Miss Anna, is summoned to visiting CEO Johnny Lake's room for a showdown that she will not forget in a hurry. He is so disappointed and upset at the way the hotel has been run that he is ready to fire her but he gives her a final warning. Of course, this is in tandem with a very harsh discipline session to enforce the severity of the situation. All the employees know how Mr. Lake operates and this becomes a very real tearful punishment for the hapless hotel executive. Anna was feeling ashamed that he was spanking her bare bottom, but with the heavy reformatory strap and some very hard strokes of the cane, her painful reminder was complete. If you like hard discipline films then this is one that you should not miss!
Schoolgirl Aysel is spending time in England on an exchange and is soon learning how girls are disciplined there. She was un unruly young girl who had been making her parents lives a nightmare with her constant poor behavior. They had also given her new English Guardian full written permission to punish her any way he saw fit as they would do sometimes. In England, girls are spanked at home regularly. Poor Aysel was learning that girls got punished at school too but she still tried to lie and wriggle out of assignments if she could. This latest misdemeanor is typical of her constant lying which only gets her into more trouble. She lies about being punished again at school and lies about not having homework. In England, parents and guardians get SMS texts about suspect pupils to ensure they tell the truth. Sadly for Aysel, this means yet another spanking across her new guardian's lap. This time it's on her bare bottom as she feels embarrassed that he should spank her on her exposed, vulnerable cheeks. He tells her "Liars get bare bottom spankings", and if the lies continue, "liars can expect far worse punishments to come!"
Amelia is on vacation with Sarah visiting the Lone Star state, staying at Tubaman's place (Sarah's Daddy, Paul Rogers). She hadn't reckoned on him being such a stickler for discipline as she had got herself and Sarah into trouble allowing his daughter to get drunk when she wasn't of legal drinking age. Amelia is summoned for a meeting with Sarah's Daddy the morning after. She had heard the hard spanking noises from the previous night & had cause to be worried. She was right! She is scolded and told that she will get the same treatment for leading his daughter astray: his house, his rules! Amelia's protests are ignored and she is spanked over his lap on her tight denim shorts before she is asked to remove them which embarrasses her further as he continues with the spanking. Amelia's continuining protests means she's not even remotely learning her lesson and so Paul removes his belt slowly and deliberately as a final part of this discipline session. He is going to give her an "old fashioned Texan belting" across her bare bottom. Amelia takes relentless strokes of the heavy leather belt until she is close to tears, her bottom showing signs of heavy punishment and finally... showing genuine remorse!
Sophie Parker told us her Twitter following would enjoy seeing her shamed and punished to tears in a most humiliating way! This is a first for Sophie in this edgy, dark spanking film. She told us she wanted it to be very different, so we thought why not do a forbidden scenario of a schoolgirl discipliined in a most inappropriate, shocking way by her schoolmaster? The films opens with her already bound to a bench and upset so she is quickly ballgagged to keep her more compliant since her potty mouth is so offensive. Her white regulation school panties were cut off roughly and cruelly with a pair of scissors so the punishment could take place across her bared, exposed parts. Sophie's legs are splayed wide and bound to the bench so she knows he could see everything "down there" and had no choice but to accept what is happening. She is told that he is going to break her will in this very embarrassing punishment that has poor Sophie drooling through the gag. She struggles in shame and feels some rather painful wooden implements across her bared bottom. She had no idea how this would end, seeing the array of ever more painful implements being shown to her and used on her sore, burning red behind. Only her Form Master would decide when this ultimate and humiliating punishment would end if he was satisfied that she was genuinely compliant, polite, and remorseful. There is some aftercare where she is allowed to cry and let the emotions run their course from such an unexpected discipline session. This is consensual "non consensual" roleplay at its best!
This is an amazing triple session in this unique scenario. Please welcome back Zooey Zara in a special 3 stage spanking, strapping & caning that focuses on how Zooey processes and perceives her various sensations, both good and bad. Zooey is a natural painslut, a fabulous and unique young lady who we were fortunate to film with again! This special film covers an intimate and unusual spanking position, with an intense warm up of her cheeks and the backs of her thighs. Nothing is missed and she is able to see it all in front of her! She'll need her warm up for the next part. In part 2: The Strapping (without her panties) a small, but heavy stinging leather strap nicks her innermost sweetspots. Zooey opens up to allow the strap to reach those spots that leather straps should never reach! In the final part, Zooey experiences a varied double and rythmic caning which is intense at times and at times sensual (to prolong the suspense). Watch her process her agony, pleasure and pain! It's a wonderful film with a unique individual. Don't miss this fantastic spanking presentation!
Alice had really gone and done it this time. Last week she was bored and saw her little sister playing happily on her own. Alice didn't like how she was playing so happily so wrecked the living room, pulling up potted plants and spreading earth all over the floor. She then ran to mommy and told lies about who did it! Her poor sister got such a whacking, and she watched it all gleefully. What a wicked little girl! She would have got away with it too but for the nanny cam. Mom just happened to check it as the storage was full and remembered that awful incident the previous week. When she sees the truth she summons Alice to the Living Room for a showdown. Alice has no excuse and mother tells her that "Liars get the hairbrush". This is a swift OTK bare bottom spanking and a severe, uncompromising hairbrush whacking that leaves Alice gasping in pain clutching her sore red bottom! Trust is important in this family, lying will not be tolerated!
This is part of the "Spanked by Mother, Spanked by Father" series. Part One can be found at Momma Spankings when Belle is spanked by her Mother at home after school where she had already been punished. In this house, a spanking from her Mom also means a spanking from Daddy. We see some introductory footage from the earlier spanking of her in traditional school uniform. Then watch Belle rubbing her sore bottom over her regulation panties as she is sent upstairs, early to bed, to wait for Dad. He is none too pleased and takes her over his lap for a long hand spanking. She is spanked first over her pajama bottoms then on her sore red bottom. He isn't finished there, he rarely uses his belt but this time Belle's behavior deserved it. She gets 27 licks with the heavy leather belt including a hard final 6! This is Belle Calder's debut appearance, watch out for more memorable videos of her coming soon!
Sarah had rented a small appartment on her extended stay to England to see friends & family. The "family" included her half sister, Katie, who she hadn't seen for several years. It didn't stop Katie wanting to stay with Sarah despite the cramped space & soon she was taking over. Sarah's patience was finally broken the time she returned to prepare for a small dinner event later that evening. She found Katie practicing her Yoga stretches on an exercise mat. She had moved all the furniture out of the Living Room. Sarah knew exactly what this young brat needed & took Katie over her lap to give her a long overdue spanking. She yelped & cried out, Sarah was content to just spank her sister over her tight spandex workout pants, but of course Katie couldn't keep quiet & so a more humiliating spanking was required as Sarah pulled down her tight leggings. She hand spanked, then paddled her selfish sister's tight buns until she knew Katie was truly remorseful! This is the first of more films featuring popular Miss Brown who made her unexpected return with an exclusive filmshoot recently!
Young wife Leandra had no time for her new step daughter's education and wellbeing when she was supposed to be in charge of her when her father was away on business. This showed with the failing grades and continual punishments.that she had received but her teacher had guessed that Leandra was the cause of his once best pupil's erratic behavior. Leandra was summoned for an urgent meeting and it soon became apparent how aloof and selfish she was so he gave her an ultimatum: To take a similar style humiliating punishment or he'd inform her new husband what she had been doing! He gave her a bare bottom spanking and leather paddling then remarked on her style of dress which was far too provocative... Leandra felt ashamed that she had put her new daughter through these punishments too as her punishment was finished off with an embarrassing cornertime, panties down, like a very naughty little girl.
Sarah & her sister Jordana had secretly gone out and got a little drunk before an important exam at school. Of course this was unacceptable behavior but sneaky Jordana had pretended to be really sick the following day and Sarah had to take her exam and failed. Sarah knew Jordana was faking and so this is where this film starts with Sarah confronting her "sick" sister. This soon escalated to Sarah punishing Jordana for getting her into trouble... She spanked her over her knee like a naughty little girl and then finished the punishment with a bare bottom spanking like their momma used to do when they were naughty!
This is a debut appearance for Audrey at AAA and we thought we would try something a little different by dressing her in an authentic British nursing uniform (the ones that are used in care homes) and have her punished by our good friend and excellent disciplinarian, Johnny Lake. Audrey was the senior nurse of a prestigious care home for the wealthy elderly which was run by a subsidiary of Lake Enterprises. Audrey was invaluable to the company but being involved in a scandal and loss of revenue, Johnny flew down in person to deal with this the best way he knew how. He hated having his company name dragged through the media for all the wrong reasons so he arranged a private disciplinary meeting with her. She knew what was coming and was nervous, being spanked with her panties down by the CEO was embarrassing but she couldn't afford to get fired. Worse was to come as she hated the cane and Johnny knew this! She took the strokes anyway as he reminded her of the alternative right there and then. Watch Audrey, looking so cute in that nursing outfit getting a punishment she thought she had grown out of. This was a reminder to the staff at Lake Enterprises that this CEO took his job seriously when it came to personal discipline!
Alex Reynolds had been punished in the main Boarding School building for smoking earlier that day and was sulking in her room and not ready for bed at all... she refused to conform and had brought in a forbidden Black Duvet Cover on her last visit home instead of the "Parents choice" (in this case Alex should have had "Care Bears" covers) that she detested. She had also hidden all the implements of correction that were supposed to be on permanent display in her dorm room. So when she was caught, still in school uniform, using her phone at lights out... there could only be one outcome. The implements were soon found and she was made to strip and get into her regulation night gown in front of the Dorm Master before enduring a painful reminder of what happened to naughty girls that continued to defy strict school guidelines. This video features much strapping and use of heavy wooden implements such as a hardwood hairbrush and rattan carpet beater. Strict, mean and nasty: This is one punishment Alex wished she had avoided right before bedtime!
Lily Swan has stayed past curfew and was caught in Joelle's room with alcohol. Both girls were lectured on their inappropriate behavior by the Dorm Master who had the duty of ensuring all girls were tucked up in bed after evening prayers. This Boarding School had strict disciplinary measures in place and both girls were spanked, strapped and given the wooden hairbrush that the master had found in Joelle's room. This is a no nonsense severe and strict schoolgirl pajama bedtime discipline movie done in a traditional style.
A fantastic new debut features today and what a scorching introduction she gets to AAA! Please welcome Bianca Rose as you have never seen her before opposite Sarah Gregory. This is a torrid all girl affair which starts with how Sarah had discovered the hideout of her husband's Mistress & waited for him to leave to sneak in. She gave Bianca, lounging on the bed (in post coital bliss) a stern scolding to how she had ruined their relationship. So Sarah took it upon herself to teach this home wrecking slut a lesson she wouldn't forget in a hurry! Sarah has become an accomplished slut shamer and this spanking video is explicit and packed full of revenge spankings that will keep you glued watching this unfold! "Hell hath no fury like a woman scorned", they say! Check out this video and see for yourself!
Amelia was an up and coming tennis player who was sponsored by her wealthy uncle. This was an expensive program and he was ambitious and wanting her to succeed! She stayed at his estate during the Spring Holiday Break for instensive training practice at a prestigious coaching school nearby. Amelia was fed up working so hard and Springtime felt good with the harsh winter months gone and the afternoon's sunshine feeling too inviting for her to bother with practice that day. The sun's warming rays felt so good that she stripped naked and enjoyed laying there, relaxed and feeling a little naughty! However, she was unaware that her Uncle John had arrived home early to find her sprawled out on the grass, naked! She had no excuses to offer, he was disappointed and reminded her what happened to her in the past. It had been a long time coming but he was going to spank her right there. She was embarrassed and humiliated but knew she was wrong and had let him and her family down... worse was to come when he went back inside the house to fetch some old fashioned straps used a long long time ago for old fashioned punishments. She soon remembered how painful these were and was told to get her sorry, sore ass back to tennis practice after her naked ordeal outside!
Angela Sommers makes a stunning debut as a pushy fitness coach who has lost all her clients in a Beginners and Intermediate Dance Class at a gym run by Sarah Gregory. Sarah isn't pleased that this is costing her money and has a rather unique way of motivating Angela to improve her attitude and people skills by not pushing those who dread her classes. Angela's slutty attire is also reviewed and sarah gives her a humiliating bare bottom spanking on the gym class floor. Watch Angela's cheeks jiggle and turn a beautiful shade of red as this hand spanking gets the job done perfectly!
This film features two firsts - Aleesha Fox made her debut as a stern, matriarchal figure spanking another new girl to the site, Ella Hughes, dressed in an authentic gingham dress school uniform. Ella had not been performing as well as expected at school and when her grades were revealed, mid term, she faced the consequences for letting down her family! She was spanked OTK, then her crisp white panties were pulled down just enough to reveal her reddening bottom to which she was thoroughly spanked on the bare and then given a hair brush spanking that had her squirming in real pain. Watch this traditional no nonsense film on how we used to discipline naughty schoolgirls at home in real 1980's surroundings for that added authentic feel of days gone by!
Stevie Rose had a new stepmom and they didn't like each other one little bit! Anna made sure that her new bratty daughter got no favoritism from her when Stevie's Daddy (John) was away on business. He trusted Anna to look after her as she was his Special Little Princess. His wife found fault with Stevie's behavior and often spanked her hard until this time she went too far and spanked Stevie on her bare bottom with a leather paddle and a hairbrush! John returned home from business early the next day and discovered what had happened from Stevie's tearful face and he gave his new wife her first ever severe spanking punishment. He was so angry that he spanked her hard on her bare bottom making it turn deep red quickly before using a Compliance Discipline Strap which stung like hell and made his wife cry. However, he hadn't finished with her! In the finale of this film, there was a caning scene that left welts and marks Anna would not forget in a hurry! This was her learning a lesson the hard way: Not to touch Daddy's Precious Little Princess!

Tour Pages at a glance 01 02 03 04 05 06 07 08 09 10 11 12 13 14 15 16 17 >

All content produced & owned by SG Group trading as "AAA Spanking - Triple A Spanking" is copyright protected
Content sharing and password trading is contrary to our rights protected by the DMCA 1998
We make every effort to prosecute & stop those infringing our protected copyrighted content worldwide
Free Spanking Blog | We Sell DVDs | CCBill Customer Support | Other Support Queries | Webmasters | Our Clips Store | POV | Specialist Downloads | Links
18 U.S.C. 2257 Record Keeping Requirements Compliance Statement
© 2018 SG Group t/a Triple A Spanking - AAAspanking.com