<<< REFRESH THIS PAGE TO ENSURE YOU HAVE THE LATEST UPDATES - WE STILL UPDATE AT LEAST 3 TIMES A WEEK! >>>
Lily Swan is back in a great OTK spanking video and you will see why she got this swift bare bottom punishment as she thought that her landlord, John, would be away on business for longer than she anticipated. She was brewing gallons of beer in the basement hoping to hide the evidence before his return. Only he caught her red handed making this from returning early from his overseas trip. What made this worse for Lily was that John had a rule about alcohol in the house, a simple rule - NO ALCOHOL at all. It was a "Dry House". He gave her a spanking that made her bare bottom sore and she knew she had to take this hard spanking for her obvious deception and lack of respect toward her trusting landlord! Lily is exclusive to the SG Group of sites and a very popular spankee here at AAA: We know you will LOVE to see her "getting it good" once more!
Sarah Gregory had been wanting to meet Rosie for quite a while after seeing what had been filmed at Triple A previously! This was a memorable encounter as Rosie had seen Sarah's strapping techniques and had asked her off camera if she could demonstrate to her what she did best! Sarah couldn't wait, but insisted on having the lovely Rosie naked on the bed. What you will see are two fabulous ladies doing what they do best as Top and Bottom. This is fine spanking erotica at its best starring two very sexy ladies!
Alex was waiting in the hotel room after the latest incident involving losing or getting her room card keys deactivated. Most people nowadays are aware that keys can become demagnetized near a cell phone! After her last spanking punishment by her real life partner, Paul Kennedy (which we filmed for your benefit), you would think that Alex had learnt her lesson. It would appear not as she had managed to do the same to John's hotel keys earlier when she was staying at his place during the Lone Star Spanking Party (last year) in Houston. John decided to film her punishment and promised to let Paul know as soon as possible how it went with the aid of his phone, sending some images of Alex's sore red bottom afterwards. Watch last year's "Female Spankee of the Year" getting a traditional OTK spanking and leather paddling on all fours, across her bare exposed bottom, looking very cute and rather contrite.
Joelle Barros always enjoyed a free vacation but forgot just how many strings got attached with rule after rule she had to follow. One such rule was not to buy offensive souvenirs but she did anyway and incurred the wrath of her strict Brooklyn born stepdad, Robert. He decided to give her a humiliating bedtime spanking just like he used to in her school days! He was annoyed that she had bought a foul mouthed stuffie that swore and cursed every time it got pressed. Joelle got a spanking over her pajamas just like she did when she was naughty or had forgotten to do her homework in the past and these memories came flooding back. It was embarrassing and humiliating to be over his knee again as a grown woman but she wasn't going to give him the pleasure of being right and she took her punishment, first over her panties then on her bare bottom! It had been a long time since her cheeks had been reddened in shame like this. She was going to find it difficult to sleep that night! Don't miss Joelle looking cute as a button in genuine vintage PJs and braided pigtails!
Mandie was sulking in her room after an earlier spanking and didn't feel like going out later that day with everyone else as she was sure that her marks would show or give away that she had been punished. She concocted a fake illness when told to hurry up and get ready. Of course this didn't fool John who played along with her until he suggested taking her temperature - rectally (the last time she had placed it in a warm cup of coffee when he left the room so she could not be trusted again). He was giving her a chance to just stop this nonsense but she persisted so the threat of the thermometer became reality and was placed up her bottom. There was no fever, of course! Confronted with this evidence, Mandie realized her mistake but it was too late and he was disappointed that she would have to have another lesson in not to tell fibs. A quick leather strapping and spanking in many varied, humiliating and painful poses brought Mandie to tears as she was told she was coming out with them - like it or not!
Christy and Casey were more than just good friends, they were spanking friends. They never had a problem helping each other out if they wanted a sensual paddling or ass smacking with some fun erotic play. They knew that they both looked good in their stockings and sexy lingerie so it wasn't long before Casey couldn't keep her hands off Christie's voluptuous full spankable bottom! They had both been spanked earlier and now, with just a beautiful glow remaining on their bottoms, they teased out the red color once again. They both took turns to spank and use a couple of their favorite toys on their bare behinds. Afterward, the girls rubbed lotion lovingly onto their glowing cheeks. This video also contains some fantastic close up angles of the girls bottoms in a bonus rear cam view at the end. It is a very sexy and sensual all girl spanking experience.
Filmed at Fetishcon 2015 - we came across this amazing young lady almost by accident. Beautiful BDSM lifestyler, Zooey, makes her stunning debut to round off an incredible year at AAA & ushers in a new era for 2016. This was a very special audition to see just how much pain she said she could process. Being a painslut, Zooey welcomed the challenge & had a fantastic warm up spanking by Johhny Lake (who was testing her out) after he saw her playing in the Fetishcon Dungeon the night before. Her marks soon re-appeared & she welcomed the chance to take the new Ouch(UK) AAA Compliance Discipline strap. Johnny didn't miss a spot & called for help. John Osborne used a stinging stiff leather tawse on her hands & a thick wooden ruler that would make most girls recoil in horror. Zooey? She just smiled beautifully & took more treatment on her feet too! After a wooden paddling on her now sore red bottom, which she took without a murmer, it was decided that she was the one to take a double caning including extended play & hard relentless strokes on the back of her thighs. This showed the guys that this fantastic young lady could take anything! Remember, this was strictly an audition & not a real life punishment so that is why you see Zooey smile. This was indeed a hard, severe test that most girls would be unable to take during this 18 minute video. It's a bit special & we hope that you think so too. Witness an incredible young lady showing us her amazing tolerance & appreciation of the pain that she gratefully received!
Sarah wanted to do a nice Christmas spanking video for AAA and since she now owned the site she dressed John up in a Santa sweater whether he liked it or not. She wore cute tight Grinch themed leggings & a tee shirt then more or less told John what was was happening. He wasn't a fan of this holiday season and felt a little annoyed that he had to do this so he decided to enjoy the fact that Sarah was across his lap... asking him to spank her. How could anyone resist that offer? This 14 minute HD video features lots of banter and is an intimate portrayal of their real life relationship. It is a very watchable film as John actually shuts up and spanks his lady the way she wants it. See the fun and some spankings only he could get away with on Sarah as she attempts to bring a little pervy Christmas cheer to all those who support their work at Triple A Spanking. Merry Christmas & a very Happy Spanky New Year to you all!
Lola Marie was a specialist Personal Trainer at a Kink Friendly Gym Club. She was aware that as well as exercise, club members would practice discipline sessions in the basement. She had been called to the basement before her shift one morning so knew something was wrong! The Gym Owner needed to confront her over an issue brought up by some of the members. She had been mean & working some of them too hard so they had requested that she be disciplined to teach her a lesson. Lola was aware something like this could happen & was paid a lot of money within this kink friendly environment. Her attitude got her into trouble with the owner & she had to accept the consequences... she was spanked to start with then placed on the bench, mouth gagged to keep her more compliant and then a variety of implements, both leather and wooden, were used across her bottom including the dreaded bathbrush, carpet beater & a horrible looking tawse! Finally, Lola Marie was caned on her already sore bottom & told to reflect on the error of her ways!
Angel Lee had never been spanked in such a submissive and embarrassing position before. She had heard about it and asked if we could film this with her. She wanted to see if she had what it took to join the infamous "Triple A Wheelbarrow Club" - Angel's exposed cheeks and private parts were bared and spanked as she was reminded just how awkward she must have been feeling to have her bottom presented like that in such a revealing position! See for yourself what a fantastic sport Angel was in experiencing her first ever wheelbarrow spanking position where you get to see her bottom up close and personal showing all her facial reactions captured during the video!
Erica Scott & John Osborne were partners who were attending a large National Spanking Party. Erica had asked John to warm her up and give her bottom a nice glow to start off the evening. Everything was going well until she mentioned the name of a man in a moment of pleasure that John had forbidden Erica to associate with. He was beyond disappointed and very angry. The direction of this warm up changed from affection to one of a real punishment as Erica's panties were pulled down roughly and John started to use the leather straps more forcefully, following through and using wooden implements such as the hairbrush and paddle that he knew Erica really disliked! She was scolded and severely chastised in this very real punishment that Erica later admitted had got inside her headspace, bringing her to remorse and tears!
Sarah Gregory had been sent to a domestic discipline therapist (played by Chelea Pfeiffer in her debut role at AAA) because Sarah had always got turned on by her boyfriend's spanking even when he was actually trying to scold & punish her for real. This obviously meant she wasn't always learning her lesson & becoming more of a brat! He left her in Chelsea's capable hands & poor Sarah faced a rather humiliating 20 minute session in which Chelsea used all the associated things Sarah had derived as pleasure then turned them against her. She even blindfolded her, stripping Sarah of her dignity... & practically slut shamed her in her first visit. Sarah quickly learnt that it was better to be a contrite young lady rather than a brat when she had misbehaved!
Please meet Christina Carter... you may have seen her as the best dressed fetish super-heroine, Wonder Woman, among some of her many wonderful cosplay & fetish fantasies she helps fulfill at her own website ChristinaBound.com - Have you ever thought what it would be like to spank a naughty superhero having an "off day?" Well, your luck is in as Christina was supposed to be meeting her man, Johnny, downstairs at a fetish and spanking event but she was ignoring his messages on her phone and far from ready! When Johnny got back to their room to ask what was going on it was obvious she wanted to play and be his naughty brat for a bit so he took her naked over his lap, with just her trademark WW hair band in place and he gave her booty some loving with his hand. This was not a punishment spanking, how could he after she accepted that she needed some attention? You'll see this couple's real chemistry as Johnny hits the right spots with his hand making her booty a delicious cherry red! This is an exclusive hot M/F spanking video for Triple A members!
Maddy Marks had been summoned to the school basement at 3am after an exhaustive investigation that identified her as the chief culprit in a massive school examination fraud. Told to report in full uniform she had no idea that she had been found out! She had been selling exam papers to her fellow students after she had discovered which questions were to be asked... now she had delayed the examination process and was close to expulsion but her parents pleaded that she be punished there and then and flown home after to reflect on this, It also cost her parents dearly in compensation so before her flight home she received an almighty scolding from Mr Osborne who then spanked her hard on her bare bottom. This was just the start of her punishment as she received a severe leather strapping and wooden paddle whacking which marked her bottom a deep shameful blushing red. To add to Maddy's shame, her parents had requested that evidence of her punishment be sent to them and Mr Osborne used his phone camera to record the evidence. Maddy was sent to bed and told to report in a few hours for her flight back home where no doubt she would get more humiliating lectures with more attention paid to her poor bottom!
This is a stunning all girl spanking film with a difference. Several members at the site had requested that if we ever worked with Amelia Jane Rutherford once more, then could we have her placed in the wheelbarrow position? Well, their wishes have been granted by way of this lovingly crafted video. Poor Amelia hadn't forgotten how embarrassed and vulnerable she had felt the last time but Joelle was persuasive and very keen to have this 6'2" beauty over her lap in this revealing position. See Amelia in sexy lingerie over Joelle's knees in this most submissive of spanking positions getting the same treatment as before. This film is a sheer delight to watch for those that enjoy watching high quality all female spanking erotica!
Beautiful teen petite model, Alice Michaels, is back in this hard hitting OTK spanking and strapping video. Alice turned up for her photo shoot ignoring any wardrobe requests and arrived up in a mismatched outfit including some hideous pink thigh high socks. The photographer could just about accept this misdemeanor but when he saw that her bottom looked marked from a recent spanking by her boyfriend this was the last straw and this gave him an idea. He decided to see how much more she could take since he had a fetish shoot later that day and this would be perfect practice. Alice was spanked over his lap, over her panties at first and when she continued to be sassy her panties were pulled down and she was given a good hard, old fashioned bare bottom spanking. He used a hairbrush which she found really painful and finished off properly marking naughty Alice's bottom with a leather strap to remind her not to let down those that hire her for assignments!
We all know those maids at hotels, the curious ones, those that knock on the door saying "Housekeeping" trying to come in despite having "Do Not Disturb" on the door. Well, this video payback is for them.This pair knew that there was something worth looking at in this room but they got more than they bargained for when John caught them nosing at all his spanking paraphernalia before a film shoot was planned later that day in his hotel room. It would appear he had a chance to test out some implements earlier on their bare behinds as they had little choice or he would have called Front Desk to have them fired. For those that love to see girls crying from their punishment, there is an emotional scene at the end with very real tears from a sorry Joey Delilah!
Young Rosie was in training and asked her coach to give her some unique reminders in strength building and holding poses while on the gym horse. She wanted to see if she could endure pain and embarrassment in various positions whilst carrying out her routine. If she could overcome this each time then performing without the distraction would make her a winner. We think Rosie is an absolute star, watch her get spanked and paddled in a variety of different, awkward and very revealing positions - another film taken from our "Exercise Discipline" series.
Sometimes we just want another excuse to punish 3 very cute, sexy, bratty girls. This all star line up featured Sarah Gregory, Christy Cutie & Casey Calvert, wearing the cutest PJs imaginable. These naughty brats were waiting for their punishment together on the bed. They didn't have very long to wait! Each girl had her PJ bottoms pulled down and her bare bottom spanked then strapped with various leather implements. They were sassy little minxes and the Housemaster relished the challenge of spanking them, especially when they were lined up over the bed, cheek to cheek, to receive yet more punishments. In this delightfully sexy spanking video, who could resist such inviting targets?
This is one of our most dramatic punishment films ever made. Lots of raw emotion, power struggles, defiance, severe punishments and their consequences. This could have been a straight forward punishment for Adriana Evans, but her big mouth got her into trouble with Miss Chris in no time at all. Representing the school away from home was a big responsibility so when Adriana had been caught in the hotel gym doing provocative exercises in front of others she was sent to Miss Chris to be dealt with. In no time Adriana was spanked over her tight gym pants but rather than leave the matter there she continued to fight back and her pants were pulled down so the spanking continued on her bare bottom. Then she swore, she continued swearing which infuriated Miss Chris so much that she marched her to the bathroom for one of the most intense mouthsoapings ever caught on film. You will be blown away by the anger, the emotion, the defiant struggle as that soap washed away Adriana's filthy tongue time and time again! Eventually Adriana realized she wasn't going to win and the final part of her punishment saw her take 50 strokes of the leather strap. Miss Chris is renowned as one of the hardest players out there, this was no exception. This is a must view film for those who love to see real brats get an almighty and humiliating punishment session they deserve, this is sure to become a classic!
Lily Swan was one of those persistently naughty school girls who always felt that the rules didn't apply to her. The morning's lessons had just finished yet when she felt the need to go pee Lily couldn't wait until she got home... or even rush to the bathroom before she left. Oh no, she had to do it when she felt like it on the new gravel path around the back of the school, a short cut many people used. Perhaps she liked the thrill of being caught? Well, that was precisely what happened when she had just finished her "business" one of her Head of Year teachers walked around the corner to see that she had desecrated the footpath. His fury meant that she got ear pulled and marched to the school's "Punishment Room" - a place she knew well, and was feared by all the girls. It was a last resort room full of horrible nasty implements and straps. Lily was placed on a spanking bench and her filthy panties cut off to expose her naked bottom. Her spanking was just evident from yet more poor behavior at home, which was why this time she'd have no dignity or panties to protect her modesty. She was given a hard hand spanking and with a leather paddle before being told she would have to go back and clean the path of her filthy indiscretions with bleach.
John was visiting his twin brother, Jack, whilst on a long overseas trip... Jack wasn't too well and had said some worrying things to tell John about his new
home help nurse, Melody. John was tired so took a nap on the couch but was rudely awoken a little later with the home help nurse, Melody, trying to take his temperature rectally. Now John knew what his brother was worried about, she was obsessed with this medical procedure! Melody didn't realize her mistake, thinking it was Jack until John pulled her over his lap and gave her a damned good spanking. Jack never did that! He wasn't happy at all and used a couple of brushes on Melody's cute, pert bouncing bare bottom. She protested but John threatened to take her temperature "that way" too if she didn't accept her discipline punishment... by the time it was over, Melody's ass was an angry shameful red. This video will appeal to those that like to see a hard hand, hair & bath brush spanking of a girl in a delightful retro style nursing uniform!
Want to become a model with us? CLICK HERE FOR FULL INFORMATION
Other sites in the SG Network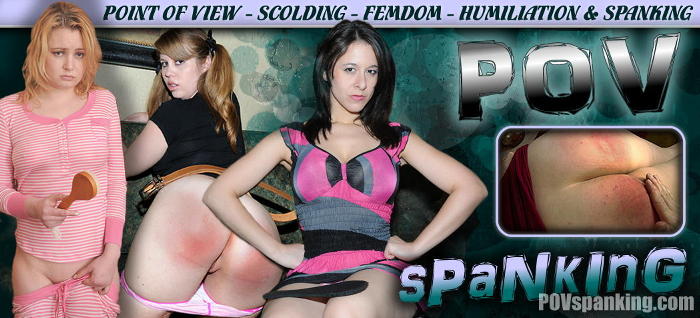 NEWS ANNOUNCEMENT - Triple A is a fully integrated part of the SG Group owned and operated in the USA - more news & info below

In December 2014, Triple A was sold & transferred to SG Group which owns & operates several successful websites such as sarahgregoryspanking.com & mommaspankings.com - We have the same philosophy & had been working closely together and co-producing content throughout that year onward so this was a natural step. We would also like to remind UK customers that it is NOT illegal to purchase, view or download material from this website or any others in the SG Group for your own personal use. Thank you for reading this announcement.

All content produced & owned by SG Group trading as "AAA Spanking - Triple A Spanking" is copyright protected
Content sharing and password trading is contrary to our rights protected by the DMCA 1998
We make every effort to prosecute those infringing our protected copyrighted content worldwide
Free Spanking Blog | We Sell DVDs | CCBill Customer Support | Epoch Billing Support | Other Support Queries | Webmasters | Our Clips Store | POV | Specialist Pay Per Downloads | Links
IMPORTANT! IF YOU ARE USING OUR SUPPORT CONTACT FORM PLEASE ENSURE YOUR EMAIL ADDRESS IS CORRECT
We answer support issues in well under 24 hours. Please ensure YOUR mail account will not block our domain name - add it to your safe list if unsure
Sending attachments, files, pdf docs etc. will result in most mail being regarded as spam and will be rejected and not answered.
Beware: AOL and comcast accounts nearly always block our email address
18 U.S.C. 2257 Record Keeping Requirements Compliance Statement
Please visit our authorized sales agent
© 2015 SG Group t/a Triple A Spanking - AAAspanking.com