<<< REFRESH THIS PAGE TO ENSURE YOU HAVE THE LATEST UPDATES - WE STILL UPDATE AT LEAST 3 TIMES A WEEK! >>>
Sometimes we just want another excuse to punish 3 very cute, sexy, bratty girls. This all star line up featured Sarah Gregory, Christy Cutie & Casey Calvert, wearing the cutest PJs imaginable. These naughty brats were waiting for their punishment together on the bed. They didn't have very long to wait! Each girl had her PJ bottoms pulled down and her bare bottom spanked then strapped with various leather implements. They were sassy little minxes and the Housemaster relished the challenge of spanking them, especially when they were lined up over the bed, cheek to cheek, to receive yet more punishments. In this delightfully sexy spanking video, who could resist such inviting targets?
This is one of our most dramatic punishment films ever made. Lots of raw emotion, power struggles, defiance, severe punishments and their consequences. This could have been a straight forward punishment for Adriana Evans, but her big mouth got her into trouble with Miss Chris in no time at all. Representing the school away from home was a big responsibility so when Adriana had been caught in the hotel gym doing provocative exercises in front of others she was sent to Miss Chris to be dealt with. In no time Adriana was spanked over her tight gym pants but rather than leave the matter there she continued to fight back and her pants were pulled down so the spanking continued on her bare bottom. Then she swore, she continued swearing which infuriated Miss Chris so much that she marched her to the bathroom for one of the most intense mouthsoapings ever caught on film. You will be blown away by the anger, the emotion, the defiant struggle as that soap washed away Adriana's filthy tongue time and time again! Eventually Adriana realized she wasn't going to win and the final part of her punishment saw her take 50 strokes of the leather strap. Miss Chris is renowned as one of the hardest players out there, this was no exception. This is a must view film for those who love to see real brats get an almighty and humiliating punishment session they deserve, this is sure to become a classic!
Lily Swan was one of those persistently naughty school girls who always felt that the rules didn't apply to her. The morning's lessons had just finished yet when she felt the need to go pee Lily couldn't wait until she got home... or even rush to the bathroom before she left. Oh no, she had to do it when she felt like it on the new gravel path around the back of the school, a short cut many people used. Perhaps she liked the thrill of being caught? Well, that was precisely what happened when she had just finished her "business" one of her Head of Year teachers walked around the corner to see that she had desecrated the footpath. His fury meant that she got ear pulled and marched to the school's "Punishment Room" - a place she knew well, and was feared by all the girls. It was a last resort room full of horrible nasty implements and straps. Lily was placed on a spanking bench and her filthy panties cut off to expose her naked bottom. Her spanking was just evident from yet more poor behavior at home, which was why this time she'd have no dignity or panties to protect her modesty. She was given a hard hand spanking and with a leather paddle before being told she would have to go back and clean the path of her filthy indiscretions with bleach.
John was visiting his twin brother, Jack, whilst on a long overseas trip... Jack wasn't too well and had said some worrying things to tell John about his new
home help nurse, Melody. John was tired so took a nap on the couch but was rudely awoken a little later with the home help nurse, Melody, trying to take his temperature rectally. Now John knew what his brother was worried about, she was obsessed with this medical procedure! Melody didn't realize her mistake, thinking it was Jack until John pulled her over his lap and gave her a damned good spanking. Jack never did that! He wasn't happy at all and used a couple of brushes on Melody's cute, pert bouncing bare bottom. She protested but John threatened to take her temperature "that way" too if she didn't accept her discipline punishment... by the time it was over, Melody's ass was an angry shameful red. This video will appeal to those that like to see a hard hand, hair & bath brush spanking of a girl in a delightful retro style nursing uniform!
Aleesha Fox was behind on her rent and her landlady, Zoe Page, had grown tired of the excuses. This time Aleesha had no valid excuse and Zoe could see she had been buying new clothes for work. Aleesha was told that she'd get a humiliating over the knee spanking right there and then after the latest excuses did not impress Zoe. Watch a hot girl on girl OTK spanking with caustic scolding and put downs as well as hard spankings from Zoe. Classic British girls go head to head in this all female spanking film.
This was an unusual & humiliating discipline session for Stevie Rose who was on a long punishment schedule learning the basics of doing as she was told, in this case, Stevie had to wear pull ups like a baby girl because she had been wearing provocative panties & short skirts to attract boys back at the house. Finding a loose pair of worn panties was the final straw when John sat down on his sofa. She was summoned & searched... her defiant attitude & the fact she had slutty denim shorts on without panties only made things worse! She was spanked over his knee... & as this was a house of discipline, implements of correction were never far away. Unfortunately for Stevie that room contained a hairbrush & a nasty 3 tailed leather strap she hated as it would heavily mark & sting her bare bottom. The final part of her contrition involved her changing into the ugly pull ups she should have been wearing & this felt especially painful over her very sore red bottom.
This is a very sexy spanking video starring legendary fetish model Candle Boxxx. She met the equally alluring Sarah Gregory (who was voted Top Female Spanker, 2014). It was filmed at one of the recent Fetishcon Parties and they made this entertaining and hot spanking film with a twist. Candle thought it was just a naked OTK spanking, which it started out that way... however, Sarah changed tactics and insisted that as she was filming for Triple A - her man John loved wheelbarrow spankings and that she should try it out too! Candle had never been spanked in such a revealing position before and she had no idea how embarrassing or humiliating it would be until she was actually getting spanked like that. Check out the close, beautiful chemistry between the ladies and how nothing was left to the imagination in this erotic girl on girl intimate spanking & paddling video.
Stunning new girl next door, Alice Michaels, makes her debut in this discipline movie about the growing trend of today's young ladies who are obsessed with their mobile devices, ignoring all those around them! Alice was about to find out a very painful lesson not to ignore others when her father gave her a tough love reminder spanking about how rude and ignorant it was to keep others waiting by immersing themselves in so much social media update statuses! This would be one update status she wouldn't forget in a hurry! #Spanked & #StrappedByDad
Joelle had snuck into the staff room late at night to take back some cookies to her room for a "midnight feast" as she was starving and fed up with the strict diets imposed on the girls at the boarding school. However, she had greedily consumed some cookies on the way back to her room before snacking on the rest, leaving a trail of crumbs for Mr Osborne to discover. He tracked the staff room incursion back to Joelle's bedroom and confronted her over the theft. Cane in hand, ever prepared, Mr Osborne knew Joelle had no excuse. She took a hard no nonsense caning and spanking punishment over her pajamas and on her bare bottom!
Part 2: It was Carissa's turn to go over Nyssa's lap for a final spanking. She was wearing very sexy red lingerie and this was tight against her bottom and heaving breasts. Nyssa took delight in giving Carissa sensations of pleasure and pain with some hand spankings and scraping of fingers along the cheeks of her bottom and thighs which made Carissa very ticklish and nervous! When her red panties were removed, the sensation play was continued with varying smacks of Nyssa's hand and use of her nails to even blowing on the areas that she had started turning red! Carissa was never able to wonder whether this was a punishment or whether it was purely play... however, the reassuring giggles and laughter between the two girls (as they were good friends, after all) proved that this was consensual playtime! See this hot conclusion to the spanking exploits of Carissa and Nyssa in the second part of their exciting spanking play!
The first of two hot all female spanking films from these ladies! Stunning Carissa Montgomery, dressed in very sexy red lingerie, spanked beautiful Nyssa Nevers who was wearing the hottest shiniest lycra leggings that really did make her look oh so spankable! Carissa wasted no time in feeling the shiny material and loved the smooth texture as her hand started to spank Nyssa's pert bottom. Over the leggings at first, then later she pulled them down to reveal a gorgeous reddening bottom which she helped ripen even further cherry red! Watch this hot girl on girl spanking film with 2 big names in the fetish biz together for the first time over each other's laps for a fun but firm spanking session!
Sarah and Angel were playing at a spanking party. Angel was giving Sarah a nice sensual spanking and Sarah thought that was all it was. All of a sudden Angel started to spank her a little harder than planned. She was sick of hearing Sarah say, "Don't mark me, I have a shoot." People pretty much knew that as the "Sarah Gregory saying." What Angel didn't know was that Sarah's boyfriend, John, would be back soon. When he walked in on Sarah upset about being spanked harder than she wanted he was not too happy with Angel so he gave her a taste of her own medicine. Features Sarah getting a harder than expected spanking from a friend and Angel getting everything due to her for being so mean! This is a good long play video!
John waited up for his young wife, Mandie, to come back from partying all night. His patience had run out and he was past caring if this would end in divorce or not! She had to be taught a humiliating lesson that this continuing behavior was totally unacceptable and the only way Mandie ever understood these things nowadays was by a good hard thrashing but she had become more tolerant of these sessions and took it as a "Badge of Honor" to survive her older husband's wrath. Tonight would be different, however, as he scolded her like never before and disciplined her with such a forceful OTK hand spanking then an angry leather strapping & wooden paddling that she soon burst into tears. This was just part of her ordeal, as a stinging hand strapping & some humiliating eye watering reminders about her make up left Mandie in no doubt that her provocative behavior had dire tear jerking, painful consequences in this marriage!
Isobel knew about the "Wheelbarrow Club" and had seen some videos so had some idea of what this special membership meant! She was a little nervous at being in such a submissive and revealing position... which she confirmed how it felt like being unable to anticipate or imagine her spankings and how she must look from the rear angle. This, as we have always said, is part of the attraction and why we do this position so well as we "get it" and pass that knowledge on to our ladies. Isobel was naturally submissive and this was one to tick off her "Bucket List" having never done anything quite like this before. After we ensured that Isobel was comfortably positioned, her spanking began, lightly at first, gauging how she would respond with the blood rushing to her head. Then her spankings got harder and more stinging as her pert bottom was open to having her vulnerable "sit spots" spanked and turned red in front of our eyes for the very first time. She got what she wanted, more new headspace sensations as her bottom was spanked, caressed and played with. Welcome Isobel, to the Triple A Wheelbarrow Club.
This is a special full film bonus update we love bringing to you from time to time. It would appear one of the "Cheerleaders for Christ" featured here had been moonlighting away from the good cause for the Catholic Church! Harry Amelia was recently evicted from the Big Brother House Reality TV Show in the UK (which we were sad about). Some of the AAA team had followed her exploits online and she was a great housemate that we supported. However, this site is an international one and so many of our members may not have been familiar with her or that this TV show was still going after so many years. So to her detractors, perhaps they would like to see her taken down a peg or two... and this film could certainly help. We are sure she won't mind! She is a true kinkster after all. You will see her spanked on her bare bottom, alongside fellow cheer girl Chessie Kay. They both got a hand spanking over the knee, in turn and in front of each other (for added humiliation) by Father Michael. It was a no nonsense short, sharp shock hand spanking punishment given as a last resort.
We join Casey Calvert nearing the end of her latest therapy session when the subject of spanking for behavior modification was suggested. It just so happened that her therapist, Miss Gregory, knew a thing or two about this subject and Casey was willing to try anything to help keep herself highly focused. So began the start of young Casey's introduction to what might be needed in future sessions and Miss Gregory wasted no time in taking Casey over her lap and started to spank her gradually harder and harder to warm up that pert bottom underneath those skin tight pants. Miss Gregory told Casey that she would also expect an over the panties spanking which would leave her feeling vulnerable and more open to suggestion as well as in more severe instances that required quicker action with a firm resounding and sustained spanking or leather paddling on her bare bottom. Casey fought off the embarrassment and unease to experience something for the first time in her sessions - purpose and direction!
This unique short sharp shock film stars stunning Rosie Ann, dressed in a cute, very sexy school uniform. It was her turn to be spanked over the chair but Mr Stamp had a special implement that he had decided to use this time... a hand paddle that hurt far more than a simple hand spanking! Rosie's bottom quickly turned red under her white panties and when they were removed the painful OTK spanking continued. This punishment was far from over, as he had decided she should receive a particularly humiliating end to this discipline session. He positioned her so that Rosie sat over the chair in reverse, with her bottom cheeks hanging out over the edge of the seat making her feel very vulnerable to yet more strokes of that nasty wooden hand spanking paddle! This film contains 3 different camera angles so that you won't miss a single part of this revealing and embarrassing session that poor Rosie endured!
Lola had been assigned a new Homework Tutor as she had been cheating her coursework using too much of the Internet available on her phone rather than learning, researching & understanding her assignments instead of copying and pasting content. She continued to defy those in charge of her care so a tutor was brought in with extraordinary powers to persuade this young madam that plagiarsm and wanton copying/pasting from the interwebs was forbidden. His methods were a little extreme but had a 100% success rate which is what we see with Lola as she learnt a lesson the hard way when he caught her up to her old tricks once more when left in a position of trust. She could expect a lot of embarrassing and humiliating spanking positions and nasty punishments as her tutor was Mr Osborne!
Spanking parties are about a gathering of like minded people and the national parties in the USA are very special. Spankos from all over meet at these events and form real bonds of friendship, comraderie and of course doing what they love the most - being kinky spankos! Two good friends hung out in our room for a while and caught up on news then we asked if they could show a behind the scenes look at some consensual playtime between friends. Please welcome Ten Amorette and Johnny Lake, once again, who took time out to play on film for you all. To start, Ten waited naked on the bed and Johnny wasted no time warming her up thoroughly with a firm but sensual hand spanking, ensuring she would be ready for the next stages of play. She was given the Reformatory Strap and some attention seeking strokes of his sturdy cane which woke Ten up out of her dreamy state. In between this Johhny had expertly used his favorite Floggers on her back, bottom and thighs with his florentine motion just lightly caressing the skin enough to make her feel warm and tingly. The finale was a pre arranged hand spanking which brought Ten to orgasm. Not even the housekeeping maid (which you might just hear in the background) at her point of climax could stop this! Welcome to the wonderful, crazy world of a national party held in a large hotel... if you feel unable to attend one soon then check out this film and think again on what fun you could be missing out on!
Lily Swan & Joelle Barros were lovers and had already experimented with some erotic playtime with various spanking implements in Part 1 - This time it was Joelle's turn to experience what it was like to be submissive to her girl when she plucked up the courage to ask her a few days after their first encounter. Joelle wanted to see if she could orgasm too after Lily had started playing with the various toys on her bare bottom including a leather hand strap and riding crop. The finale saw Joelle rubbing her pussy, getting off to the spreading warmth Lily had created using the spanking toys then Lily hand spanked her harder and harder at the time of her climax. Another hot girlfriend visual feast with much sensual and intimate spanking filmed between lovers in sexy lingerie.
Katie had been spanked at school earlier that day for multiple behavioral infractions so she was nervous about a decision she took with her additional home punishment when it was revealed that she had not learnt one of her lessons by deliberately wearing bright pink panties as continued defiance of strict rules. This had infuriated John and he told her to wait in the kitchen whilst he went off to find some harder implements of correction. Poor Katie was so worried and badly needed to relieve herself but she just lay over the table in pure fright, unable to move... and then peed uncontrollably. Her panties were soaked and the floor was a pool of shame! This was the appalling sight that greeted John on his return. His disbelief at this shameful act only meant that Katie got to feel leather and hard wooden paddles across her cheeks after her soiled panties were removed. To add to her discomfort and embarrassment, she had to clean the vast pool of shame she had created and the entire kitchen before being sent to bed early.
Alex and Paul took time out from their own private online project "Kitchen Sink Productions" to show us all exactly what they both make at their intimate spanking website that examines their own relationship with much brattiness and eventual contrition from Alex... as well as the loving D/S relationship that Paul has with her. It would be quite obvious to casual observers such as us, in this short film, that we were fortunate enough to glimpse a part of something very real and not contrived with this spanking carried out as a typical and sometimes playful punishment they would do at home or show at their own clips site. This video was made uniquely for AAA to highlight their relationship, in this case with Alex forgetting her hotel roomkey (again) and the banter that Alex & Paul had as she pouted, tried to reason and hopelessly bargaining with Paul before she got her much deserved bare bottom OTK spanking punishment which we filmed which can now be seen exclusively in our members area!
Molly Malone & Amelia Jane Rutherford were a little lost in the woodland but both girls were feeling naughty and frisky so Molly asked if she could spank Amelia for the sake of it! Out in the open, it felt fun and risky, which appealed to Amelia... so she let her close friend play and spank her including a bare bottom spanking. The giggling and familiar spanking noises attracted local land owner, Mr Osborne, who happened to be wandering through his own woods when he came across this amazing sight! He was barely able to contain his own excitement at such a spectacle and seized an opportunity rarely given to him in life. The poor fellow was socially inept and awkward with females but he did somehow stutter out that as a forfeit for trespassing on his land he would like to finish off their spanking only he wanted to spank both girls as well as doing so with their panties pulled down. A delightful spanky tale of what might happen if you go down to the woods today!
Maddy & her partner decided to show us all a glimpse of their relationship with a short informative D/S display as she was instructed to spank herself in front of the cameras. His voice could be heard off camera gently telling her what to do next and how she should do it. She was told to spank herself harder and harder then rub her cheeks when they started to burn. This was no pattycake self spanking, he wouldn't have her do this here. Maddy was then told to pick up the hairbrush and whack herself slowly and deliberately harder so we could see the effects this had on her smooth butt cheeks. It was an intimate and sensual act for her to give herself to him and us like this. Finally, she was told to use the leather paddle to redden her bottom before she took an OTK position for a finale spanking. Her boyfriend could not be seen in this video but you will see him spank her as they do at home... hard and forcefully, but not too brutal as she hadn't done anything wrong here, this was not a punishment but a beautiful demonstration of their D/S relationship which they both kindly shared for us all on camera! It was a first for us all and we are sure you will enjoy this loving and close relationship that Maddy and her partner have! He is a lucky man... and so is she for having such an attentive and caring man in her life!
Want to become a model with us? CLICK HERE FOR FULL INFORMATION
Other sites in the SG Network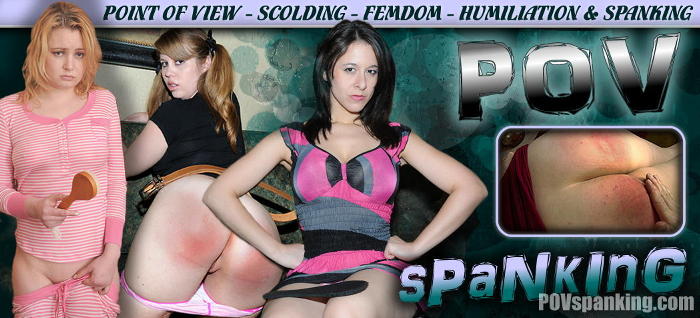 NEWS ANNOUNCEMENT - Triple A is a fully integrated part of the SG Group owned and operated in the USA - more news & info below

In December 2014, Triple A was sold & transferred to SG Group which owns & operates several successful websites such as sarahgregoryspanking.com & mommaspankings.com - We have the same philosophy & had been working closely together and co-producing content throughout that year onward so this was a natural step. We would also like to remind UK customers that it is NOT illegal to purchase, view or download material from this website or any others in the SG Group for your own personal use. Thank you for reading this announcement.

All content produced & owned by SG Group trading as "AAA Spanking - Triple A Spanking" is copyright protected
Content sharing and password trading is contrary to our rights protected by the DMCA 1998
We make every effort to prosecute those infringing our protected copyrighted content worldwide
Free Spanking Blog | We Sell DVDs | CCBill Customer Support | Epoch Billing Support | Other Support Queries | Webmasters | Our Clips Store | POV | Specialist Pay Per Downloads | Links
IMPORTANT! IF YOU ARE USING OUR SUPPORT CONTACT FORM PLEASE ENSURE YOUR EMAIL ADDRESS IS CORRECT
We answer support issues in well under 24 hours. Please ensure YOUR mail account will not block our domain name - add it to your safe list if unsure
Sending attachments, files, pdf docs etc. will result in most mail being regarded as spam and will be rejected and not answered.
Beware: AOL and comcast accounts nearly always block our email address
18 U.S.C. 2257 Record Keeping Requirements Compliance Statement
Please visit our authorized sales agent
© 2015 SG Group t/a Triple A Spanking - AAAspanking.com