<<< REFRESH THIS PAGE TO ENSURE YOU HAVE THE LATEST UPDATES - WE STILL UPDATE AT LEAST 3 TIMES A WEEK! >>>
Sarah and Angel were playing at a spanking party. Angel was giving Sarah a nice sensual spanking and Sarah thought that was all it was. All of a sudden Angel started to spank her a little harder than planned. She was sick of hearing Sarah say, "Don't mark me, I have a shoot." People pretty much knew that as the "Sarah Gregory saying." What Angel didn't know was that Sarah's boyfriend, John, would be back soon. When he walked in on Sarah upset about being spanked harder than she wanted he was not too happy with Angel so he gave her a taste of her own medicine.
John waited up for his young wife, Mandie, to come back from partying all night. His patience had run out and he was past caring if this would end in divorce or not! She had to be taught a humiliating lesson that this continuing behavior was totally unacceptable and the only way Mandie ever understood these things nowadays was by a good hard thrashing but she had become more tolerant of these sessions and took it as a "Badge of Honor" to survive her older husband's wrath. Tonight would be different, however, as he scolded her like never before and disciplined her with such a forceful OTK hand spanking then an angry leather strapping & wooden paddling that she soon burst into tears. This was just part of her ordeal, as a stinging hand strapping & some humiliating eye watering reminders about her make up left Mandie in no doubt that her provocative behavior had dire tear jerking, painful consequences in this marriage!
Isobel knew about the "Wheelbarrow Club" and had seen some videos so had some idea of what this special membership meant! She was a little nervous at being in such a submissive and revealing position... which she confirmed how it felt like being unable to anticipate or imagine her spankings and how she must look from the rear angle. This, as we have always said, is part of the attraction and why we do this position so well as we "get it" and pass that knowledge on to our ladies. Isobel was naturally submissive and this was one to tick off her "Bucket List" having never done anything quite like this before. After we ensured that Isobel was comfortably positioned, her spanking began, lightly at first, gauging how she would respond with the blood rushing to her head. Then her spankings got harder and more stinging as her pert bottom was open to having her vulnerable "sit spots" spanked and turned red in front of our eyes for the very first time. She got what she wanted, more new headspace sensations as her bottom was spanked, caressed and played with. Welcome Isobel, to the Triple A Wheelbarrow Club.

This is a special full film bonus update we love bringing to you from time to time. It would appear one of the "Cheerleaders for Christ" featured here had been moonlighting away from the good cause for the Catholic Church! Harry Amelia was recently evicted from the Big Brother House Reality TV Show in the UK (which we were sad about). Some of the AAA team had followed her exploits online and she was a great housemate that we supported. However, this site is an international one and so many of our members may not have been familiar with her or that this TV show was still going after so many years. So to her detractors, perhaps they would like to see her taken down a peg or two... and this film could certainly help. We are sure she won't mind! She is a true kinkster after all. You will see her spanked on her bare bottom, alongside fellow cheer girl Chessie Kay. They both got a hand spanking over the knee, in turn and in front of each other (for added humiliation) by Father Michael. It was a no nonsense short, sharp shock hand spanking punishment given as a last resort.
We join Casey Calvert nearing the end of her latest therapy session when the subject of spanking for behavior modification was suggested. It just so happened that her therapist, Miss Gregory, knew a thing or two about this subject and Casey was willing to try anything to help keep herself highly focused. So began the start of young Casey's introduction to what might be needed in future sessions and Miss Gregory wasted no time in taking Casey over her lap and started to spank her gradually harder and harder to warm up that pert bottom underneath those skin tight pants. Miss Gregory told Casey that she would also expect an over the panties spanking which would leave her feeling vulnerable and more open to suggestion as well as in more severe instances that required quicker action with a firm resounding and sustained spanking or leather paddling on her bare bottom. Casey fought off the embarrassment and unease to experience something for the first time in her sessions - purpose and direction!
This unique short sharp shock film stars stunning Rosie Ann, dressed in a cute, very sexy school uniform. It was her turn to be spanked over the chair but Mr Stamp had a special implement that he had decided to use this time... a hand paddle that hurt far more than a simple hand spanking! Rosie's bottom quickly turned red under her white panties and when they were removed the painful OTK spanking continued. This punishment was far from over, as he had decided she should receive a particularly humiliating end to this discipline session. He positioned her so that Rosie sat over the chair in reverse, with her bottom cheeks hanging out over the edge of the seat making her feel very vulnerable to yet more strokes of that nasty wooden hand spanking paddle! This film contains 3 different camera angles so that you won't miss a single part of this revealing and embarrassing session that poor Rosie endured!

Lola had been assigned a new Homework Tutor as she had been cheating her coursework using too much of the Internet available on her phone rather than learning, researching & understanding her assignments instead of copying and pasting content. She continued to defy those in charge of her care so a tutor was brought in with extraordinary powers to persuade this young madam that plagiarsm and wanton copying/pasting from the interwebs was forbidden. His methods were a little extreme but had a 100% success rate which is what we see with Lola as she learnt a lesson the hard way when he caught her up to her old tricks once more when left in a position of trust. She could expect a lot of embarrassing and humiliating spanking positions and nasty punishments as her tutor was Mr Osborne!
Spanking parties are about a gathering of like minded people and the national parties in the USA are very special. Spankos from all over meet at these events and form real bonds of friendship, comraderie and of course doing what they love the most - being kinky spankos! Two good friends hung out in our room for a while and caught up on news then we asked if they could show a behind the scenes look at some consensual playtime between friends. Please welcome Ten Amorette and Johnny Lake, once again, who took time out to play on film for you all. To start, Ten waited naked on the bed and Johnny wasted no time warming her up thoroughly with a firm but sensual hand spanking, ensuring she would be ready for the next stages of play. She was given the Reformatory Strap and some attention seeking strokes of his sturdy cane which woke Ten up out of her dreamy state. In between this Johhny had expertly used his favorite Floggers on her back, bottom and thighs with his florentine motion just lightly caressing the skin enough to make her feel warm and tingly. The finale was a pre arranged hand spanking which brought Ten to orgasm. Not even the housekeeping maid (which you might just hear in the background) at her point of climax could stop this! Welcome to the wonderful, crazy world of a national party held in a large hotel... if you feel unable to attend one soon then check out this film and think again on what fun you could be missing out on!
Lily Swan & Joelle Barros were lovers and had already experimented with some erotic playtime with various spanking implements in Part 1 - This time it was Joelle's turn to experience what it was like to be submissive to her girl when she plucked up the courage to ask her a few days after their first encounter. Joelle wanted to see if she could orgasm too after Lily had started playing with the various toys on her bare bottom including a leather hand strap and riding crop. The finale saw Joelle rubbing her pussy, getting off to the spreading warmth Lily had created using the spanking toys then Lily hand spanked her harder and harder at the time of her climax. Another hot girlfriend visual feast with much sensual and intimate spanking filmed between lovers in sexy lingerie.

Katie had been spanked at school earlier that day for multiple behavioral infractions so she was nervous about a decision she took with her additional home punishment when it was revealed that she had not learnt one of her lessons by deliberately wearing bright pink panties as continued defiance of strict rules. This had infuriated John and he told her to wait in the kitchen whilst he went off to find some harder implements of correction. Poor Katie was so worried and badly needed to relieve herself but she just lay over the table in pure fright, unable to move... and then peed uncontrollably. Her panties were soaked and the floor was a pool of shame! This was the appalling sight that greeted John on his return. His disbelief at this shameful act only meant that Katie got to feel leather and hard wooden paddles across her cheeks after her soiled panties were removed. To add to her discomfort and embarrassment, she had to clean the vast pool of shame she had created and the entire kitchen before being sent to bed early.
Alex and Paul took time out from their own private online project "Kitchen Sink Productions" to show us all exactly what they both make at their intimate spanking website that examines their own relationship with much brattiness and eventual contrition from Alex... as well as the loving D/S relationship that Paul has with her. It would be quite obvious to casual observers such as us, in this short film, that we were fortunate enough to glimpse a part of something very real and not contrived with this spanking carried out as a typical and sometimes playful punishment they would do at home or show at their own clips site. This video was made uniquely for AAA to highlight their relationship, in this case with Alex forgetting her hotel roomkey (again) and the banter that Alex & Paul had as she pouted, tried to reason and hopelessly bargaining with Paul before she got her much deserved bare bottom OTK spanking punishment which we filmed which can now be seen exclusively in our members area!
Molly Malone & Amelia Jane Rutherford were a little lost in the woodland but both girls were feeling naughty and frisky so Molly asked if she could spank Amelia for the sake of it! Out in the open, it felt fun and risky, which appealed to Amelia... so she let her close friend play and spank her including a bare bottom spanking. The giggling and familiar spanking noises attracted local land owner, Mr Osborne, who happened to be wandering through his own woods when he came across this amazing sight! He was barely able to contain his own excitement at such a spectacle and seized an opportunity rarely given to him in life. The poor fellow was socially inept and awkward with females but he did somehow stutter out that as a forfeit for trespassing on his land he would like to finish off their spanking only he wanted to spank both girls as well as doing so with their panties pulled down. A delightful spanky tale of what might happen if you go down to the woods today!

Maddy & her partner decided to show us all a glimpse of their relationship with a short informative D/S display as she was instructed to spank herself in front of the cameras. His voice could be heard off camera gently telling her what to do next and how she should do it. She was told to spank herself harder and harder then rub her cheeks when they started to burn. This was no pattycake self spanking, he wouldn't have her do this here. Maddy was then told to pick up the hairbrush and whack herself slowly and deliberately harder so we could see the effects this had on her smooth butt cheeks. It was an intimate and sensual act for her to give herself to him and us like this. Finally, she was told to use the leather paddle to redden her bottom before she took an OTK position for a finale spanking. Her boyfriend could not be seen in this video but you will see him spank her as they do at home... hard and forcefully, but not too brutal as she hadn't done anything wrong here, this was not a punishment but a beautiful demonstration of their D/S relationship which they both kindly shared for us all on camera! It was a first for us all and we are sure you will enjoy this loving and close relationship that Maddy and her partner have! He is a lucky man... and so is she for having such an attentive and caring man in her life!
Rosie wanted to be spanked and punished in a variety of positions of her choosing. Knowing Rosie, we knew that this would be interesting and you will not be disappointed. She started off getting spanked upside down in a cute pair of white open crotch bloomers... she suspended herself from a high bar using her arms and legs wrapped around it for support. This was a precarious position but her core strength and agility won out against John's hand as he reddened her bottom up nicely. This was only the warm up as Rosie next asked to be spread on a spanking bench and caned hard with fast and furious strokes mixed with some very thuddy ones which really got the endorphins flowing. Her third installment was on a St Andrews Cross that she had seen. She was tied to it and given two of the meanest heaviest straps in our arsenal. One was a rarely used double thick, double stitched leather strap with a lot of impact and the other was a never before used large rubber strap from Caniac that no girl had dared take on... until now! Anyone who knows how horrible heavy rubber is will understand that you do not need much of a swing for this to hurt. John took large swings of it anyway and Rosie was just up to the task! Finally she was impressed by our addition of a brand new dense oak wooden spoon (very ouchy!). This final request was for a kitchen scene and where this awesome video ended with her getting countless swats and whacks with this implement. In all, there are 24 minutes of non stop hard hitting punishment action for you to view and this video features special "slo-mo" scenes as well as bonus footage at the end!
Miss Chris makes her debut in a memorable scolding & punishment film of student, Alex Reynolds. Alex was summoned to the Principal's Office as her parents were worried that this former "A Grader" was losing her way at the Private Boarding School they paid so much to have her educated at to do well in life! Alex had been seen breaking curfew and fraternizing with the local boys, as well as the horrifying dip in her grades. Miss Chris knew all too well what to do in this private meeting that she had arranged for Alex. She gave her a humiliating reminder of what happened to naughty girls; told off, made to feel how she had disappointed those that cared for her, letting herself down. This meant she would get not just an over the knee hand spanking, but one without the dignity of her white panties. She would also receive the stinging leather strap used to great effectiveness that had Alex snivelling and hoping to avoid further such mishaps by the end of her ordeal. She was warned, with an array of implements on the table, that her next assessment could be even worse if she didn't make the changed needed. This Midterm Assessment was the wake up call Alex needed to put things right!

Mandie Rae was always getting into trouble with her teachers and being punished for her poor behavior and multiple infractions. It seemed like she didn't care. The latest incident was the final straw when she was caught peeing behind the sheds of the school grounds. This just showed a lack of respect and no decency from this young lady so a thoroughly humiliating punishment was decided by Mr Osborne. He was furious that she could do such a filthy act outdoors like that so he strapped then caned her on her bare bottom as she snivelled and whimpered. Mandie was extremely tearful and barely able to stand up afterward. She was ordered to get out of his sight and back to her Dorm. To add further humiliation, she was told to show the other girls the results of this punishment and just why she was caned! That didn't go down well with Mandie, but it was all her own fault for the lack of etiquette she had showed earlier.
Lily Swan & Joelle Barros are lovers - Lily suggested something a little different and kinky one evening as they lay on the bed together in their sexy lingerie... Lily had been hiding a secret and wanted to try something a little more kinky and explore her submissive side with her girlfriend. All that "50 Shades" hype had made Lily curious and she had secretly bought a stash of spanking implements and wanted Joelle to try them out on her. Lily was excited when Joelle finally agreed to requests that she said she'd like to try and orgasm when her girlfriend used these on her, experiencing the delicious pangs of pain with the pleasure of ecstasy. See both combine to give Lily a very real shuddering orgasm as she fingers herself off whilst Joelle marks her bottom a glorious shade of crimson at the same time! This is hot stuff!
Chessie appeared in this revealing & intimate position as she took her first ever "Wheelbarrow Spanking". This is your chance to see what is one of our best ever wheelbarrow spanking films to date with 3 superb camera angles to capture her 12 minute ordeal in this awkward position with some great close up facial reactions. You will not miss what is going on where her tight butt is stuck up in the air and rather inviting trouble! Chessie grabbed hold of her Teddy Bear, wishing that she hadn't boasted about being able to easily join the "Triple A Wheelbarrow Club" - She got a harder than expected hand spanking and also received a leather paddling and some very stinging strokes of the dreaded Bathbrush (which was ideal and perfect for accuracy in this position!) Check out what is sure to be one of our most popular wheelbarrow films to date - out now in full HD!

Detentions for the girls at this Boarding School on a Saturday were always the worst. As Kami Robertson and Danielle Hunt were about to find out! They had been caught fraternizing with the boys from the adjacent public school and their parents had heard about their embarrassing behavior and demanded that their girls be taught a lesson. The reason why punishments were usually far worse at weekends was because the teachers would rather be enjoying their day off than dealing with girls who undermined the authority and good name of the school. The Head Teacher, Mr Osborne, was particularly blunt when dealing with both girls, taking time to scold, chastize and use a painful method of correction: A hard wooden ruler across their hands. Kami found this particularly difficult to take and was in tears as they both received the Discipline Hairbrush and Strap on their bare bottoms for the final part of their punishment. He left them to recover in their cornertime reflection period with Danielle angry that they had been so harshly treated only for Saturday Duty Teacher, Mr Jackson, to conclude that they had not learnt their lesson. He took both girls over his knee for a further spanking! An unfair double punishment? Perhaps, but this was why girls tried to avoid the dreaded Saturday Detentions at this school as they were often unfair! This long play video features the last classic pairing of Kami and Danielle.
Portuguese translator Adriana Evans was hired as a top flight PA and secretary for Lake Industries. However, since she got back from a highly successful business trip to Brazil she had been making stupid errors and mistakes. The latest was for a booking of a special one on one meeting in a secret business venture alongside CEO Johnny Lake. He was embarrassed to find the promised rendezvous at the hotel had been booked for a different date which was entirely her fault! His trust in her was badly shaken. He knew either she went or she towed the line and Adriana was summoned to his Hotel suite where she was given a Disciplinary Notice that she would never forget! She wanted this highly paid job, she accepted her very tearful, hard OTK spanking and leather strapping because she knew she could and would do better! This video will appeal to those that like strong verbal chastisement, spanking over pantyhose as well as a hard, sustained strapping finale that will have you glued to the screen as you witness very real sobbing tears of contrition from what Adriana later admitted was her most tearful online performance ever!
Lily was supposed to be weight & strength training at her coach's basement gym for the competition that was coming up. She knew that coach Osborne got results by any means possible which was why she stuck by him even though she had recently fallen out of line & had been punished with various spankings! This was because she had not been following his strict regime set for her. She thought she knew better using PiYo techniques when he had forbidden them in her final build up. He left Lily alone to continue her training & she reverted to her PiYo techniques but she had forgotten that he used a CCTV device for their training sessions. When he saw what she was doing on the monitor upstairs he decided she had to have one final humiliating wake up call as he was going to punish & mark her this time so she'd either learn or end up at the competition with fading bruises - her choice! He strapped her hard making her perform her precious PiYo moves before using the cane whilst she reverted to Abs & Core Strength exercises such as The Plank which was made so much more difficult with the cane biting into her very sore red welted bottom. This is an unusual & severe punishment film starring the very fit Lily Swan! She insisted that she wanted to film & take this hard discipline session - so this is what you get to see in this amazing video.

Sarah had a problem with collecting too many dolls in her room, she even dressed up as one and it was decided that this type of behavior had to stop. She had been told multiple times to go outside more and explore the great outdoors in her free time but she just wanted to sit in her room playing with her dolls and toys. Sarah was asked to start removing the clutter from her vast collection but instead she bought another doll to add to it. This was the final straw for stepdad John, who had the task of spanking this brat over his knee and giving her a further humiliating punishment with her cute panties pulled down. She was given one last night with her creepy collection to reflect on her punishment as the next day her bedroom would be cleared of the many dolls sat there collecting dust!
Another debut, this time for Stevie Rose who is well known to viewers of spanking erotica in America. Stevie forgot to get John's lucky jacket cleaned before their night out at the Hotel Casino & he felt he couldn't go gamble because the jacket looked too dirty & creased. He was not best pleased, as Stevie soon found out, so told her this would be no simple OTK hand spanking this time... He had something far more humiliating planned for her as he wanted to ensure she wouldn't forget this chore in future. She was spanked her on her bare bottom including a leather strapping across her cheeks... but this was far from the full punishment... At the end he told her to assume the "Wheelbarrow Position" - something she had dreaded since he informed her earlier that her "sit spots" were far more vulnerable in this position & he had no intention of missing them to make sure she'd be rather uncomfortable for some time after!
This is a schoolgirl discipline film with a difference. Rosie is waiting for her detention punishment & has no idea what it will be...so she imagines two scenarios: The first is erotic & about as far from reality as possible when she gets turned on imagining that she gets a "good girl" hand spanking & a riding crop used on her intimate parts (well, it was Rosie's weird fantasy punishment!). Then as she snaps out of that daydream, she fears that it is actually something far worse, & probably closer to what she is about to get... a hard, painful wooden paddling on her bare bottom. This she doesn't like at all & as she comes back to her present predicament of waiting for her punishment... in walks her teacher with a heavy cane who promises Rosie that she will feel 12 hard strokes which you will see is done in an authentic & traditional no nonsense "matter of fact" way! You'll see this punishment film develop from Rosie's strange daydreams & fears to what actually happens over the space of the 17 varied minutes!
Want to become a model with us? CLICK HERE FOR FULL INFORMATION
Other sites in the SG Network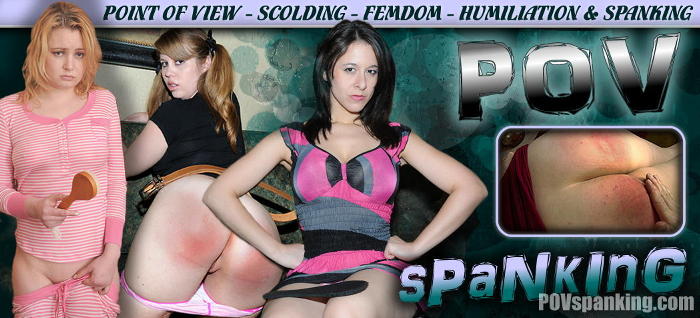 NEWS ANNOUNCEMENT - Triple A is a fully integrated part of the SG Group owned and operated in the USA - more news & info below

In December 2014, Triple A was sold & transferred to SG Group which owns & operates several successful websites such as sarahgregoryspanking.com & mommaspankings.com - We have the same philosophy & had been working closely together and co-producing content throughout that year onward so this was a natural step. We would also like to remind UK customers that it is NOT illegal to purchase, view or download material from this website or any others in the SG Group for your own personal use. Thank you for reading this announcement.

All content produced & owned by SG Group trading as "AAA Spanking - Triple A Spanking" is copyright protected
Content sharing and password trading is contrary to our rights protected by the DMCA 1998
We make every effort to prosecute those infringing our protected copyrighted content worldwide
Free Spanking Blog | We Sell DVDs | CCBill Customer Support | Epoch Billing Support | Other Support Queries | Webmasters | Our Clips Store | POV | Specialist Pay Per Downloads | Links
IMPORTANT! IF YOU ARE USING OUR SUPPORT CONTACT FORM PLEASE ENSURE YOUR EMAIL ADDRESS IS CORRECT
We answer support issues in well under 24 hours. Please ensure YOUR mail account will not block our domain name - add it to your safe list if unsure
Sending attachments, files, pdf docs etc. will result in most mail being regarded as spam and will be rejected and not answered.
Beware: AOL and comcast accounts nearly always block our email address
18 U.S.C. 2257 Record Keeping Requirements Compliance Statement
Please visit our authorized sales agent
© 2015 SG Group t/a Triple A Spanking - AAAspanking.com