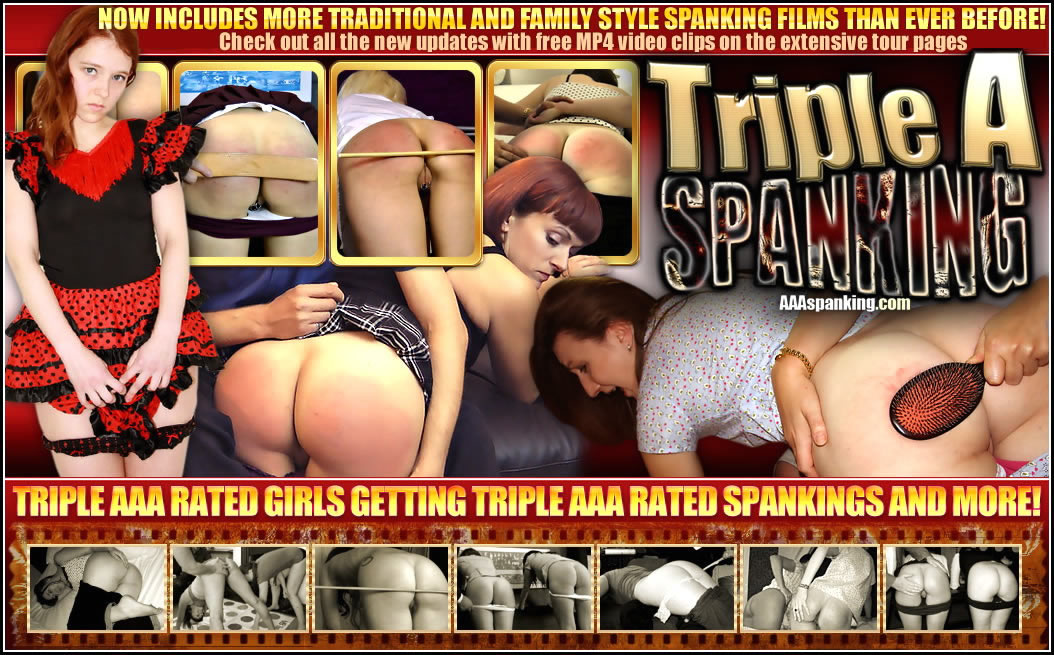 Please welcome Ava Nicole to Triple A Spanking. She is a wonderful new spanking star, better known in ABDL circles. She was introduced to us by our good
friend to the site, Adriana Evans. This debut film she made with us is available in full. It is the first of two major scenes where we knew Ava felt more comfortable. "What would that be?" Being a brat and deserving a spanking at home wearing cute PJs! So she is spanked by her babysitter (Adriana), and in a later episode coming up in a few weeks, you will see her getting spanked by Daddy. In this episode, Ava has been told to go to bed early for being an insufferable brat. It's still light outside and Ava refuses, pushing Adriana to do what Ava's daddy has said she can - spank her if needed! However, Ava is being so needy and annoying that Adriana tells her fetch the hairbrush that she spied across the room. Ava's PJ bottoms are pulled down and her bare bottom is given a sound hand spanking whilst being scolded before Adriana uses the hairbrush on Ava's tender behind! This is a fab introduction to a rising star in the online spanking scene and we are proud to showcase her obvious talents alongside Adriana Evans.
This is a special domestic discipline spanking film starring the one and only Erica Scott (with John Osborne as her husband). This time she pretends to be ill when he arrives home to get ready for their evening out with his new friend and his wife. John is a little more than disappointed when he discovers Erica's feeble attempt at deception to avoid having dinner with (who she thinks) a deplorable guy that she dislikes intensely! John is forced to cancel and instead lets Erica know there is a severe penalty for this sort of behavior that she knows only too well! He takes her over his lap and spanks her on her bare bottom before finishing off with a couple of implements he finds inside the bedside table. A nasty 3 tailed leather strap that licks every part of her sore bottom is followed with a stinging wooden paddle to seal in the telltale painful welts. Erica learns the hard way not to tell lies or alternative facts that are easily found out!
Director for UK operations at Lake Industries, Amelia Jane Rutherford, had been flown into Houston for a personal meeting with CEO, Johhny Lake. Her area had suffered the worst profit margins and he held her responsible. Johhny gave her an ultimatum to toughen her up, a spanking punishment in private, or if she refused, he would fire her right there! This haughty British lady knew her high paying job was at risk and reluctantly took the punishment option. However, she didn't know that the spanking would be on her bare bottom and she felt embarrassed and ashamed as her boss removed her panties! Amelia's long legs kicked and struggled as his hand spanked her cheeks hard over his lap like she was a naughty little girl. However, more humiliation was in store for her. She had been a little too defiant earlier and Mr Lake promised her a leather strapping but she thought he wasn't serious! Amelia was bent over his desk and she was scolded and reminded of what she had to do whilst all the time a thick leather strap was marking her beautiful tight bottom. Amelia's cries of anguish and genuine remorse and promises to do better means he has a motivated boss for this Anglo American enterprise. This is a hot punishment video of the one and only Amelia Jane Rutherford we recommend that you do not miss!
Rosie's personal trainer had only left the room for a few minutes and on his return he caught her performing some unorthodox balancing moves which could have injured her back. She was supposed to be doing more core exercises to strengthen her back, not ruin it! She knew the score when he was displeased and knew that various humiliating punishment moves would follow! Perhaps Rosie wanted to be caught? Who knows? She is a very naughty young lady! Rosie gets spanked in differing positions without too much complaint over her tight exercise shorts before these were pulled down and the harder spankings continued. Next followed more embarrassing positions, exposing the poor girl as her bottom was strapped and paddled. At the end you'll see her doing the exercises she was supposed to be doing with a sore red bottom on full display. Fans of Rosie Ann will love this video as she demonstrates how versatile and athletic she is whilst taking an unusual spanking punishment!
Bianca was a poor roommate. Audrey had put up with her as she usually paid her share of the rent on time but recently she had been pre-occupied with a game that had been a global phenomenon. Audrey didn't understand what all the fuss was about, after all, she thought, "wasn't it supposed to be for kids and not grown ups?" Bianca was addicted to playing Pokémon Go on her phone... anywhere, anytime she could. She had even started wearing clothing from the game and buying cute plushy characters which were littering the apartment. This infuriated Audrey when she returned home early from work to find Bianca lounging on the sofa, playing the game, surrounded by yet more plushies... wearing a Pikachu dress! Enough was enough! Audrey told her how she dealt with people who annoyed her or didn't do what they were told, a good old fashioned spanking! If Bianca wanted to behave like a brat then she'd punish her like one too! See this hot, sexy OTK spanking of fiery redhead, Bianca, by beautiful Audrey. What follows is a bare bottom leather strapping with plenty more naked humiliation in store for Bianca watched by her many Pokémon plushies!
This is a rather special spanking film to start off the year in style! It's over 30 minutes long and was a spur of the moment decision to record some real playtime off camera. Adriana Evans and John Osborne made this privately deciding only to show it now. No one else was there, no script, no roleplay, just a cathartic spanking session that Adriana needed at that time! There is no holding back in this long play video: "Spankee of the Year" Adriana takes a real hard traditional OTK spanking with and without the protection of her pants and underwear. When John was satisfied that she was thoroughly warmed up, he readied her for the next phase to keep the intensity going for as long as possible. Adriana wanted to feel pain and various sensations to help her release some pent up frustrations and emotions. This is a real intimate look as she takes a tearful, hard multiple leather strapping, including more playful or varied strokes along with plenty of encouragement from John. In the final scene, Adriana asks him for the cane. He varies the tempo, speed and intensity until the final climax of a very hard rythmic caning brings yet more tears which Adriana craved! This is not fake, scripted or a custom video. It is a real look at what close friends in the Spanking Scene get up to! She will always be one of our favorite models at AAA. It shows that we love working, playing and hanging out with her. We hope this shows a glimpse into the real life of us "kinkos" that star in or produce content for your viewing enjoyment!
Lily and Elle have been caught selling firearms in Singapore. Normally women would receive a lengthy prison sentence. Lily's mother is a senior member of the American government and the authorities are keen to avoid an international incident. They are to be secretly caned and then be deported. Elle, as the accomplice will receive 12 strokes and Lily will receive 24 for being the ringleader. Ahead of the severe physical punishment, a psycholgical deterrant of a humiliating medical examination, stripped bare and shivering, only makes them even more nervous and worried! Elle is first and taken to the Punishment Room. She is tied and restrained to the caning bench, then with a heavy rattan cane she is slowly and deliberately given each painful stroke. Welts quickly appear and you will see both the rear and facial angles as tears flow freely. She is returned to the medical room where Lily sees Elle a blubbering mess then the defiant girl takes the same harsh punishment with 24 strokes! In the epilogue, the girls are given lotion on a medical table to preapre them on a long and uncomfortable flight back to the USA later that evening! This is a special feature that observers of hard, calculated discipline will appreciate.
Anna has been caught out lying to John over a missed payment to a company that they had agreed terms with for a specialist new vacuum cleaner for their carpets and rugs. They had been impressed by the demonstration which cleaned one particularly dirty rug so they agreed a payment plan. However, Anna pocketed the cash John had provided and spent it on lingerie and personal grooming products instead and kept this a secret for quite some time until they contacted him directly! He presented the evidence of a lack of new vacuum cleaner and irate calls from the company but she continued to deny any wrongdoing! He was angry and tried to give Anna a chance to own up but she had continued to lie and once again was not learning lessons about this sort of behavior. Only a severe punishment would work, he thought, so he presented his thick leather belt and heavy bathbrush he knew Anna hated. he spanked her first, scolding her and reminding her of what was to come across her bare bottom. The leather belt was relentless and stroke after stroke hit the target ready for the final tearful severe bathbrush spanking that you have to see to believe! Anna's poor bottom took one hell of a lengthy punishment!
Christy Cutie is lazy and doesn't help around the house. It also doesn't help that she is looking for work and Sarah is having to provide for them both. So she is super pissed at finding Christy in bed when she comes home from a hard day's work! Sarah snaps and scolds Christy about the mess in the house and how she was supoposed to clean up. Sarah takes her over her lap on the bed and gives Christy a spanking but this lazy girl thinks it is all a big joke. Sarah decides the only way to properly punish Christy is to spank her on her bare bottom and humiliate her for being such a lazy slut. Christy's attitude changes when she is taken to the kicthen and confronted with the dirty dishes and counter top whilst getting a stinging leather strap and spatula then being humiliated with several intimate exposures of her reddening bottom. Finally Christy knows not to cross Sarah when she asks her to do the chores as she sniffles in shame, her red bottom fully bare and exposed as Sarah watches her do the washing up and cleaning!
John bought some new PJs for both Sarah and Casey leaving them on the bed as a nice surprise. He thought this gesture would be a small way to say "thank you" while they were all away on tour. However, the girls fought over who should get which outfit and started to grapple and fight. Sarah even dragged Casey over her lap & started to spank her before John heard all the noise and confronted them. He was really disappointed in both of them and their continuing arguing meant he felt he had no choice but to spank them both right there. They knew the rules! Sarah was first over his lap as she was the loudest and sassiest. He spanked her in front of Casey, pulling down her PJ pants, spanking hard on her bare bottom. Sarah felt embarrassed that she was being treated like a little girl. Casey was next after he sent Sarah off in shame, and John did the same to her. He ensured her film, pert bare bottom was reddened in shame before leaving Casey to contemplate just what had happened in that crazy quarter of an hour!
Lexi returns home far later than she had arranged and had also turned off her phone. This made John suspicious but he had waited for her and was concerned that she had been out to a small spanking party hosted by a man he had forbidden her to play with. He gave her room and knew she liked to play and had no issue with that, but he did with the man that he named "The Weasel". So when she did stumble in late, her explanations were full of holes and John picked through them until he discovered the evidence on her bottom that she had been at the party and the tell tale sloppy marks of the Weasel's woeful play. Incensed that she had lied to him, John takes his wife over his lap for a further painful hand spanking, then gets a small stinging leather strap to seal in those marks before using the "Liar Paddle" on her quivering, sore behind! This is an edgy humiliation and shaming video that includes lots of expletives, severe scoldings & punishment resulting in a very sore red bottom for a tearful Lexi the Liar!
Rosie takes a short cut home through the park after a Girl Guide church practice on a glorious Saturday afternoon. It is so warm and sunny that she finds a secluded area of the park where she dares herself to be very, very naughty! She starts to touch herself through her crisp, white cotton panties. Her legs spread wide as she continues to delicately finger her wet pussy. She thought it was a secret spot but the Park Keeper recognizes her when he is in the area and tells her off, scolding Rosie about her rude behavior! He knows her parents and decides that a spanking might make her realize this sort of lewd behavior deserves at least a bare bottom spanking. She feels embarrassed and knows that if he tells her parents she would surely get another spanking at home! The Park Keeper was going to let her go but her sassy mouth gets her into trouble! He pulls off his belt and bends her over the bench where she had been masturbating just 10 minutes earlier. Now he is really going to teach her a lesson in manners! Rosie yelps and takes stroke after stroke of his leather belt until only he was satisfied that she has properly shown remorse for what she has done! See cute Rosie Ann make her return to Triple A... one of our most popular girls at her very naughtiest best!
Adriana thinks that she has been left alone in her after school detention to write her lines, so she sneaks out the vintage spanking magazines that she had stolen earlier from her Form Teacher's desk. This is so she could satisfy her own curiosity! She is so engrossed in the kinky literature that she fails to hear Mr Osborne returning early. He is far from pleased when he sees her enjoying this highly inappropriate reading material for a schoolgirl of her age! Sir questions her about how she obtained such explixit vintage magazines and decides a fitting punishment is to give her a spanking and caning just like the stories and pictures she was enjoying just before. Adriana is sassy to start with but soon feels embarrassed after the spanking begins and her panties are pulled down making her feel vulnerable and scared! Now it IS a punishment and worse is to come as Mr Osborne makes her look at the pictures of the canings whilst he did the same things to her bare, exposed bottom again and again! This is a very painful reminder that theft and reading such iliicit material is forbidden to all the girls in school and a tearful Adriana has the dubious honor of being able to report to her classmates that a "Punishment Detention" is far from enjoyable!
Leandra is back for yet another detention punishment. This time for her failure in Mental Arithmetic. Mr Osborne concocts a humiliating and embarrassing discipline session to help the pretty schoolgirl focus on numbers and the spankings she is about to take. The poor girl is naturally concerned and takes a panties down hand spanking followed by a long sustained number of swats with a leather slipper and strap. This is far from over as she finally receives some very hard stinging whacks with the dreaded bathbrush that all the girls hate so much! The finale is not to be missed as Leandra takes a relentless barage of brush strokes making this a very painful, sore, red bottomed detention that she won't forget!
Joelle is being a brat and avoiding the chores outside. Her daddy has been calling for her to help them all. When he enters her room he sees her sprawled out on the bed naked! After making her cover up, he lectures her on being more ladylike and how she should be more helpful. He even tries to get her a fresh pair of pajamas but she acts like a spoilt brat and throws them onto the floor. Daddy is annoyed and so thinks if she wants to lounge around naked then she can get spanked naked over his lap. She protests but he spanks Joelle's exposed bare bottom and then uses the 2 hairbrushes he spies on the bedside table. Poor Joelle is struggling and yelping in pain as his hand and the hairbrushes, that she hates so much, redden her bare bottom! When she appears to be more contrite he asks her to cover up and put on her PJs but again once they are on she mocks him so she is spanked furiously one more time until he knows she has learnt her lesson. He gives her 5 minutes to compose herself afterwards before she is told to go help the rest of them outdoors.

Tour Pages at a glance 01 02 03 04 05 06 07 08 09 10 11 12 13 14 15 16 >
Want to become a model with us? CLICK HERE FOR FULL INFORMATION
Other sites in the SG Network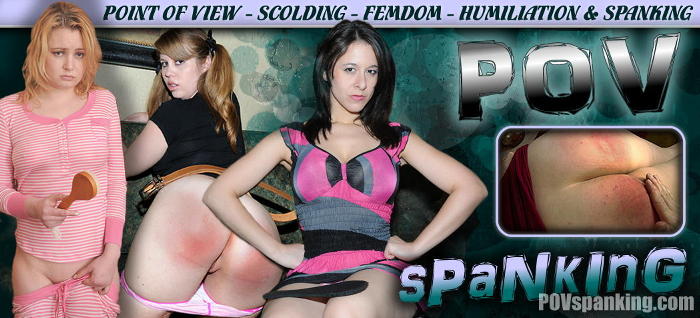 All content produced & owned by SG Group trading as "AAA Spanking - Triple A Spanking" is copyright protected
Content sharing and password trading is contrary to our rights protected by the DMCA 1998
We make every effort to prosecute & stop those infringing our protected copyrighted content worldwide
Free Spanking Blog | We Sell DVDs | CCBill Customer Support | Other Support Queries | Webmasters | Our Clips Store | POV | Specialist Downloads | Links
IMPORTANT! IF YOU ARE USING OUR SUPPORT CONTACT FORM PLEASE ENSURE YOUR EMAIL ADDRESS IS CORRECT
We answer support issues in well under a few hours. Write back after 24 hours if you do not get a reply. Please ensure YOUR mail account will not block our domain name
Add it to your safe list if unsure. Sending attachments, files, pdf docs etc. will result in most mail being regarded as spam and will be rejected and not answered.
Beware: AOL and comcast accounts nearly always block our email address
18 U.S.C. 2257 Record Keeping Requirements Compliance Statement
© 2017 SG Group t/a Triple A Spanking - AAAspanking.com