Aleesha & her mistress, Zoe Page, had an unusual relationship. She was Zoe's property to do with as she wished. Zoe had arranged several spanking session assignments for Aleesha earlier that day so was keen to find out how much she had earned for them both. So imagine Zoe's disappointment when she handed over not very much and was asked to show off her bottom. It wasn't particularly marked suggesting that she had gone lightly, taken less money or even taken a bit for herself! Mistress was rather disappointed with this deceitful behaviour and decided that Aleesha needed a reminder of what it was she was sent out to do. These girls had great chemistry together and it shows in this often humorous and extremely watchable spanking film which saw Zoe use the hairbrush on Aleesha's amazing bubble butt!
not be shy and certainly not afraid to show off their most private parts to us, the eye bulging viewers... but they had never been spanked in this position before and soon realized just how embarrassing and vulnerable they would feel as they laid over John's lap, legs akimbo, with their bottoms high in the air and the blood rushing to their heads. Only now would each girl realize the full extent of what they had let themselves in for... Sensual, erotic with the feel of a very submissive good girl spanking scenario, please congratulate these 3 marvellous ladies who dared to bare all in this most revealing of bare bottom spanking positions!
John had a blast playing with Zoe Montana at the last Shadowlane Party and this film collaboration took place when they agreed on what she wanted... a good hard cold caning session for which he just happened to have a heavy 14mm Dragon Cane to do the job. Zoe requested that the cold caning should be on her thighs too and they arrived at a round number of 24 strokes delivered hard and cold. This film introduces Zoe to the site followed by the canings which took place in groups of six. After each stroke, Zoe wanted to process that feeling and in this film, for the very first time, mood music was produced with background tension music too with various camera angles, split screens and a few "slo-mo" impact shots as her bottom and thighs showed signs of the cold caning. As Zoe anticipated and processed the strokes John changed this a little by randomly chosing a spot without tapping to aim beforehand, making this particularly edgy for Zoe who admitted it got more intense! This film also includes the scenes of aftercare, with lotion carefully rubbed into her sore welts as well as plenty of hugs. This is a totally unique and amazing film that admirers of Zoe Montana and good hard caning techniques will enjoy immensely.
Amelia had been testing out the boundaries of what she could get away with. She felt stifled in a house beset with what she thought were ridiculous rules. She
had returned home from college and a hard vigorous gym workout and was tired, having an important exam the following day, so went to bed early without showering. John found out and it crossed one of his many strict and often unfair House Rules - Shower before bedtime. Amelia didn't take too kindly to being disturbed and answered back in such a brusque tone that it meant an instant spanking whether she liked it or not! She continued to be really bratty and refused to listen to him so he dragged her into the bathroom for a humiliating cold water showering punishment with her pajamas still on. That soon brought a shocked Amelia to her senses and made her aware of how much trouble she had got herself in. An embarrassing and quite painful wet bottom spanking and leather strapping got her attention and John left her shivering in the cold bathroom afterwards to contemplate never breaking his House Rules again!
John had always hated Halloween, to him it meant the coming of winter and the shorter days. Sarah loved this time of year, but then she loved any excuse to dress up and so she persuaded him to go to the party later that evening in animal "onesies". What that had to do with Halloween, he had no idea! John was clearly grumpy and was trying to stay upbeat but in the end he snapped and took her over his lap to start spanking her while they were both dressed up as a zebra and a monkey! He started to find this amusing, spanking his cheeky monkey... and he couldn't stay mad at Sarah for long as she pleaded and pouted seductively but he still decided to follow through with a good spanking as he had bared her bottom and he couldn't resist playing with her some more! This punishment spanking turned into something more intimate as he discovered looking at Sarah's obvious excitement!
Hot Brazilian Au Pair, Adriana, was still mad from the humbling night she had watched her beloved Brazil get thrashed 7-1 by eventual Champions, Germany, in the World Cup Soccer Semi Final. This made her even more surly and aggressive and her work around the house that she was looking after just went from bad to worse! John could understand the shame of one's country affecting judgement and behaviour, after all, he was English and his national team were even worse! However, this was no excuse to behave like some jumped up foul mouthed brat and he knew she needed discipline in the old fashioned way as soon as possible. He dragged her across his lap and started spanking her which turned the air blue with Portuguese expletives... her foul mouthed ranting continued as the punishments got harder across her young bare bottom when a leather paddle and a heavy wooden hairbrush were also used to teach this feisty madame that a little humility could go a long way! If you understand Portuguese, apologies in advance for the foul potty mouthed Adriana! "Vai Brasil!"
Another rare chance for fans of Kami Robertson to see a new movie! She was dressed in a stunning outfit of red and white dropseat pajamas. In this short sharp shock film, Kami decided that she didn't want to get up for school and made every excuse possible refusing to get out of bed in the morning. Her legal guardian didn't have the time or inclination to argue and talk this nonsense out of her and threatened the brat with a temperature taking and a spanking. Her shame and guilt were confirmed so he gave her a quick, hard and humiliating spanking on her bed, pulling down the dropseats to reveal her peachy bottom which fans of Miss Robertson will find most appealing! This film comes with a bonus HD1080 MOV version.
It would seem you can not always take The Bronx out of the girl when Joelle was on a special school vocational study well away from the NYC suburbs that she so loathed, she was even given a smart new uniform to better represent herself and make her folks proud of her. Oh she did that alright, by shortening the dress to a very unacceptable standard. This was something that her long suffering and well meaning stepfather, Robert, had struggled with and he felt ashamed to be accompanying her when he had seen what she had done to the uniform! The only way he knew how to manage this naughty girl was to ensure she'd remember more of his old fashioned values that she seemed to have quickly forgotten from The Bronx. He felt compelled to remind her that her actions had consequences as Joelle received a rather long and humiliating spanking punishment across her bare bottom with his hand and a hairbrush to teach her respect and decorum!
Head Cheerleader, Amelia Jane Rutherford, was summoned to meet the team's owner, Mr Osborne, who was far from pleased with the disruption caused to recent cheer practices with her new plushie toy... a seemingly innocent looking owl that swore and said very rude things when pushed in its' tummy. He was deeply offended that some of his God fearing girls might be upset at such a filthy, foul mouthed toy as it had been passed around the changing rooms much to Amelia's amusement. The only way for her to learn that this was very wrong was for a short sharp shock punishment which involved a painful hand spanking and a humiliating panties down hairbrush discipline session on her bared cheeks. If the potty mouthed owl doesn't raise your blood pressure, then the sight of Amelia dressed in this tight cheer costume, panties down, will surely do it!
Alex was very contrite from start to finish of this wonderfully traditional OTK spanking film. This was because she had already been severely scolded and was promised a spanking which was where this film begun as she had been told to wait in her room for John to complete her punishment. He arrived to find her waiting as agreed and in no time she took her position over his knee as he dished out one of the hardest OTK spankings he had ever given to her bare exposed bottom. Her delicate panties were removed for the final part of this discipline session as he knew how humiliating it was for her to be spanked in this fashion. This was the only way she would learn her lesson so that she might avoid future humbling punishments. Continuing with the traditional theme of this spanking, Alex was told to do some extensive cornertime to reflect on the whole process she had just taken with surprising dignity which John had recognized as he gave her a warm reassuring hug which showed that she would receive extensive aftercare following her cortnertime. Fans of traditional OTK scenes will love this full HD movie!
Ashley Graham was constantly in trouble and becoming uncontrollable as no detention or simple punishment was effective in curbing her poor behaviour. She was summoned to meet Principal Carissa Montgomery yet again. However, Ashley faced the prospect of being kicked out of school as well as the promise of a more humiliating spanking punishment with her panties pulled down and shamed into learning that her poor behaviour had many unpleasant consequences. This was what Ashley secretly hated, the thought of being treated like a nauseating little brat not worthy of anyone's time and given a series of humiliating spankings... watch Miss Montgomery teach her pupil these harsh lessons in discipline or face the real prospect of expulsion!
Filmed at the Shadowlane 2013 casino hotel venue, this film proved to be the catalyst for the eventual pairing of Sarah Gregory and John Osborne outside of our kink! Neither of them realized at the time just what would happen but you will get some interesting hindsight previews from this final film they made at this party event. Set at a casino, it was a plausible storyline to have them in a loving discipline relationship filmed in their hotel suite... so when Sarah decided to play and brat by hiding some of John's casino chips before he wanted to visit the tables, she knew he would search her and find what she had taken. Her ploy that he would pay more attention to her than the gaming tables paid off after he did find the missing chips on her person and he gave her a memorable "naughty girl" spanking and intimate cropping punishment that is shown in this film. Join them both at the start of their journey together that begun here.
This is to be Mishka's last ever appearance anywhere on the internet so we saved this humiliation special which featured a twisted home domestic discipline style film with a difference. Mishka was caught out faking an illness once too often so the only way to be sure she was telling the truth was to inform her she'd get a rather humiliating rectal temperature taking if anyone thought she was making things up but of course she would deny this and try to avoid being caught out but the Digital Thermometer never lied with the numerous normal readings. Again, Mishka was given the option this time of owning up and just getting out of bed but she refused and failed the honesty test once more and assumed the position she was accustomed to, on all fours, bottom out for a spanking and strapping across her bared cheeks first thing in the morning! One could almost imagine that it was her intention that she be treated in this way. Such a naughty young lady, we shall miss showing her off so please wish Mishka a "fond farewell" in this naughty rude explicit "Spanking Finale".
Katie Brown had let down her cheer squad once too often and after her coach had spanked her for the umpteenth time, he told her to go see the owner who also wanted her to get the initials "WB" embroidered into her uniform. She and the other girls knew this infamous moniker meant only one thing... that they were all members of his special "Wheelbarrow Club" and now it was Katie's turn to join! See this most revealing, intimate and embarrassing spanking of a cheergirl as Katie admitted it wasn't a club she ever wanted to be a part of... but be thankful she was badly behaved and so needed this unique punishment as it is very hot, erotic and addictively voyeuristic!
Leandra had never come 2nd before. Her coach was shocked and he showed her the small trophy she had earned. It was pitiful and he wanted to ensure she would never finish anything but 1st again by giving her an unwanted and humiliating punishment so she'd avoid ending up in this position again. Leandra was stripped, her coach made her feel uncomfortable by physically inspecting her before she was spanked and caned in the nude for the first time. He ensured that this embarrassing discipline & caning session would be long remembered. By the end her poor bottom was very sore and flaming red!
Sophie & Jasmine are routinely punished in John's house as they never seem to learn their lessons. Consequently their bottoms need only the lightest warming up and the cheeks return to a full blown shameful fire engine red! The girls attempted to go to a Fancy Dress Ball in some cheap slutty costumes that just plain annoyed John so much that they knew what was coming next! Their short skirts revealed 2 naughty red bottoms which soon became dark and swollen at the1st signs of their spanking... Sophie felt it especially as she had been punished the most recently and she gasped out loud in this short sharp shock punishment as both girls were spanked so they couldn't sit down or dare go out in such revealing costumes as they'd show off the shame of their most recent discipline session. What a way this was to ground his girls! Witness the last ever pairing of naughty Jasmine & Sophie in their exclusive spanking finale!
Adriana Evans asked about joining our "Wheelbarrow Club" after hearing what indignities the girls had gone through... she was curious & wanted to see what all the fuss was about as no-one had ever placed her in such an embarrassing & revealing position before! We were only too happy to oblige & fulfill a personal fantasy of hers. However, naughty Adriana loved being spanked in this position, so much so, that we thought this young lady really ought to have "Hide Your Shame" as the title of this film. She was given quite a hard red bottom spanking, as hard as we could give in this position, remember it wasn't only about severity, it was difficult to spank anyone really hard like this. However. it did give a different insight & view as well as an opportunity to reach those "sweet sit spots" that weren't always easily available in a normal spanking position! Welcome Adriana as the latest enrolled member of the Wheelbarrow Club.
This is a stunning domestic discipline debut for Mandie Rae as the financially inept wife of husband Robert. She had been hiding risky trades in stocks and shares with their home finances until they weren't enough to cover her mounting losses. She had started to make more obvious transfers from personal bank accounts to cover the shortfalls. At this point, it wasn't long before Robert noticed the discrepancies and after he investigated them he decided to talk it through with Mandie to hear her side of the story. She told him she was afraid of what Robert would think and couldn't let him know but she was right to worry as this was what disappointed him most that she felt a need to hide this from him rather than seek his help. He decided that an old fashioned hard bare bottom spanking might just remind Mandie that from this moment on she would have to earn his trust again. This is a loving yet very firm and hard traditional OTK spanking punishment between a husband and his young, attractive wife. Look out for the double arm and leg lock as he spanked his struggling wife on her bare bottom until he was satisfied that her very sore red bottom would be a good down payment on building that trust again!
Lola Marie & her friend Wynter Sky had been secretly using one of her neighbour's beautiful yards to sunbathe in as it had a special "secret garden" that they both loved to spend time in soaking up the sun's rays in private. However they always left litter behind and disrespected John Osborne's precious well kept yard so he had been trying to find out who had been causing this mess until today when he caught them both in their bikinis. He had already taken their mobile phones and other personal effects found not far away from where they were hiding out in the garden and you can feel the tension mount as he sneaked up behind them both. The girls were suitably embarrassed when confronted and they quickly submitted to his unique form of harsh and humiliating discipline when they knew he had their personal items too. They both took a caning and watched each other take a hard wooden paddling. He had also made them attempt to use this heavy implement on each other as part of their punishment so that they'd remember the consequences of using the place without asking for his permission. However, he just whacked them harder with it after they feebly used the paddle hoping they would avoid further pain and suffering. Enjoy this end of summer romp to see the girls given a good spanking and whacking with their tiny bikini bottoms pulled down, looking extremely vulnerable as John took full advantage of this delightful situation!

Other sites in the SG Network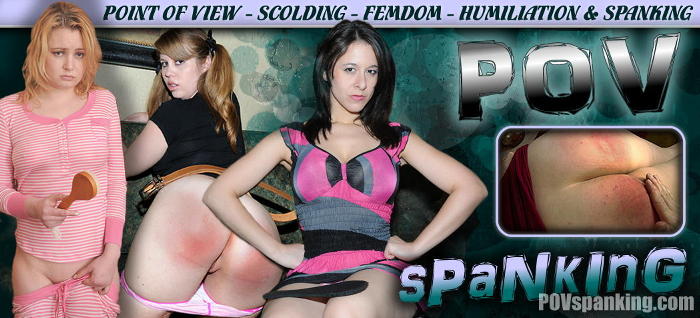 Want to become a model with us? CLICK HERE FOR FULL INFORMATION
All content produced & owned by SG Group trading as "AAA Spanking - Triple A Spanking" is copyright protected
Content sharing and password trading is contrary to our rights protected by the DMCA 1998
We make every effort to prosecute those infringing our protected copyrighted content worldwide
Free Spanking Blog | DVDs | CCBill Customer Support | Epoch Billing Support | Other Support Queries | Webmasters | Our Clips Store | POV | Specialist Pay Per Downloads | Links
Please visit our authorized sales agent
18 U.S.C. 2257 Record Keeping Requirements Compliance Statement
We answer support issues in well under 24 hours. Please ensure YOUR mail account will not block our domain name
Beware: AOL and comcast accounts nearly always block our email address
© 2015 SG Group t/a Triple A Spanking - AAAspanking.com