Portuguese translator Adriana Evans was hired as a top flight PA and secretary for Lake Industries. However, since she got back from a highly successful business trip to Brazil she had been making stupid errors and mistakes. The latest was for a booking of a special one on one meeting in a secret business venture alongside CEO Johnny Lake. He was embarrassed to find the promised rendezvous at the hotel had been booked for a different date which was entirely her fault! His trust in her was badly shaken. He knew either she went or she towed the line and Adriana was summoned to his Hotel suite where she was given a Disciplinary Notice that she would never forget! She wanted this highly paid job, she accepted her very tearful, hard OTK spanking and leather strapping because she knew she could and would do better! This video will appeal to those that like strong verbal chastisement, spanking over pantyhose as well as a hard, sustained strapping finale that will have you glued to the screen as you witness very real sobbing tears of contrition from what Adriana later admitted was her most tearful online performance ever!
Another debut, this time for Stevie Rose who is well known to viewers of spanking erotica in America. Stevie forgot to get John's lucky jacket cleaned before their night out at the Hotel Casino & he felt he couldn't go gamble because the jacket looked too dirty & creased. He was not best pleased, as Stevie soon found out, so told her this would be no simple OTK hand spanking this time... He had something far more humiliating planned for her as he wanted to ensure she wouldn't forget this chore in future. She was spanked her on her bare bottom including a leather strapping across her cheeks... but this was far from the full punishment... At the end he told her to assume the "Wheelbarrow Position" - something she had dreaded since he informed her earlier that her "sit spots" were far more vulnerable in this position & he had no intention of missing them to make sure she'd be rather uncomfortable for some time after!
Sarah had a problem with collecting too many dolls in her room, she even dressed up as one and it was decided that this type of behavior had to stop. She had been told multiple times to go outside more and explore the great outdoors in her free time but she just wanted to sit in her room playing with her dolls and toys. Sarah was asked to start removing the clutter from her vast collection but instead she bought another doll to add to it. This was the final straw for stepdad John, who had the task of spanking this brat over his knee and giving her a further humiliating punishment with her cute panties pulled down. She was given one last night with her creepy collection to reflect on her punishment as the next day her bedroom would be cleared of the many dolls sat there collecting dust!
This is a schoolgirl discipline film with a difference. Rosie is waiting for her detention punishment & has no idea what it will be...so she imagines two scenarios: The first is erotic & about as far from reality as possible when she gets turned on imagining that she gets a "good girl" hand spanking & a riding crop used on her intimate parts (well, it was Rosie's weird fantasy punishment!). Then as she snaps out of that daydream, she fears that it is actually something far worse, & probably closer to what she is about to get... a hard, painful wooden paddling on her bare bottom. This she doesn't like at all & as she comes back to her present predicament of waiting for her punishment... in walks her teacher with a heavy cane who promises Rosie that she will feel 12 hard strokes which you will see is done in an authentic & traditional no nonsense "matter of fact" way! You'll see this punishment film develop from Rosie's strange daydreams & fears to what actually happens over the space of the 17 varied minutes!
This was filmed when Triple A attended the 2013 Shadowlane Party. Please accept our apologies as we had forgotten to put this film out soon after as her fellow Texan that day (Joey) had her OTK intro film released long ago... So you have a bonus update this week as it will compliment our relentless update schedule. You will discover that it is a rather good short intro spanking film which we appeared to have kept to ourselves all this time! It contains some nice angles and Kaye truly had a very spankable butt that was perfectly shown off to the cameras! She was the 2nd of the two lovely "Texan gals" who were contacted in advance and we caught up with them both on the opening night to arrange a time and place in amongst all the serious play that went on at such an event! Kaye had a "mighty purrty" bottom and meeting her was a genuine pleasure from a real player who could take any punishment she was given even with all that brassy, bratty Texan talk-back to which she was known for... and in fact we loved her sassy attitude. It only made us spank her even harder!
It's a tough job, but someone has to do it! Lily Swan requires a routine of various spanking and maintenance punishments to keep her rebooted and she is never happy unless her bottom has a constant reminder of further consequences in her private life if she strays from her disciplinary path. We join both Lily & John in one of their typical short sharp shock sessions as Lily is tied to the St Andrews Cross, naked and vulnerable, the way she likes to be punished! Today Lily feels John's strap, wooden paddle and a cane in order to redden her bottom back to full crimson glory! Not much is needed to be said once this session starts, just see how a beautiful young woman needs and takes a good hard discipline session at her own request.
Sarah had been asked to look after Mandie while her parents were out and she was such a badly behaved brat that Sarah sent her to bed early to get her out of her way. However, Mandie thought she had the last laugh by "borrowing" some of Sarah's precious old Kitty merchandise she kept there while she was away at college! Sarah caught her making a noise playing "spank the teddybear" & then saw her stuff, asking why she always had to play with her things. Since Mandie was not being grown up about the whole situation, Sarah decided to spank her like a naughty little girl. Mandie soon shut up as she realized this was going to happen for real as it was the worst time... bedtime! She'd feel this all night long! Sarah spanked and used a stinging hairbrush on Mandie's bare bottom until she was satisfied that the younger girl was remorseful and that her tears were genuine!
Another full film debut, this time for Angel Lee (daughter of Tasha Lee). She was preparing for a "Littles" Party event where adults could regress and enjoy each others company playing with toys, stuffies or just coloring. However, Angel had gone into "Little" mode too soon and wasn't preparing for the event properly and panicking, being a horrible whining brat. John snapped her out of this with quite a painful wake up call which was just what she needed to reboot her: getting her back on track and on time! Angel got a good hard OTK spanking followed by something she really didn't like very much - The Hairbrush (2 of them, in fact) on her sore bare bottom! She later remarked that it was very "ouchie!" See Angel as a "Little", then spanked back to being more mature so she could cope and finish preparing for her specialist party. You will not have seen her like this before!
Imagine a world of sheer fantasy where predatory Girl Guide, Zoe Page, was ensuring only the most popular girls could be in her little gang... and to be in or out of that clique was important to impressionable young girls like Chessie Kay... She was desperate to join and knew of Zoe's fearsome reputation, but was willing to undergo what some might say were lesbian powerplay hazing rituals. Chessie was no stranger to being spanked and was always in trouble at school, fresh from a recent spanking she waited with anticipation. Why did the girls accept Zoe's Hazing Rituals? It was a badge they couldn't put on their arms and all the cool girls wanted to be in this clique! Zoe was into the powerplay and enjoyed spanking, groping and checking out the "new meat" for her little band of delinquents! Either way, this makes for a very naughty girl on girl spanking film with Zoe using her hand and a wicked looking riding crop, one of her favorites, to excellent effect! This is Chessie's stunning debut to the site - and what a naughty first film she finds herself in! Watch out for the amusing scene at the end where Chessie gets tongue tied and shy... which is very unusual for her!
Isobel Wren is a beautiful and well known fetish actress, so when she answered a call for a spank casting, she met Johnny Lake, one of the many producers at the hotel event they were attending. Johnny was well known in the biz as a "Pleasure Dom" - taking time to ensure that his ladies and ultimately his membership got the most from filmed content that was being made! Isobel was not a complete stranger to spankings and some similar core kinks. However he wanted to see if she was a Player or a Poser! So she was given a warm up OTK hand spanking followed by a harder cropping to test her reactions. Isobel admitted that she wanted to experience more pain & pleasure derived from a session and so Johhny used his trademark deer skin Floggers, expertly caressing her with just the tips of the flails before she experienced his preferred Reformatory Strap and canes... used not to punish but to continually give Isobel a buzz whilst ensuring her bottom turned a dark speckled red without her even knowing! This is the 1st film featuring the alluring Isobel Wren, who had great scene chemistry with Johnny Lake.
Rosie had been left in charge of the cocktail bar of the private adult club that she worked at. The owner of the club came back a couple of days early to find the place was a mess not long before opening for that night & could see she had been ignoring his emails about ensuring the Xmas decorations were down since it was well into the New Year. The club had many interesting quirks, the cocktail bar had phallus chairs as "cocktails" were never actually served... & all manner of sex toys incl. BDSM/Spanking implements were sold to members as well. The owner decided that Rosie was about to test out a few of the leather straps that were on sale to members as part of her punishment & he wasn't going to use them lightly on her either! She had to feel the various intensities & ranges of the leather implements so she would understand a little more about what happened to naughty, lazy girls that didn't do as they were told!
Amber pleaded one final time not to be punished before bedtime but it was too late for negotiating now. She knew the score but tried anyway and for that she then had two brushes to contend with instead of one for her impertinence. These were the wooden hairbrush AND the hated bathbrush (which she knew would mean an uncomfortable night's sleep) which got used on her bare exposed bottom after a quick hand spanking over his knee! This film is almost POV in style, Amber pleaded to the camera to start with... there was no dialog or voice interaction from her spanker at all, just gestures and there were some extremely
close up shots of poor Amber's bottom whacked with the wooden implements in a traditional OTK position. A very good, short sharp shock film.
It was Christmas Eve, Sarah and John were staying with friends for a holiday vacation in Vegas! Once again she gave her man reason to get upset with her tardiness and attitude when he made a reasonable request for her to hurry up for the evening meal. Most of their friends were already downstairs waiting and John excused their lateness by phone so he could give his beautiful lady an intimate and naughty "good girl" spanking there and then! Sometimes he liked that bad little inner girl showing up and he couldn't help but play with and spank her as couples do when they are in love. You will see lots of intimacy, excitement and very erotic spanking positions you might expect from this pair behind closed doors in a special homage to what spanko couples get up at this time of year. Download the full HD1080 22 minute movie in one go as our Christmas present to you with no waiting to unwrap this naughty hot treat! Merry Christmas!
Amelia was sharing a hotel suite at a busy Spanking Convention with Sarah Gregory and Joelle Barros to save on costs but had begun to regret this decision as the girls were just so darned loud. This break was what she needed away from the hustle and bustle of the convention and her fellow party girls. First Joelle, then Sarah ruined Amelia's alone time by jumping into the bathtub and they ganged up on Amelia, making out in front of her and mocking her need to relax. Amelia tried to defend her right to privacy but the girls just got ruder and naughtier spanking each others bare soapy bottoms until they turned on her taking turns to prey upon Amelia who protested which only made them do it more! This all girl 30 minute spanking extravaganza of a film in full stunning HD should NOT be missed! Features lots of angles, close ups, hot girl on girl spanking in and around the bathtub in a superb location. We are sure this film will make the Honors as a contender in the Spanking Awards 2015, here is your chance to see why right now.
Sarah is in love and is bursting with happiness telling Momma all about her new beau. Momma is delighted she is so happy and asks to meet the boy she wants to marry. John, her new love, is waiting outside to meet his future mother-in-law and Sarah gushes with pride as she makes the introductions. Momma will give John the typical interview then inform him what happens to Sarah when she gets moody, sassy, misbehaves, or anything else that doesn't sit well with her. She tells him she spanks her and shows him exactly how to do it. John is very curious and wants to try his hand at spanking his fiancé, which he does quite well. Momma is happy that her daughter will leave the nest and be well taken care of when necessary. This 40 minute film guest stars Dana Specht as Sarah's formidable "Scene Mom" with her legendary scolding and hard hitting hand doing all that is necessary.
Four girls are given a detention punishment together at the same time. They are the most unlikely collection of naughty reprobates to ever appear together. Two bookworm types (Joelle Barros & Nyssa Nevers) who have committed infractions in the School Library, a slutty cheergirl (Ashley Graham) due yet another discipline session and the Head Girl (Carissa Montgomery) who also has good reason to be there and give a full report on these girls - but she also gets a surprise punishment too for some poor behavior not befitting a girl of her status! This is the one and only time all four of these girls have ever appeared together for this rare multiple punishment.
Aleesha & her mistress, Zoe Page, had an unusual relationship. She was Zoe's property to do with as she wished. Zoe had arranged several spanking session assignments for Aleesha earlier that day so was keen to find out how much she had earned for them both. So imagine Zoe's disappointment when she handed over not very much and was asked to show off her bottom. It wasn't particularly marked suggesting that she had gone lightly, taken less money or even taken a bit for herself! Mistress was rather disappointed with this deceitful behaviour and decided that Aleesha needed a reminder of what it was she was sent out to do. These girls had great chemistry together and it shows in this often humorous and extremely watchable spanking film which saw Zoe use the hairbrush on Aleesha's amazing bubble butt!
not be shy and certainly not afraid to show off their most private parts to us, the eye bulging viewers... but they had never been spanked in this position before and soon realized just how embarrassing and vulnerable they would feel as they laid over John's lap, legs akimbo, with their bottoms high in the air and the blood rushing to their heads. Only now would each girl realize the full extent of what they had let themselves in for... Sensual, erotic with the feel of a very submissive good girl spanking scenario, please congratulate these 3 marvellous ladies who dared to bare all in this most revealing of bare bottom spanking positions!
John had a blast playing with Zoe Montana at the last Shadowlane Party and this film collaboration took place when they agreed on what she wanted... a good hard cold caning session for which he just happened to have a heavy 14mm Dragon Cane to do the job. Zoe requested that the cold caning should be on her thighs too and they arrived at a round number of 24 strokes delivered hard and cold. This film introduces Zoe to the site followed by the canings which took place in groups of six. After each stroke, Zoe wanted to process that feeling and in this film, for the very first time, mood music was produced with background tension music too with various camera angles, split screens and a few "slo-mo" impact shots as her bottom and thighs showed signs of the cold caning. As Zoe anticipated and processed the strokes John changed this a little by randomly chosing a spot without tapping to aim beforehand, making this particularly edgy for Zoe who admitted it got more intense! This film also includes the scenes of aftercare, with lotion carefully rubbed into her sore welts as well as plenty of hugs. This is a totally unique and amazing film that admirers of Zoe Montana and good hard caning techniques will enjoy immensely.
Amelia had been testing out the boundaries of what she could get away with. She felt stifled in a house beset with what she thought were ridiculous rules. She
had returned home from college and a hard vigorous gym workout and was tired, having an important exam the following day, so went to bed early without showering. John found out and it crossed one of his many strict and often unfair House Rules - Shower before bedtime. Amelia didn't take too kindly to being disturbed and answered back in such a brusque tone that it meant an instant spanking whether she liked it or not! She continued to be really bratty and refused to listen to him so he dragged her into the bathroom for a humiliating cold water showering punishment with her pajamas still on. That soon brought a shocked Amelia to her senses and made her aware of how much trouble she had got herself in. An embarrassing and quite painful wet bottom spanking and leather strapping got her attention and John left her shivering in the cold bathroom afterwards to contemplate never breaking his House Rules again!
John had always hated Halloween, to him it meant the coming of winter and the shorter days. Sarah loved this time of year, but then she loved any excuse to dress up and so she persuaded him to go to the party later that evening in animal "onesies". What that had to do with Halloween, he had no idea! John was clearly grumpy and was trying to stay upbeat but in the end he snapped and took her over his lap to start spanking her while they were both dressed up as a zebra and a monkey! He started to find this amusing, spanking his cheeky monkey... and he couldn't stay mad at Sarah for long as she pleaded and pouted seductively but he still decided to follow through with a good spanking as he had bared her bottom and he couldn't resist playing with her some more! This punishment spanking turned into something more intimate as he discovered looking at Sarah's obvious excitement!
Hot Brazilian Au Pair, Adriana, was still mad from the humbling night she had watched her beloved Brazil get thrashed 7-1 by eventual Champions, Germany, in the World Cup Soccer Semi Final. This made her even more surly and aggressive and her work around the house that she was looking after just went from bad to worse! John could understand the shame of one's country affecting judgement and behaviour, after all, he was English and his national team were even worse! However, this was no excuse to behave like some jumped up foul mouthed brat and he knew she needed discipline in the old fashioned way as soon as possible. He dragged her across his lap and started spanking her which turned the air blue with Portuguese expletives... her foul mouthed ranting continued as the punishments got harder across her young bare bottom when a leather paddle and a heavy wooden hairbrush were also used to teach this feisty madame that a little humility could go a long way! If you understand Portuguese, apologies in advance for the foul potty mouthed Adriana! "Vai Brasil!"
Another rare chance for fans of Kami Robertson to see a new movie! She was dressed in a stunning outfit of red and white dropseat pajamas. In this short sharp shock film, Kami decided that she didn't want to get up for school and made every excuse possible refusing to get out of bed in the morning. Her legal guardian didn't have the time or inclination to argue and talk this nonsense out of her and threatened the brat with a temperature taking and a spanking. Her shame and guilt were confirmed so he gave her a quick, hard and humiliating spanking on her bed, pulling down the dropseats to reveal her peachy bottom which fans of Miss Robertson will find most appealing! This film comes with a bonus HD1080 MOV version.
It would seem you can not always take The Bronx out of the girl when Joelle was on a special school vocational study well away from the NYC suburbs that she so loathed, she was even given a smart new uniform to better represent herself and make her folks proud of her. Oh she did that alright, by shortening the dress to a very unacceptable standard. This was something that her long suffering and well meaning stepfather, Robert, had struggled with and he felt ashamed to be accompanying her when he had seen what she had done to the uniform! The only way he knew how to manage this naughty girl was to ensure she'd remember more of his old fashioned values that she seemed to have quickly forgotten from The Bronx. He felt compelled to remind her that her actions had consequences as Joelle received a rather long and humiliating spanking punishment across her bare bottom with his hand and a hairbrush to teach her respect and decorum!
Head Cheerleader, Amelia Jane Rutherford, was summoned to meet the team's owner, Mr Osborne, who was far from pleased with the disruption caused to recent cheer practices with her new plushie toy... a seemingly innocent looking owl that swore and said very rude things when pushed in its' tummy. He was deeply offended that some of his God fearing girls might be upset at such a filthy, foul mouthed toy as it had been passed around the changing rooms much to Amelia's amusement. The only way for her to learn that this was very wrong was for a short sharp shock punishment which involved a painful hand spanking and a humiliating panties down hairbrush discipline session on her bared cheeks. If the potty mouthed owl doesn't raise your blood pressure, then the sight of Amelia dressed in this tight cheer costume, panties down, will surely do it!
Alex was very contrite from start to finish of this wonderfully traditional OTK spanking film. This was because she had already been severely scolded and was promised a spanking which was where this film begun as she had been told to wait in her room for John to complete her punishment. He arrived to find her waiting as agreed and in no time she took her position over his knee as he dished out one of the hardest OTK spankings he had ever given to her bare exposed bottom. Her delicate panties were removed for the final part of this discipline session as he knew how humiliating it was for her to be spanked in this fashion. This was the only way she would learn her lesson so that she might avoid future humbling punishments. Continuing with the traditional theme of this spanking, Alex was told to do some extensive cornertime to reflect on the whole process she had just taken with surprising dignity which John had recognized as he gave her a warm reassuring hug which showed that she would receive extensive aftercare following her cortnertime. Fans of traditional OTK scenes will love this full HD movie!

Tour Pages at a glance 1 2 3 4 5 6 7 8 9 >
Want to become a model with us? CLICK HERE FOR FULL INFORMATION
Other sites in the SG Network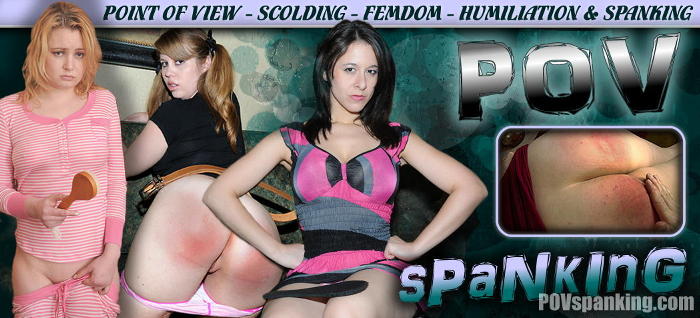 All content produced & owned by SG Group trading as "AAA Spanking - Triple A Spanking" is copyright protected
Content sharing and password trading is contrary to our rights protected by the DMCA 1998
We make every effort to prosecute those infringing our protected copyrighted content worldwide
Free Spanking Blog | We Sell DVDs | CCBill Customer Support | Other Support Queries | Webmasters | Our Clips Store | POV | Specialist Pay Per Downloads | Links
IMPORTANT! IF YOU ARE USING OUR SUPPORT CONTACT FORM PLEASE ENSURE YOUR EMAIL ADDRESS IS CORRECT
We answer support issues in well under a few hours. Write back after 24 hours if you do not get a reply. Please ensure YOUR mail account will not block our domain name
Add it to your safe list if unsure. Sending attachments, files, pdf docs etc. will result in most mail being regarded as spam and will be rejected and not answered.
Beware: AOL and comcast accounts nearly always block our email address
18 U.S.C. 2257 Record Keeping Requirements Compliance Statement
© 2016 SG Group t/a Triple A Spanking - AAAspanking.com