Mr Osborne had a special evening meal planned for close friends and he left his trusted maid, Joelle Barros, to set the dining table with the finest silver, china and crystal dinner service. With time running out he came to check up on her progress and was far from impressed with her tardiness. Joelle was employed as his corporate "eye candy" and she was paid way more than normal maids because he got to punish her in his unique way when she did something wrong! It was part of her very special contract! Joelle's eyes were raised in disbelief when he told her to assume the position over his knee for a short sharp shock OTK spanking on her bared bottom. He didn't have much time but insisted that this would speed her up especially as he insisted that she'd continue preparing the table with her skirt hiked up in shame afterwards, the sooner she took her spanking the sooner her bottom would heal before the party guests arrived!
Sarah Gregory was the last of the girls to be disciplined for the recent vandalism of the school basement classrooms. She was sent from Cheer Practice to face
her punishment with Mr Osborne who was really not impressed with this very sassy & impertinent young madam's attitude. When he started to spank her, he discovered that she was visibly excited and quite wet between her legs. He was shocked and upset that she was rather enjoying this punishment so he devised a more humiliating discipline session which involved using a nasty wooden ruler across her hands which she didn't like one little bit followed by her mouth being gagged so that this noisy rude schoolgirl could not answer back. She was placed on a punishment bench then strapped and paddled hard. He tested her exposed bare vagina for more signs of excitement and continued to punish her until he was satisfied that this no longer turned her on! Lovers of Sarah Gregory will enjoy this different but pervy schoolgirl punishment fantasy!
Lola Marie knew she had a bedtime punishment coming and decided to hide the promised 3 tailed strap she was getting. This foolish notion only made things worse as the strapping turned into a more severe bedtime punishment with the aid of a couple of hairbrushes as well as the dreaded strap which had been quickly found! You will watch her receive dozens of strokes of the mean leather implement with some solid use of 2 types of hairbrush that kept this very naughty girl in check! A beautiful young woman in cute pyjamas punished at bedtime is what we love filming in this latest no nonsense spanking film
Miss Gregory had requested that Casey Calvert turn up after school lessons for some "Special Detention" since she had heard this schoolgirl had some sort of crush on her. She wanted to make sure any anticipation or foolish excitement that Casey had of meeting her in private would be dashed when she would give her a stern telling off and a spanking over her knee. Casey didn't seem to mind the spanking at first and Miss Gregory was a little worried that she was getting off to this rather than feeling a little awkward... so she mentioned "The Wheelbarrow Club" and Casey's eyes dropped in shame as she was being told she'd be initiated into that infamous little club that no girl would admit to being a member of. Miss Gregory placed her in that position and added further humiliation by cutting open the poor girl's panties with some scissors before continuing to spank Casey in that revealing and very embarrassing position! Casey should have been careful for what she wished for as this personal meeting and detention didn't quite go to plan as she had once anticipated!
Adriana had been given more independence and the use of John's convertible on his insurance policy now that she was 21 years old. However, this freedom and his trust were tested when he received a warning from the police about her erratic driving behaviour and the fact that she had an open bottle of liquor in the car. They could find no criminal act but warned her guardian before she returned home when they checked the licence plate of his car. Adriana got back later from cheer practice and refused to admit what had happened which so disappointed John that he felt he had no option but to teach her a lesson about lying and dishonesty the only way he knew how! A series of ever more painful and humiliating strappings and paddlings until Adriana's tears were streaming down her face, proof that she certainly would try harder to avoid such nasty and severe punishments in future! This is her very first film released with our company and we are sure you will appreciate just what this amazing girl can take! She is sure to become a big hit with members.
This was the very 1st film we made when Triple A attended the 2013 Shadowlane Party. Two lovely "Texan gals" were contacted in advance and we caught up with them both on the opening nights to arrange a time and place in amongst all the serious play that went on at such events! Joey, featured in this film, was our 1st Texan lady to appear at our site and had a "mighty purrty" bottom. She had never been to a large event like this so was enjoying all the attention of getting her bottom spanked on a regular basis for being naughty, something she proudly showed us before we got down to business, bringing back all the red bottom marks from the previous night back with a good solid OTK hand spanking and hairbrush punishment. Meeting Joey was a genuine pleasure from a real player who could take the punishment she was given without too much talking back or bratting which she had admitted she was often guilty of and was learning quickly what happened every time she got real sassy!
This is the stunning debut of naughty cheergirl, Casey Calvert, who had never experienced such an embarrassing discipline session such as this before. She didn't expect her eccentric cheer coach to be so mad at her, after all she was the best girl in the team, the prettiest, the ones all the boys loved to watch. Only that was the problem, she was so sure of herself that she couldn't be bothered to turn up to practice thinking she was better than everyone else. This selfish behaviour earned her a long and drawn out punishment but when she continued to sass and treat this session with disdain, her cheer coach knew exactly what to do and had her placed on all fours, bare bottom stuck out, inviting and vulnerable for his dreaded anal hook that had her gasping in shame as this was inserted for the 2nd half of her "special punishment" which included her bare bottom being smacked, strapped, hairbrushed and cropped! You will have to see this punishment to believe it! This film is also one of the new breed of true HD1080 films that gives you a better viewing experience.
The full film includes a superb ultra clear 1920x1080 HD-MP4 version: Sarah Gregory pretended to be sick and fooled John when he took her temperature orally, he left the room and she placed it in a warm cup of coffee. When he returned to check her temperature he knew she is faking it as the temperature was way too high so he decided to take it rectally and did the job of it personally. Sarah was mortified and highly embarrassed but couldn't admit that she had lied as she knew she'd be punished. Whilst still in her cute Bible Class uniform, he checked her temperature and discovered she wasn't running a fever at all. She then admitted she was not sick, hoping he would be lenient but it was far too late for that and Sarah got an embarrassing bare bottom OTK spanking followed by a leather paddling for daring to trick John. In the Finale, you will see Sarah hopelessly trying to recite books of the Bible whilst her bottom was high in the air getting thrashed... this is a delightfully naughty spanking film that sees a new direction for the quintessential girl next door, Sarah Gregory!
Lovers Amber & Sophie are both hard working spanking and session models who arrive home after a hard day's work on their separate assignments & compare their day's work. From all that play, their bottoms are still sore from the long day's exploits and each mark tells a different story... the girls giggle and admire their glowing bottoms and before they settle down for the night, they sooth each others sore skin with cooling moisturizing lotion then spank each other in turn to bring up the day's playful telltale marks. More bottom rubbing and soothing lotion helps get these girls in the mood for more playtime in their bed!
In this debut film starring Erica Scott, she played John's mischievous partner who had been flirting outrageously with a young bartender on their night out! Back at the hotel suite, John confronted Erica over her wicked behaviour and knew only one thing would sort out this disgraceful cougar... a good hard spanking with some of his favourite implements over his knee: The dreaded bathbrush and a deluxe Kent Hairbrush he loved using across her bare bottom. Watch Erica remain sassy and defiant throughout most of this punishment until the implements and John's stern scolding words reminded her to behave more like his loving partner than the attention seeking minx she had become earlier... we loved working with Erica, this is one dame that can take a hell of spanking as you will see in this very grown up domestic discipline film!
This film was made in June of 2011 and was the last of Sarah Gregory's tour to the UK at that time. We saved the last and best film until the end of her day's shoot with us as she had been promised a lesson in what it was like to take various caning implements across her bare bottom. Sarah was understandably quite nervous and this showed in the film as she watched Donna, our "stunt bottom", take various canings from Paul & John before it was her turn! The look on her face is priceless as well as her reactions to the cane. An unusual film that fans of Sarah will enjoy immensely!
Lola was feeling a little highly strung before her latest cheergirl practice session. She was already late so coach Osborne had planned to pick her up to speed things along... Lola had been staying at Dave's place & John let himself in shouting for her to come down but Lola had found a better way to relieve her stress by fingering herself off & just as she was nearing her orgasm, he came into the room to see her... legs splayed wide apart, stroking her wet excited pussy! Lola showed little shame when he asked her to explain the situation & decided that this madame needed a good hard spanking & the hairbrush used across his lap & with her on all fours over the bed, panties down, to humiliate this naughty minx. We are not sure if this punishment had the desired effect on Lola, but it was a hard discipline session that included powerful strokes of the brush & smacks of his hand across her thighs to focus this minx on why she was being punished! Lola Marie looks stunning in this blue cheer uniform, half undressed & splayed out for her spanking: You will not be disappointed!
Leandra had far too much to drink the night before her all day filmshoot so John wasn't best pleased when he came into her room to find her still in bed sleeping off the start of what looked alike a bad hangover! He knew excactly what to do and gave Leandra a morning wake up call across his lap with his hard stinging hands across her bared bottom. Leandra could hardly put up a fight and she knew that she was in the wrong so reluctantly let him punish her early for being the foolish drunk the night before! Watch her bottom glow red with shame quickly once her pyjamas were pulled down revealing those pert spankable cheeks! Features some great 2 way POV mirror action and a sexy self sore bottom rubbing scene during her cornertime at the end of the film!
Alex admitted to Paul that she had been naughty and was strongly hinting that she needed a spanking. However, her hints weren't working at first until Paul asked her what she wanted... of course he knew what Alex required, this was play discipline at home. He liked to hear her ask him to spank her! So he could not hide his grin as she coyly told him what she needed and that she had been a very naughty girl! This is a loving grown up discipline spanking movie that has Paul spank Alex over his lap, smacking her bare bottom in all the right places to ensure that he left his mark and rubbed her burning cheeks better afterwards. You can feel the chemistry between these two before they became a real life couple... witness what it's like to imagine Paul and Alex playing together at home.
Sarah Gregory & Joelle Barros were going to a swish upmarket Masquerade Ball together and Joelle had trusted Sarah to get her the required sophisticated face mask to her exacting requirements. Joelle's excitement at seeing Sarah's amazing mask soon faded when she was presented with her own... a cheap looking red effort that was nowhere near her original specs that Sarah had promised she could get from "The Famous Mask Company". Joelle bitched and whined just as Sarah had hoped as this was really a double payback, she had secretly held a grudge against Joelle from months back and now she had the perfect excuse to spank and punish this stuck up madame as well as ruin her night out at the Masquerade Ball. Joelle's attendance would be in a crappy looking mask and a very sore spanked and paddled bottom. Features some great cam angles throughout this film and some excellent bitchy banter between these 2 grand spanking dames!
We have 3 short films which kicks off a special "Festival of Kink" here at Triple A Spanking. All 3 of these girls may not be shy and certainly not afraid to show off their most private parts to us, the eye bulging viewers... but they had never been spanked in this position before and soon realized just how embarrassing and vulnerable they would feel as they laid over John's lap, legs akimbo, with their bottoms high in the air and the blood rushing to their heads. Only now would each girl realize the full extent of what they had let themselves in for... Sensual, fun and erotic with the feel of a very submissive good girl spanking scenario, please congratulate these 3 marvellous ladies who dared to bare all in this most revealing of delightfully intimate spanking positions!
Kami Robertson has let down her school & the Girl Guide troupe that she belonged to by cheating in the final of the Annual Inter Schools & Guide 100m Race.
She had placed dried peas inside her fiercest competitor's shoes to ensure that the other girl wouldn't beat her & the 1st prize she had earnt was undeserved.
In a private meeting between Mr Osborne & Kami, only he knew what she had done from the CCTV footage he had viewed which he had not disclosed to any third party! She accepted his offer to punish her privately to avoid embarrassing the school & the Girl Guide troupe if this was ever to come out! He spanked her bare bottom then used a stinging leather strap before finally using the dreaded, nasty bath brush on her sore burning bottom whilst she was still in her Guides uniform! Enjoy this movie with Kami, who wanted to be punished in our famous girl guide uniform to fulfill a dark fantasy of hers, making an addictive punishment film for you to view! Fans of Miss Robertson & those seeing naughty madams spanked in Girl Guide uniforms will enjoy this very much!
Aleesha Fox didn't care where she could find some peace and quiet, even if it was in someone else's private garden. Zoe Page took offence to this trespasser on her property and Aleesha's rude replies earned her a spanking that this obnoxious young madame should have had years ago! Zoe took her over her lap and gave arrogant Aleesha a humiliating bare bottom spanking to teach her some manners as well as using a nasty stinging slipper & leather strap across this impertinent madame's sore bottom! Zoe played a delightfully bonkers and unhinged individual that you just would not want to come across if you were caught trespassing on her property... too bad Aleesha found out the hard way but it is fantastic for us to watch!
Katie appears to have got the job, if she wants it, of a very well paid Au Pair for the Osborne Family. However, the price she must pay if she does accept the job is an introduction to what happens if she displeases her eccentric employer... and he has rather old fashioned and traditional punishment methods that he still employs in his household. Katie is asked to take a test spanking and punishment and she agrees... as a refusal would mean she'd lose the chance of earning 4 times the going rate for a similar position! Witness a nervous and a little naive Katie accept the challenge to take on Mr Osborne's wandering hands and various spanking implements as she takes her test punishment over her pantyhose, panties and finally on her beautiful sore red bare bottom!

There is no Christmas video this year but instead you will be able to view this fun frolic with a great twist at the end. John is a gullible geek that buys into all the latest gadgets so when he hears of lifelike submissive spankbots, he decides to try them out for himself. He is presented with 2 "Stepford Wife" style lifelike spankbots that are controlled by a remote device at his command. However, not everything goes to plan as these are naughty spankbots that don't always follow his orders as they appear to enjoy spanking and making out with each other too! John uses the carpet beater to test out the effectiveness of the bottom reddening program and he is suitably impressed! So what's the twist to this spanking romp? You'll have to watch it in full to find out... this film is also available in full MP4-HD1080 for the ultimate viewing experience!
Danielle Hunt was summoned to see her cheer coach for her evaluation. She knew that she was going to be punished because of all the stories that she had heard from the other girls whenever their upcoming "Evaluation" was discussed by him... in this case it was an embarrassing and quite painful OTK spanking followed by a good hard hairbrush punishment across Dani's sore bottom for her repeated failure to learn the basic routines in her cheerleading troupe! Fans of Miss Hunt will not be disappointed to see she got a damned hard discipline session which you will see marked her bottom quite clearly!
3 rival cheerleaders planned and almost got away with a betting scam as they rigged how their teams would do in a competition. However, they have been found out and are faced with the humiliating prospect of receiving a hard hand spanking with a "Spank'r" and a heavy nasty looking wooden paddle if one of the girls doesn't own up in time! We won't tell you just who is the main culprit (they are all guilty of being complicit in this scam) but it's a great way to see the girls receive some rather hard and embarrassing punishments in front of each other. The hard and fast paddling finale has to be seen, it is a visual treat for those that love to see girls thrashed in sexy cheer girl outfits!
Who can resist seeing girls in short shorts getting spanked? This film was a custom request for seeing girls spanked in naughty short shorts, the type Daisy Duke might have worn. Very scanty and very sexy... the girls brought their shortest shorts and enjoyed showing off their bottoms, still red and glowing from a previous film. They then were asked to remove their skimpy shorts so they could receive a final spanking and paddling of the day! Features some of America's hottest spanking models, you will not want to miss this!
Amber was one of those girls that never really learnt her lesson. She had been warned by Zoe several times that if she wanted to avoid any further trips across her lap then the poor school reports would have to show a remarkable improvement! In fact, Amber's results were getting worse and her most recent feeble excuses for her latest test failures meant that Zoe had to rethink how to punish this lazy brat The film starts with Amber offering the report and being told she will be punished, she doesn't argue too much, as she knew she had this coming but thought she could handle the usual punishment that Zoe dished out... until this time! Amber didn't expect the final humiliating & embarrassing part of her punishment... the dreaded wheelbarrow positional spanking without her precious panties to protect her modesty! We get to see everything Zoe sees close up in this delightfully rude intimate spanking punishment. Amber pleads for this new humiliation to stop but not before we have all had a darned good look and seen her red bottom and private parts up nice and close! Perhaps in future, young Amber might just think twice before suffering another embarrassing spanking like this one!
This was the 1st film we made with naughty girl next door, Katie Brown! We re-enacted a true life story with an added pervy twist as Katie recalled how she got caught playing with herself and the shame and embarrassment this had caused. We added Uncle John's naughty jazz mag that she got off to and the fact that he spanked her on her bare bottom with his hand and various hairbrushes that left a very satisfying & sore marked red bottom for her filthy self defilement afterwards! This is a stunning new film which also heralds in a new era of film production for us as every film shoot we make from now on will contain a full size "blu ray" quality format in MP4 (like the preview clip shown above) as one of your download options. We have upped the playback quality & screen size which means the download files will be much larger but we are also giving you the option to view the films in our usual WMV-720HD which you are seeing now as standard. Please welcome Katie, starring in the 1st of many naughty girl next door scenarios that we are sure you will adore!
Lola was late for her outdoor detention punishment at Mr Osborne's quarters in his private secluded garden where he enjoyed punishing his girls when the weather was nice! He didn't give her time to make excuses even though she was trying to tell him that she badly needed to go to the toilet. Quickly into her OTK spanking she tried to wriggle off Mr Osborne's lap before she could no longer hold what she should have expunged earlier... out it came, through her regulation white knickers, all over Mr Osborne's trousers. He was so shocked that before he had time to properly act, she had completely soaked his right leg from her desperate overdue pee! Lola's punishment took a turn for the worse after this as she was humiliated further after receiving the carpet beater and 2 different canes before being told to wear her damp, sodden knickers for a final embarrassing session with the cane and his stinging hands across her wet burning cheeks! It's a quirky and very kinky schoolgirl punishment film that will appeal to lovers of this most naughty bad behaviour!
Sarah could be a real brat when she didn't get her way! She had embarrassed John at the company dinner in which he had travelled a long way to come visit her and his American colleagues. He cut short his dinner meeting with that knowing eye to his compatriots and took Sarah back to their room for a showdown and her inevitable punishment that only couples do so intimately! Sarah looked stunning in her red dress and John wasted no time throwing her over his knee for a spanking. But he wanted to be sure that this super sassy brat was fully contrite and told her to slowly undress for him. Sarah was secretly excited and still answered back to ensure she got more whackings on her bare bottom as she jiggled her butt cheeks provocatively to tease him. John could see her excitement as he removed her panties to reveal a glistening pussy that had betrayed her attitude! Normally John would have ended the punishment there and then and had his way but he wanted to ensure that Sarah would be contrite and learn her lesson this time that she couldn't always have her own way! Witness this hot red blooded spanking and leather paddling as you enjoy the sight of Sarah Gregory as you've never seen her before. A stunning grown up spanking film that both John and Sarah loved making for you and which will appeal to lovers of domestic spanking erotica!
The girls are getting ready at John's place for their Halloween Party night out. He kindly allowed them space and comfort to get ready and catch up on girly gossip as the 3 girls hadn't seen each other for some time. However, they abuse his trust by bringing alcohol and dressed up very inappropriately. Maddy and Alex were dressed up as teenage Girl Guides and Christy had a very short Alice in Wonderland dress that left nothing to the imagination! John was called back to his serviced apartment when he was informed that there was a rowdy commotion going on. The girls were getting drunk and the TV was blaring out disturbing the neighbours. He was rather embarrassed and with the complete abuse of trust, it could mean only one outcome for the girls. They would get a horrid spanking punishment before being let out to their party and he wanted to make sure that their bottoms would be glowing bright red for all to see how wicked they had been. Some great facial reactions, sore red bottoms and bratty behaviour from the girls with some equally forceful heavy wooden paddling and hairbrush punishments to kick start the Halloween Holiday! Also notice 2 fantastic debuts for any British Spanking site with Christy Cutie and Maddy Marks from sunny California!
There had been complaints from some parents about the school's new Nit Nurse wearing highly provocative panties and inappropriate uniform when she was tasked with her duties of delousing their precious ones! It was a delicate matter, as Leandra was sent over from The Netherlands on a nursing exchange program to this quiet English High School establishment. She was brought to the attention of the only teacher that dared bring up the subject, the one they all relied on for some special "in house" discipline... the one person the other teachers called "Dodgy Dave". His methods were a little offbeat, some would say, perverse, but he got results... and Nurse Leandra soon learnt what she should be doing correctly with the aid of some old fashioned spanking methods when ol' Dodgy had heard that she got spanked at home in her relationship... this was the perfect ruse for him to carry out his own private Nit Nurse investigation. Enjoy this quirky but severe discipline film that involves the use of hand, leather strap and paddle with unwarranted use of a riding crop!
This was a short sharp shock spanking film with a kinky twist & hard tearful strappings

. The girls thought it would be fun to embarrass John in his hotel suite by showing off their delectable spanked butts from a previous film to everyone below sunning themselves innocently by the pool, flashing their asses to those who happened to look up at that window! They hadn't thought about the fact that this could be construed as public indecency or worse so when John caught them messing around he made sure they would get something to show for their troubles if that was how they wanted to behave! The girls were placed in awkward & embarrassing spanking positions under & over each other then each naughty madam was given the dreaded 3 tailed leather strap. Joey found this rather hard to take as her tears welled up as she bravely took her punishment! Join in the fun, mayhem & spirit of what it's sometimes like to film at a Spanking Party event... tears & shame turn to smiles & laughter again by the end... & some continued naughty flashing to Joe Public of their freshly tanned behinds!

Other sites in the SG Network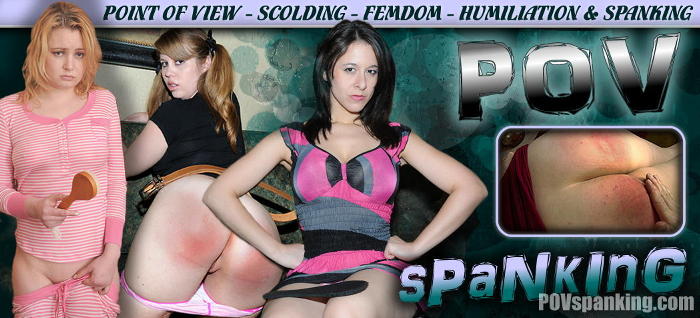 Want to become a model with us? CLICK HERE FOR FULL INFORMATION
All content produced & owned by SG Group trading as "AAA Spanking - Triple A Spanking" is copyright protected
Content sharing and password trading is contrary to our rights protected by the DMCA 1998
We make every effort to prosecute those infringing our protected copyrighted content worldwide
Free Spanking Blog | DVDs | CCBill Customer Support | Epoch Billing Support | Other Support Queries | Webmasters | Our Clips Store | POV | Specialist Pay Per Downloads | Links
Please visit our authorized sales agent
18 U.S.C. 2257 Record Keeping Requirements Compliance Statement
We answer support issues in well under 24 hours. Please ensure YOUR mail account will not block our domain name
Beware: AOL and comcast accounts nearly always block our email address
© 2015 SG Group t/a Triple A Spanking - AAAspanking.com