Lola was late for her outdoor detention punishment at Mr Osborne's quarters in his private secluded garden where he enjoyed punishing his girls when the weather was nice! He didn't give her time to make excuses even though she was trying to tell him that she badly needed to go to the toilet. Quickly into her OTK spanking she tried to wriggle off Mr Osborne's lap before she could no longer hold what she should have expunged earlier... out it came, through her regulation white knickers, all over Mr Osborne's trousers. He was so shocked that before he had time to properly act, she had completely soaked his right leg from her desperate overdue pee! Lola's punishment took a turn for the worse after this as she was humiliated further after receiving the carpet beater and 2 different canes before being told to wear her damp, sodden knickers for a final embarrassing session with the cane and his stinging hands across her wet burning cheeks! It's a quirky and very kinky schoolgirl punishment film that will appeal to lovers of this most naughty bad behaviour!
Sarah could be a real brat when she didn't get her way! She had embarrassed John at the company dinner in which he had travelled a long way to come visit her and his American colleagues. He cut short his dinner meeting with that knowing eye to his compatriots and took Sarah back to their room for a showdown and her inevitable punishment that only couples do so intimately! Sarah looked stunning in her red dress and John wasted no time throwing her over his knee for a spanking. But he wanted to be sure that this super sassy brat was fully contrite and told her to slowly undress for him. Sarah was secretly excited and still answered back to ensure she got more whackings on her bare bottom as she jiggled her butt cheeks provocatively to tease him. John could see her excitement as he removed her panties to reveal a glistening pussy that had betrayed her attitude! Normally John would have ended the punishment there and then and had his way but he wanted to ensure that Sarah would be contrite and learn her lesson this time that she couldn't always have her own way! Witness this hot red blooded spanking and leather paddling as you enjoy the sight of Sarah Gregory as you've never seen her before. A stunning grown up spanking film that both John and Sarah loved making for you and which will appeal to lovers of domestic spanking erotica!
The girls are getting ready at John's place for their Halloween Party night out. He kindly allowed them space and comfort to get ready and catch up on girly gossip as the 3 girls hadn't seen each other for some time. However, they abuse his trust by bringing alcohol and dressed up very inappropriately. Maddy and Alex were dressed up as teenage Girl Guides and Christy had a very short Alice in Wonderland dress that left nothing to the imagination! John was called back to his serviced apartment when he was informed that there was a rowdy commotion going on. The girls were getting drunk and the TV was blaring out disturbing the neighbours. He was rather embarrassed and with the complete abuse of trust, it could mean only one outcome for the girls. They would get a horrid spanking punishment before being let out to their party and he wanted to make sure that their bottoms would be glowing bright red for all to see how wicked they had been. Some great facial reactions, sore red bottoms and bratty behaviour from the girls with some equally forceful heavy wooden paddling and hairbrush punishments to kick start the Halloween Holiday! Also notice 2 fantastic debuts for any British Spanking site with Christy Cutie and Maddy Marks from sunny California!
There had been complaints from some parents about the school's new Nit Nurse wearing highly provocative panties and inappropriate uniform when she was tasked with her duties of delousing their precious ones! It was a delicate matter, as Leandra was sent over from The Netherlands on a nursing exchange program to this quiet English High School establishment. She was brought to the attention of the only teacher that dared bring up the subject, the one they all relied on for some special "in house" discipline... the one person the other teachers called "Dodgy Dave". His methods were a little offbeat, some would say, perverse, but he got results... and Nurse Leandra soon learnt what she should be doing correctly with the aid of some old fashioned spanking methods when ol' Dodgy had heard that she got spanked at home in her relationship... this was the perfect ruse for him to carry out his own private Nit Nurse investigation. Enjoy this quirky but severe discipline film that involves the use of hand, leather strap and paddle with unwarranted use of a riding crop!
This was a short sharp shock spanking film with a kinky twist & hard tearful strappings

. The girls thought it would be fun to embarrass John in his hotel suite by showing off their delectable spanked butts from a previous film to everyone below sunning themselves innocently by the pool, flashing their asses to those who happened to look up at that window! They hadn't thought about the fact that this could be construed as public indecency or worse so when John caught them messing around he made sure they would get something to show for their troubles if that was how they wanted to behave! The girls were placed in awkward & embarrassing spanking positions under & over each other then each naughty madam was given the dreaded 3 tailed leather strap. Joey found this rather hard to take as her tears welled up as she bravely took her punishment! Join in the fun, mayhem & spirit of what it's sometimes like to film at a Spanking Party event... tears & shame turn to smiles & laughter again by the end... & some continued naughty flashing to Joe Public of their freshly tanned behinds!
Amelia and Molly had grown apart as they now attended different schools. However, Molly would love to rekindle their old friendship so had been stalking Amelia for some time waiting for an opportune moment and excuse to invite herself in and try to rekindle what they once had. Amelia was taken aback on one such "chance enncounter" but invited sneaky Molly in as a courtesy, both girls were Head of their respective schools but there the similarity ended as Amelia now lived in a strict household that promoted discipline in the home to further her advancing education! Molly soon discovered this first hand when the girls bickered and fought and the noise could be heard outside as Amelia's strict guardian arrived home none too pleased! You will see how he dishes out humiliating bare bottom punishments to both girls who dared to shame him with their petty squabbling that the whole neighbourhood must have heard! Don't miss Amelia and Molly's bare bottoms revealed with their panties pulled down in shame, still in their school uniforms, as they are given the strap then the hairbrush for being such annoying spoilt brats!
Aleesha found out that Zoe had been sleeping with her recent ex boyfriend & confronted her over this after everything she had discussed & shared intimately as best bi girlfriends do! Aleesha was angry & shook up a surprised & shocked Zoe... however, if Aleesha was to follow through on her threats at that time then she should have as nothing could be worse than a scheming Ms Page! As you will see, Zoe had planned their next intimate meeting with military detail. After this initial encounter & heated spat, the film continues with what Zoe had concocted next! We find Aleesha, nearly naked & bound to a punishment bench. Zoe had seduced Aleesha with the promise that they were best girlfriends again and no man could come between them as before... she knew deep down Aleesha would accept her punishment as you will see when she has her wicked way in this "revenge" style spanking film with some delicious dark bdsm moments that is exciting to watch!
Miss Woods was a highly paid solicitor on a generous contract to Osborne Industries, it was a pity that she couldn't draft a watertight contract herself when it was needed and so she was summoned at short notice to the CEO's city apartment during the weekend! Asked to explain the shoddy and slipshod work she had performed, she could not offer a decent enough explanation. Time for Mr Osborne to invoke a few of his own personal "Clauses" to her own work contract as he reminded her of why she was so highly paid and the consequences that she now faced! This meant he got to punish and correct her any way he saw fit! Miss Woods had no choice but to comply as this job paid so well and soon her bottom was being spanked with far worse to come as her jeans and panties were removed much to her obvious embarrassment and shame. A variety of stinging implements were used across her bared smarting backside to remind her to complete another draft of this important document or she'd be dragged back in at an inconvenient time with more demeaning consequences to come!
Jenna & Taylor have been employed on a very generous contract as cleaners for an eccentric recluse, Mr Jackson, who pays them way over the odds as maids to do all the menial housework chores. However, there is a drawback to being so well paid for such easy work... if he is ever dispeased with their cleaning he has the right to "punish" them as he sees fit... the girls are quite worldly wise & well aware of his eccentricities & kinky nature so accept his spanking punishments as part of their job without question. Join us as we see yet another day in which these 2 lazy & rather naughty girls are caught out yet again & given a more humiliating spanking, this time in front of each other for the 1st time! Mr Jackson has his hands full with these 2 naughty maids, but we somehow don't think he minds that much... do you? OTK lovers will enjoy this double girl M/F/F punishment film.
This was one of the 1st films we ever made with stunning Lola Marie & we asked her to show us what she got up to at home, when she'd be alone & bored when she had no play partner! Lola is a very sexual girl. Lola treated our cameras to a rather hot display of solo masturbation with one of her favourite toys. You'll see her beautiful pussy pulsate & quiver, turning wet as the vibrations aroused her clit to near orgasm... but Lola liked to tease herself & admitted to us that she is genuinely turned on by being a very naughty girl so used a variety of implements including some beautiful new hairbrushes across her bottom which kept her pussy throbbing as well as giving her bottom a good seeing to! The finale saw Lola finish herself off with a wicked smile. Please welcome Lola as you've never seen her before or anywhere else!
Zoe Page invited Jessica Jensen over for a sleepover. However, Jessica should have been aware of what might happen as Zoe made a move on her from the start. Jessica had admitted that she had been recently spanked and Zoe had asked to see the results of that... hmmm, any excuse for her to perv as she then got to play with Jessica's bottom under the guise of helping her out but once she felt the heat coming off those pert buns it ignited her own desire to spank Jessica's bum! Zoe's fascination to try out Jessica's bare red bottom for herself started with the pretence of applying soothing cream, lots of cream... and kneading her buttocks was a temptation too far. Zoe got her way after the girls had a playfight! Naughty Zoe, she got what she wanted in the end!
Danielle Hunt had been confined to her Dorm Room awaiting her latest punishment in the embarrassing "Discipline Dropseats". A humiliating piece of clothing as any girl at this private school would know that anyone wearing this item was about to be punished... this helped enforce the room confinement and making trips to the bathroom down the long corridor fraught with worry. Cruel? Perhaps... but these rules were in place for a reason, so when Mr Osborne arrived, he discovered that Danielle had also been using a hidden phone which was strictly forbidden! He immediately set about punishing her with her dropseat pants pulled down revealing her full naked bottom... she was spanked, given the hairbrush & then the nasty composite paddle that was a personal favourite of his as he knew this really, really stung like hell! However, her naughty buns of steel broke his cherished paddle: You will see the end of an area at Triple A as one of our much cherished implements met its match with Danielle Hunt!
Leandra is such a tease, she's hot... "sch-moking" hot! She asked us if she could make a naughty teasing video for her army boyfriend in her very 1st film with us. We are now showing this after agreeing that he got 1st viewing rights... since it was with him in mind & he let us know he appoved of it wholeheartedly! He is currently serving overseas & this lucky young man gets to discipline & teach his naughty Dutch girlfriend a lesson or two when he's home, but he's not... is he? So Leandra had us make this self spanking film... showing him what he's missing but doesn't reveal everything, for his memory & our sordid imagination can fill in the blanks... needless to say, she looks drop gorgeous dressed in her lingerie & stockings as she talks to the camera, goading her boyfriend at what he's missing & wishes that he could give her a proper man spanking! However, she'll just have to tease him with her own show for now! See the results in this very erotic & addictive viewing experience that sees Leandra in one of her sexiest spanking videos that she has ever made.
These 2 girl guides were a disgrace to their uniform as they wondered if they could make it back to the Guide HQ before needing to pee... they could hardly walk, their bladders were so full & each girl in turn relieved herself. Lola pulled her panties down & gushed freely, but the daft girl peed directly onto them! Wynter didn't even have the luxury of that option as she couldn't wait & peed in her panties stood up, the tell tale trickle running down her legs. Both girls returned to the HQ in shame but not before Troupe Leader Mr Osborne had guessed what had happened from their nervous walk & decided to teach these madams a lesson in humiliation & discipline on how to avoid such unladylike disasters in future. This film features wet panty investigations, spankings with humiliating gaze of the other & the final insult of a diaper positional spanking before being placed in an embarrassing reflective aftermath position both girls would not forget! This isn't for everyone & hardly traditional, but for those that like something a little bit more kinky, we are sure you'll enjoy this long play film.
Mishka, the new Exchange Student, was a very naughty little thing! She rubbed herself off & got excited reading about the ways in which bad girls were disciplined with a corporal punishment spanking! She imagined herself getting that treatment too & dipped her fingers into her glistening pussy to relieve that feeling of severe arousal! However, she hadn't turned up for Supper as she was so engrossed in her illicit finger pie business, she got caught masturbating! A shocked Mr Osborne gave her a spanking (which was what she got off on) - but he noticed this & then turned the tables on her, making her read the paragraphs that she had found so interesting from the Female Disciplinary Manual then whacked her bare reddening cheeks with the hairbrush! Her growing humiliation was only matched by the increasingly beautiful red colour of her tight buns! Gaze upon the glowing cheeks of shame which contrasted beautifully with her light blue gingham school dress!
Amelia Jane Rutherford was hungover & awaiting an early morning punishment, she had already made an "apology coffee" for John who recalled the events of her previous night's disgraceful behaviour. She knew that she had done wrong & accepted her punishment but he wasn't convinced that she was really learning her lesson... so a humiliating early naked spanking over his lap might just shame her into avoiding any future awkward & embarrassing starts to what would be a rather bad day for her like this one!
Sophie was one of those girls that never really learnt her lesson. She had been warned by Zoe several times that if she wanted to avoid any further trips across her lap then the bad behaviour & poor attitude would have to show a remarkable improvement! In fact, the opposite was happening & her latest "boob" mishap with her magnificent breasts popping out of her tight cheergirl uniform in front of a capacity crowd had shamed her fellow cheergirl troupe & her coach! All because Sophie couldn't be bothered to wear the correct sports bra! This film starts with Sophie being told she will be punished, she doesn't argue, just accepts her fate & whimpers as Zoe progresses quickly to a bare bottom OTK spanking before the final humiliating & embarrassing finale of her punishment... a 1st time wheelbarrow positional spanking! Sophie knows that Zoe can see everything, every detail of her private anatomy & added to the stinging smacks, Sophie pleads for this new humiliation to stop! This double discipline might have just got through to young Sophie at last!
A Final cheer girl practice before a big Saturday game & a chance to show her star qualities should have been motivation enough for Leandra, one of the school's top cheer girls in Miss Granger's team. However, it appeared she couldn't be bothered to turn up with the correct footwear & this young diva had tested the patience of her fellow team mates so she was sent for a detention punishment. Mr Osborne was called in on his day off and was none too pleased so he decided a quick nasty & humiliating discipline punishment of this very pretty girl might just teach her a lesson to avoid such poor attitude in future! Don't miss this excuse to see gorgeous Leandra in her stunning cheer uniform, with her black panties removed & her bare pert bottom given a spanking, strapping & stinging hairbrush punishment including a special palm of the hands discipline session with a wooden ruler before Leandra was ordered to do some humiliating cornertime wearing the dreaded Dunce's Hat.
Mr Kennedy had left Zoe Page to look after the remainder of the detention after he had been called away. He was confident that he had given his star prefect some excellent tips on how to punish a naughty girl when appropriate. Alex Reynolds had been warned that if she dared rub her bottom after Mr Kennedy's punishment during her "cornertime", then Zoe could punish her as she saw fit! It didn't take long for this American exchange student to fall foul of this rule & hawk eyed Zoe gleefully spotted her forgetting what she had been told not to do! This gave Zoe "Carte Blanche" to do as she pleased. What a wicked young madam she was too! Poor Alex was subjected to a humiliating, bullying & intimidatory punishment even worse than she had received not 10 minutes previously from Mr Kennedy! Zoe was a clever brat that knew just how to skillfully punish girls & had no real need of Mr Kennedy's tutillage at all! She just wanted to see girls punished for her own gratification. Now it was her turn to carry out some eagerly awaited punishments of her own. It's a truly twisted prefect & schoolgirl punishment that you really will not want to miss as nasty Zoe toyed & played with her victim like a cat would a mouse before putting it out of its' misery!
This is the last of 4 films featuring naughty schoolgirls, Aleesha Fox and Jenna Jay. In this short, sharp shock film we see Jenna given a paddling and caning she won't forget in a hurry that has her quickly trying to behave at last to avoid further pain, shame and embarrassment. Both implements are used with devastating effect on her sore red quivering bottom! Features some great reactions and some genuinely severe CP when a naughty young madam only learns her lesson the hard, old fashioned way!
This is a STUNNING schoolgirl punishment debut for our latest new girl, Leandra. You will NOT want to miss some special upskirt, panties down angles, and the lingering, uncomfortable close up red bottom shots which you have to see for yourselves as well as the amazing punishment of one of the sexiest girls we have ever had the pleasure of filming! Leandra is in a unique and difficult detention, writing out lines 100 times sat down with her knickers pulled down around her ankles in a further humiliating twist... all this for the lack of respect for daring to wear silly sunglasses in Mr Osborne's lesson... but she can't even get that right and is caught trying to pull up her white panties by the sadistic and cruel teacher. He then spanks, straps and uses the hairbrush across this beautiful schoolgirl's bottom before inspecting very carefully his handiwork before telling her to sit back down and finish her lines without her knickers at all! We loved making this quirky and naughty schoolgirl fantasy detention movie, and we know you will love it too!
Kami Robertson is in detention for fighting with the other school's tennis stars during practice. She is not remorseful at all when confronted by the teacher in charge of her detention discipline! To teach her respect and some manners he spanks her in her tennis kit without the protection of her panties as she is also given the leather slipper and hairbrush heavily across her tight bare bottom. This starts to have the desired effect of making this arrogant young madam just a little more compliant and sorry for her recent disgraceful behaviour!
Nurse Page had come far in her short time at work & had all the qualities of the classic Matron patients & staff knew from the glorious days of the National Health Service (NHS). She knew her job, she took no nonsense from staff & lived for giving unruly patients wet, uncomfortable bed baths, she was also a stickler for strict discipline! Zoe was often resentful of the junior & trainee doctors who thought they knew it all & were disrespectful to her nursing staff. Miss Fox had no choice but to rent a room at Nurse Page's place when accommodation elsewhere was full & she had had to put up with some rather bizarre discipline sessions! This punishment involved Zoe's wonderful trumped up excuses, Aleesha's bewilderment & acceptance of these naughty rituals unique to Zoe... this time with an array of several hairbrushes & a stinging wooden ruler that would be used across Aleesha's bared anatomy whilst still dressed in her medical Scrubs!
Other sites in the SG Network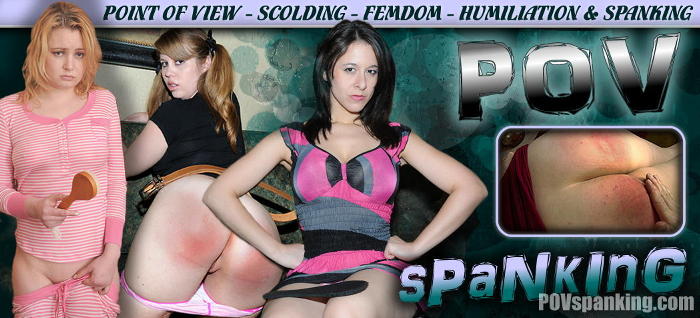 Want to become a model with us? CLICK HERE FOR FULL INFORMATION
All content produced & owned by SG Group trading as "AAA Spanking - Triple A Spanking" is copyright protected
Content sharing and password trading is contrary to our rights protected by the DMCA 1998
We make every effort to prosecute those infringing our protected copyrighted content worldwide
Free Spanking Blog | DVDs | CCBill Customer Support | Epoch Billing Support | Other Support Queries | Webmasters | Our Clips Store | POV | Specialist Pay Per Downloads | Links
Please visit our authorized sales agent
18 U.S.C. 2257 Record Keeping Requirements Compliance Statement
We answer support issues in well under 24 hours. Please ensure YOUR mail account will not block our domain name
Beware: AOL and comcast accounts nearly always block our email address
© 2015 SG Group t/a Triple A Spanking - AAAspanking.com